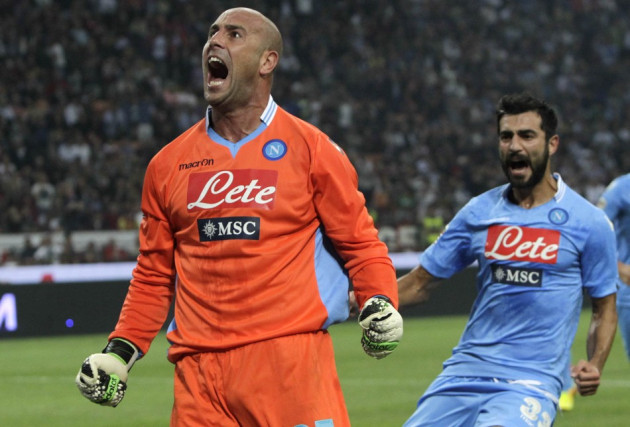 Barcelona star Xavi has welcomed Liverpool keeper Pepe Reina to replace Victor Valdes at Camp Noe next summer.
The Spanish champions' stopper is in his final year of contract at the club and has already expressed his desire to leave Barcelona in June after denying signing a new deal.
Liverpool signed Simon Mignolet in the summer and Brendan Rodgers has made the Belgium international as the first choice keeper at Anfield, which forced Reina to be dropped to the bench.
The Spanish international joined his former manager Rafael Benitez at Napoli on a season long-loan and will return to the Merseyside club after the end of the season. Xavi believes Reina could be a perfect replacement for Valdes at the Catalan club.
"Reina as the replacement [for Valdes]? He has a great level. I am not doing the work in the transfer market, but beyond our friendship I can say he is an extraordinary goalkeeper who would fit in very well here because he knows the club. "It does not depend on me but I would love it very much," Xavi told El Mundo Deportivo.
Meanwhile, Reina's father hasrevealed the Spaniard had an agreement in place to join Barcelona earlier in the summer.
Valdes, who confirmed his decision to leave the La Liga giants after the end of the contract, was reportedly set to leave his current employers in the summer transfer window. However, he continued with Barcelona and will leave the club for free after the end of the season.
Miguel Reina admitted that Valdes' decision to continue for another year at Camp Nou was the reason behind his son's deal to fall through.
"A few months ago Pepe was in talks with Barcelona. They had an agreement and he was all set to go but then Victor Valdes didn't leave and the deal fell through," Gola.com quoted Reina's father as saying.
Meanwhile, talkSPORT reports Barcelona are also believed to be interested in signing Borussia Monchengladbach star Marc-Andre ter Stegen as Valdes' replacement. Any move from the La Liga winners for Ter Stegen would then be a blow to Reina's dream of returning to Camp Nou.