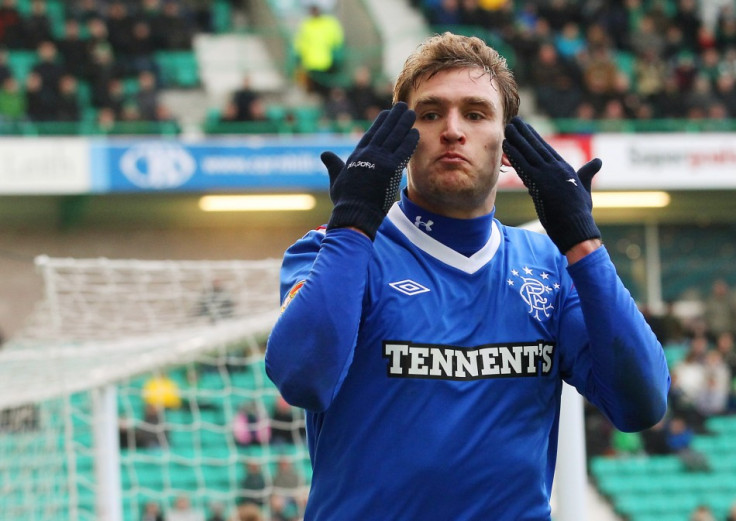 Nikica Jelavic's dad has revealed that the striker is being officially chased by three clubs, with Liverpool included as a suitor for a possible move in the summer.
Jelavic has been a standout performer for Rangers since moving to the club from Rapid Vienna in 2010, and West Ham confirmed last week that they were keeping a close eye on the 26 year old's performances for the Scottish outfit.
But Jelavic senior believes that his son, who has scored 17 goals in 28 appearances for Rangers so far this season, will most likely go to Liverpool as the Reds look for more support up front.
"We know about the interest of West Ham and QPR," Jelavic senior told The Sun.
"But Nikica has five or six clubs that are interested, including that of the great Liverpool.
"As for West Ham and QPR, Nikica is more ambitious than that. It's most likely that he'll sign for Liverpool.
"But there are a few days until the end of the window, so we'll see."
Liverpool are on the lookout for a striker, with the club currently struggling to convert chances and suffering the league table as a result.
In fact, at home, where the Merseyside club have suffered from some of their worst form this season, the club have scored less goals than current relegation contenders Blackburn and Wolves.
Kenny Dalglish has always come to the defence of his players when stats have been presented to him by the media regarding his squad's scoring problems, but after the Reds lost 3-1 to Bolton on Saturday, the manager was particularly stern on his current players to shape up or ship out.
"If that's the level they expect this football club to play at, they won't be here long," he said at the post match press conference.
"The most disappointing thing for me was I don't think they were ready to play the game."
Liverpool have been connected to numerous strikers in preparation for the January window, but rumours of Dalglish chasing a hitman became even more prevalent after Luis Suarez was banned for eight matches for racially abusing Patrice Evra.
But even with Suarez on side, Liverpool were failing to deliver in the box, and Andy Carroll in particular has come under a great deal of scrutiny after coming to the club for a British record fee of £35 million this time last year.