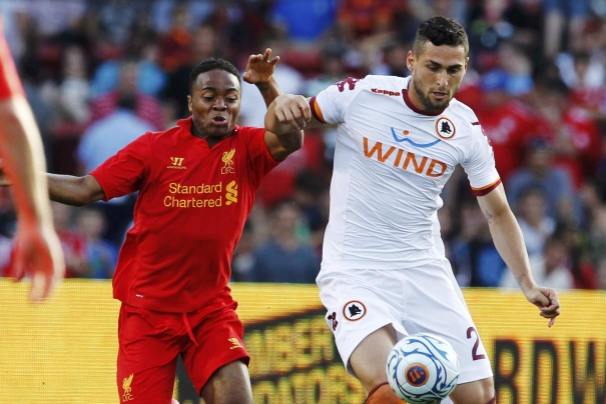 Liverpool youngster Raheem Sterling has been in impressive form in recent games and seems to have convinced Reds boss Brendan Rodgers he is worthy of a first team position at Anfield.
The 17 year old winger made his full league debut in the difficult game against champions Manchester City and despite the fact the Reds conceded a late goal and had to settle for a 2-2 draw at Anfield, Sterling's performances earned him all-round praise.
"Over the years our club has had some very special wingers. From Billy Liddell to Peter Thompson, Steve Heighway, Ian Callaghan, John Barnes and Steve McManaman. It's been a while since we've had anyone in that bracket but hopefully in time Sterling will prove he deserves to be mentioned alongside those names," club legend John Aldridge wrote after the game, "He certainly has the potential. I want to see him play week in week out now and I believe the winger is going to get better and better."
His performances have also earned him mention from Rodgers and team mate Glen Johnson, with the latter, an England international, calling upon the Liverpool squad to support the youngster's development.
"We've got a great bunch of lads and everyone makes everyone feel welcome. Raheem is 17-years-old but you make him feel like one of the lads because he is and he deserves to be here," Johnson was quoted as saying.
Some of the praise he has drawn has also come from the coach of the Jamaica national team Theodore Whitmore. Sterling was born in Kingston (the Jamaican capital) and is still eligible to play for the Caribbean nation, despite playing for England's U17 and U19 sides. Whitmore, who used to play for Hull City, has confirmed he has contacted the player, in an attempt to persuade him to play for the country of his birth.
"We definitely showed an interest in Sterling before and we are just waiting on him now for the go-ahead," Whitmore was quoted as saying, and adding, "We have seen him a number of times, he is a quality player with a lot to offer this programme, but it's up to him and the door is open. I don't want to go into any further details but, as I said, he is definitely someone we have our eyes on and it's all up to him now."