Liverpool captain Steven Gerrard is hoping Manchester United take time to get used to their new manager. The Old Trafford side bid adieu to the legendary Sir Alex Ferguson earlier this summer and will have outgoing Everton manager David Moyes at the helm of the first team from Monday.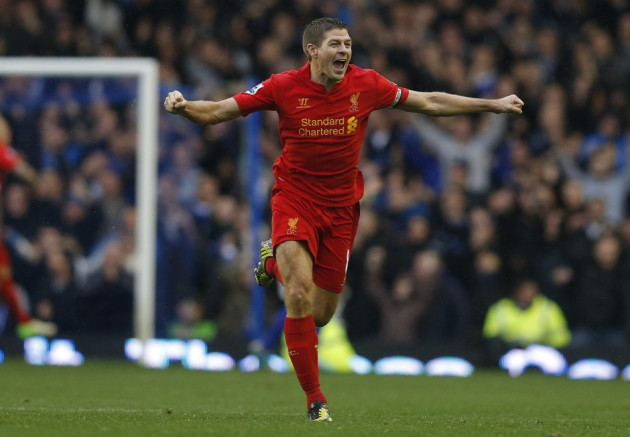 And the Anfield midfielder hopes United and Moyes take time to get used to each other, thereby handing rivals a potential advantage. However, he is wary of Moyes as well.
"They have replaced a world-class manager with another, who has done a fantastic job at Everton. So I think David will continue to do a good job there. It's new for Manchester United. From a biased point of view, let's hope they have a wobble!" the England midfielder said.
Liverpool have already made moves in the transfer market, signing Kolo Toure, Luis Alberto, Simon Mignolet and Iago Aspas and are looking to add more players before pre-season activities start next month.
However, Gerrard is certain United are too good to be affected by a change in manager and have enough world-class players to challenge for the title again. The 33-year-old also believes competition for a place in the top four will intensify next season with Manchester City, Chelsea, Arsenal and Tottenham expected to strengthen before the transfer window closes at the end of August.
"I think they have too many good players to fall out of the title race. They have world-class players and I expect them to fight for the league again. There's no getting away from it, the competition in the Premier League is going to get stronger and stronger. Manchester City are going to add to their squad, Jose Mourinho is back at Chelsea and we are going to make numerous signings. Tottenham and Arsenal are going to come back again... so I think we are in for a very interesting Premier League campaign," he explained.
The midfielder is excited by transfer activity at Anfield and is excited to start preparing for next season.
"Especially with the news of us making a few signings, I'm really looking forward to getting started. It's always important to get faces in as soon as possible; they can get a full pre-season under their belt, get to know the lads and how the manager wants to play. There are some exciting names in there so everyone is excited," he told Liverpool's official website.