Graham Poll has suggested Liverpool were on the receiving end of a series of unfortunate refereeing decisions at St James' Park on Sunday.
Two goals from Papiss Cisse condemned the Reds to their sixth loss in seven Premier League games but former referee Poll believes Martin Atkinson was wrong not to award Kenny Dalglish's side a penalty in the first half.
Newcastle defender Danny Simpson appeared to handle on the line after team-mate Mike Williamson inadvertently headed back across goal. But referee Atkinson failed to spot the defender's infraction after good movement from Liverpool frontman Andy Carroll and Poll insists the incident could have altered the course of the game.
"Penalty, plus a red card for Danny Simpson," Poll told the Daily Mail. "Almost impossible for referee Martin Atkinson to see, but if he had then Liverpool would have a penalty and Simpson a red card."
"After Andy Carroll knocked the ball towards goal, Simpson, the Newcastle defender on the post, moves his arm deliberately and prevents the ball crossing the line."
Liverpool boss Kenny Dalglish refused to blame the officials for his side's defeat but cautioned their poor form would continue unless they recover the mental toughness that carried them to League Cup glory in February.
"There's no point in feeling sorry for ourselves," Dalglish told BBC Sport. "We've just got to realise that if we stick together and believe in what we're doing, then we've got a better chance."
"We can't do too much about the refereeing decisions but we can do a lot about ourselves and we will work really hard to do something about ourselves."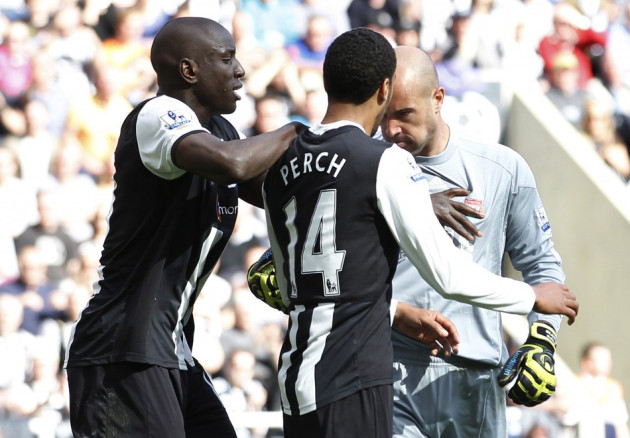 Goalkeeper Pepe Reina was sent off in the 2-0 defeat when he squared up to James Perch after he was fouled by the Newcastle defender. Reina did not appear to make contact with Perch, who crumpled to the floor in distress, and Poll believes the Liverpool goalkeeper was unfortunate to receive his marching orders for the incident.
"After James Perch tripped Reina, the Liverpool goalkeeper reacted stupidly by running at Perch and barging him. He then lowered his forehead towards the opponent," said Poll.
"It appeared to make contact but the second angle on replay indicated that there was no contact as Demba Ba kept Perch and Reina apart.
"Perch's reaction was disgraceful - as bad as Andy Carroll's blatant dive in the ninth minute. Reina should know better but he could win an appeal."
Carroll was booked for simulation early in the first half after he rounded goalkeeper Tim Krul and fell to the ground with the goal at his mercy. The £35m frontman endured a frustrating return to St James' Park and Dalglish implored the former Newcastle star to deal better with his disappointment.
"The boys have shown a wee bit of frustration and disappointment because of results," Dalglish added. "That's probably why Pepe was sent off. It was the frustration of being behind.
"When Andy Carroll comes off and runs up the tunnel, it's purely disappointment and frustration. It's all very well and good having frustration and disappointment, but we have to manage that and make sure we channel it in a proper way."