Liverpool's Mario Balotelli has sparked outrage by swapping his shirt with Real Madrid's Pepe as the Reds went into the half time break 3-0 down against the reigning European Champions on Wednesday (22 October, 2014).
Nothing raises the ire of a football purist quite like swapping shirts at half time. Stiff-upper-lipped former pros and those who long for the good ol' days stubbornly proclaim there is no place for it in the game.
Why? It is perceived as sign of weakness, maybe? Of all the things to be riled about in a game that frustrates and delights in equal measure, this all seems rather pointless.
Balotelli's example of this trend was typically met with widespread disdain.
The Liverpool Echo called for Balotelli to apologise to Liverpool supporters for exchanging jerseys with Pepe - this is the apex of a bewildering overreaction.
For all the problems with which both the club and the player are currently beset, this seems a fairly minor infraction in the grand scheme of things.
Those whose blood was left boiled by the incident and not another underwhelming performance from the Italian are advised to go for a lie down.
Open a newspaper or type his name into Twitter and you will find criticism of the shirt swap greatly outweighs that of a performance that saw the striker's record at the club extend to just one goal in 10 matches.
Or that his shots on target record stands at just nine from 29 attempts. Or that he has won 16% percent of aerial duels despite his formidable frame. Or that both Richard Dunne and Steven Caulker have scored more goals for Liverpool than him in the league.
But swapping shirts? Unacceptable.
Shirt Swapping Has a History of Boiling Blood
It's a trend Premier League fans have not taken kindly to. In some cases you can understand the frustration. A bit of sense is a prerequisite for such incidents, something Andre Santos was lacking one afternoon at Old Trafford in November 2012.
Robin van Persie had assumed the role of public enemy number one in the eyes of Arsenal supporters who saw their former captain join their old rivals Manchester United, citing his personal pursuit of silverware as the driving factor in the move.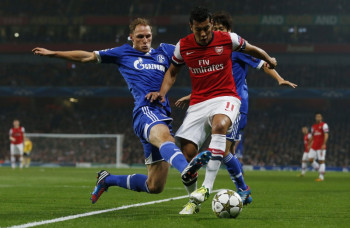 Second only to the Dutchman in the bad books of Gunners fans was Andre Santos, whose dismal performances at left back would see him leave the club two months later.
The Brazilian's decision to seek out United's van Persie at half time, who also scored the only goal of the game that day, and ask for his number 20 shirt was always going to be met with a sour response.
Perhaps with incidents like this, you can understand the frustration of supporters. Santos swapping with Nemanja Vidic or Patrice Evra, a player with no direct conflict with the north Londoners, should have passed relatively quietly, but doing so with the man who left the club in rather acrimonious circumstances months earlier is a different matter.
December 2013 saw not one, but two of examples of the maligned practise as Chelsea's Oscar swapped with Liverpool's Philippe Coutinho. As they made their way to the tunnel, Samuel Eto'o and Mohamdou Sakho followed suit.
Again, criticism cascaded down, but it seems unfair to begrudge two young Brazilians. The two had played with each other at international level, winning the Under-20 World Cup in 2011. From that, they had gone on to reach a stage in their careers where both were playing for two of Europe's biggest clubs. It didn't affect either man's professionalism in the contest, why begrudge a chance for two players playing on opposite ends of the country to share a moment?
Worry about performance, not shirts
It would appear the act is seen as a fault on these shores, while the likes of Coutinho and Oscar think nothing of it. The phenomenon itself is relatively harmless if there are no extenuating circumstances, unlike the case with Andre Santos.
The reaction to Wednesday's incident in Spain suggests shirt swapping doesn't provoke indignation elsewhere as it does in English football.
"I think it is normal in football to change the shirt at the end," Real Madrid manager Carlo Ancelotti said nonchalantly last night after his side eased to a 3-0 win at Anfield.
"It is nothing new. Sometimes the players change their shirt at half time with the opponent. I don't see a problem."
It may be worth everyone taking Ancelotti's outlook on board. Mario Balotelli may have a lot to apologise for should his current form continue to exasperate. Last night's incident shouldn't be one of them.