Great Britain have won their first gold medal of the London 2012 Olympics, after the women's rowing pair of Heather Stanning and Helen Grover claimed first place in the women's pair rowing event. Stanning and Grover dominated the race, finishing 2.73s ahead of the competition.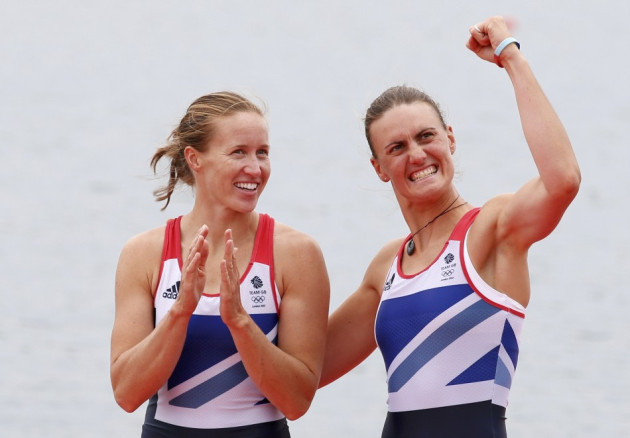 Australia's Kate Hornsey and Sarah Tait took silver with a time of 7:29.86 and New Zealand's Juliette Haigh and Rebecca Scown came home in 7:30.19 for bronze.
The British pair have been in dominant form all through the event, setting an Olympic Best of 6:57.29 in their Heat and the final was no different. The pair shot into a strong early clear water lead inside the first 500m and roared on by a crowd of 25,000 wildly partisan fans, the women made no mistake and opened up a lead of two lengths. It was game over at that point. Behind them, though, there was an exciting race developing, as the Australians determinedly pulled back and overhauled the Kiwis for silver.
"I'm absolutely shattered and absolutely ecstatic all at the same time. I want to collapse but I'm just so overjoyed, I just want to jump around at the same time. I'm probably talking rubbish now," an ecstatic Stanning said, moments after the win.
Incidentally, this was a doubly special moment for both women. Not only was this the host nation's first gold of the Games but the pair also became the first British women to take an Olympic rowing gold.
Glover, 26, is a Physical Education teacher from Penzance and has been in the sport for only four years now, after being identified as a British Sporting Talent. Stanning, 27, is a Captain in the Royal Artillery. The two were paired only three years ago.
Ukraine Gets Gold Too
Meanwhile, the Ukrainians celebrated gold medals as well. The foursome of Kateryna Tarasenko, Natalia Dovgodko, Anastasiia Kozhenkova and Yana Dementieva won the women's quadruple sculls, beating the Germans and Americans into second and third place, to secure their country's second gold of the London Games and fourth overall.