Tim Brabants is in with a chance of retaining his Olympic title after qualifying for Wednesday's 'A' final after finishing fourth in his semi-final of the K1 kayak 1000m at Dorney Lake this morning.
The 35-year-old, who took time off from his job as a doctor to concentrate on the Olympics, was handed a tough semi-final lane draw when he was given the outside lane, but he managed to finish in a time of 3 minutes 30.769 seconds, after earlier qualifying for the semi-final by finishing fifth in his heat.
It will be a difficult task for Brabants to hold on to his crown with reigning world champion Adam van Koeverden of Canada looking the most impressive in qualifying and the most likely to claim gold in Wednesday's final.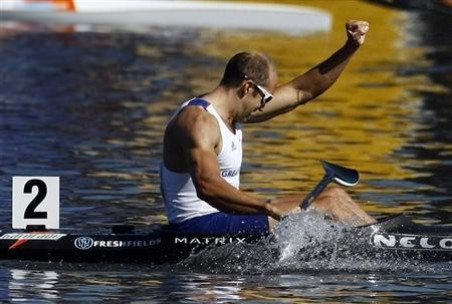 "Unfortunately I drew the outside lane and I knew I'd have my work cut out because of the way the wind blows across the lake but the crowd gave me a lift," said Brabants.
"It was a tight race and I'm pleased I made the final. I'm not in Beijing shape but you've got to be in the final to compete for Gold. Any guy could win, they are all such good athletes and I feel good, anything could happen in the final."
There was more good news on Monday morning as Team GB's women's K4 kayak 500m crew of Angela Hannah, Louisa Sawers, Jessica Walker and Rachel Cawthorn also qualified for their 'A' final after finishing fourth in the semi-final with a time of 1 minute 32.550 seconds.
"We're really, really pleased. We fought really hard in the first heat and hoped to go through to the final in that one, but we had an hour between races and we just came out to qualify for the final, so we did what we needed to do and we're so chuffed," said Hannah.
"I've never been so relaxed coming into a competition. I was so calm, just so excited. It has been good being here for a week, you really got used to the environment. It was so encouraging."
Poland won the semi-final, ahead of Belarus and Russia, but Team GB's qualification means they are still in the hunt for a medal.
In the men's C1 canoe 1000m semi-final, Team GB's Richard Jefferies finished eighth but he will be looking for more success in the C1 canoe 200m event in which he specialises.
"It was a bit long, but a warm up is all it was," said Jefferies. "My expectations weren't that high, I'm just using this as an opportunity to get used to the crowd and optimising the experience."
"It would be disrespectful to say I could come here and beat these Olympic athletes in the 1000m event."