London bus racism video: Father with pram launches Islamophobic attack on Turkish pensioner
Warning: Video has graphic language
A video has emerged showing a pram-wielding father hurling racist and Islamophobic comments at an elderly man on a London bus. Uploaded to YouTube by the Documenting Oppression Against Muslims (DOAM) organisation, the man can be seen yelling at the Turkish gentleman before grabbing his walking aid and throwing it out of the bus.
The video was shared widely on social media on Sunday (18 October) evening and had been viewed more than 40,000 times in 24 hours. Unclear as to what sparked the incident, the abuser can be heard shouting at the elderly man to "go back to Turkey" as well as yelling a range of swear words and threatening to "shove a pig's c***" in the man's mouth". He also incites sexual violence towards the elderly man's wife.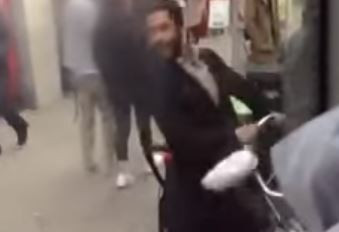 A man engaged in a racist attack against an elderly Turkish man before throwing his walking aid out of the bus.
YouTube
The Metropolitan Police and Transport for London (TfL) are said to be looking into the incident, which has come to light after a woman was arrested for a similar Islamophobic attack on a London bus last week. Simone Joseph, 36, also had her child with her in a pram during her racist attack on a group of Muslim women. Joseph threatened to physically harm one of the pregnant women, while referring to them as "Isis bitches". A video of the attack went viral after it was uploaded to YouTube by a bystander.
Nearly 30,000 people have signed a petition calling on TfL to tackle hate crime in light of the incidents. People have strongly criticised the bus drivers in both incidents for not escorting the abusers off the bus or for calling the police. The petition is demanding that TfL train their staff to prevent further such incidents.