London City Airport was awash with confusion on Friday 12 December as disgruntled passengers waited to see whether their flights would be leaving the UK capital.
Hundreds of travellers packed the airport's main check-in area, as harried staff erected emergency queue ropes in an attempt to being a semblance of order to proceedings.
The departures board showed a series of cancellations and delays to UK and European destinations, although some flights appeared to be running as scheduled.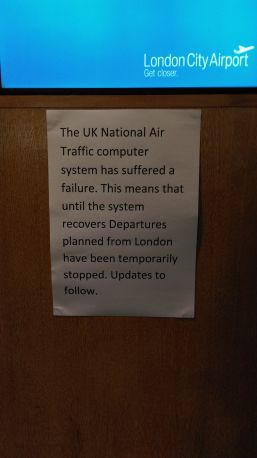 London airspace was temporarily closed on Friday afternoon due to a technical fault at the UK's air traffic control centre.
Komal had boarded her plane for Zurich, Switzerland, on Friday afternoon but was held on board for two hours before being told to disembark.
"It's been a bit frustrating but people were quite calm on the plane. As soon as we got off people got a bit frustrated because there are so many big queues, it's a bit hard to communicate with people. We're not really sure if there are any flights going tonight or not," she said.
"My planes cancelled so I think I'm just going to go home."
Disgruntled passengers bemoaned the lack of information. Blair Sharpe was due to travel to Edinburgh on a business trip early on Friday afternoon but the flight was cancelled.
"I don't know what's happening, we've not really been given very much information. We've been told to come down here, that's it," he said.
"I'm on an early shift tomorrow so I'm trying to contact my workplace and see if they can get me cover, because obviously I don't know what's happening. I just want to know what's happening."
Problems were reported across the UK capital and in some other parts of the country.
The government has said the scale of the disruption to the UK's airports was "unacceptable" and said it had asked air traffic control centre Nats for a "full explanation" of what went wrong.