Passengers on London Underground have been asked to give time and space to those with guide dogs after footage of a commuter attempting to barge past a blind man on an escalator was posted online.
Amit Patel, 37, uploaded the film from his dog Kika's mounted camera after a man asked him to get out of the way on the down escalator at London Bridge station.
In the clip, the man captioned as "rude commuter" asks Patel and his dog to stand on the right of the escalator so that he could get past.
Patel responds: "I can't do that, she's a guide dog," to which the commuter snaps back: "I know that!"
A Trasnport for London worker assisting Patel says: "Give [him] one second please."
As the grumbling of the other commuter persists, the TfL worker adds: "How do you expect him to move? He needs to hold onto the handrail.
"It's only two seconds of your life," he adds as they near the end of the escalator.
Patel, who lost his sight five years ago following a haemorrhage behind his eyes, has spoken publicly before about the issues he has travelling on public transport in the capital with his guide dog.
He told MailOnline: "Kika always sits to my left hand side so we often block the escalator and people will hit her with bags and umbrellas to get her to move out of the way.
"The worst part is the tutting and negative comments behind me. People are so rude and arrogant and assume they can do whatever they want."
He added: "Losing my sight is very lonely. If I'm travelling by public transport I'm sometimes like a scared little boy sat in the corner."
Patel now volunteers for groups such as Royal Institute of the Blind and Guide Dogs for the Blind to help other people who have lost their sight.
Campaign group Transport For All condemned the "inconsiderate attitude" of the man in the video clip.
A spokesperson added: "But we are really pleased with the professional attitude of the London Underground staff. This proves that with the right training staff can provide the best service to their disabled customers."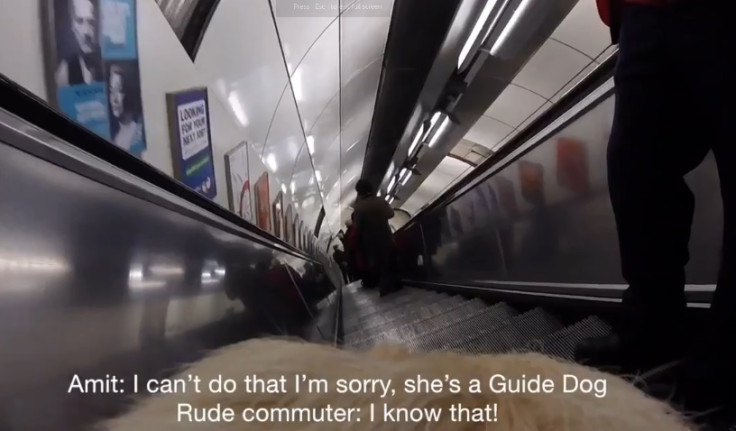 Mark Evers, chief customer officer on London Underground, said: "It is important that customers wait behind anyone travelling with a guide dog on the escalator and not push past, so that customers with guide dogs can travel safely.
"We're committed to providing a transport network that is accessible for all and ask everyone to consider the needs of their fellow passengers."