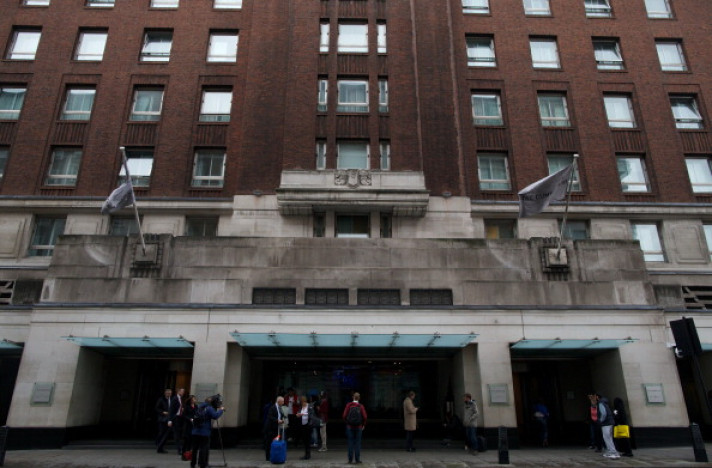 The younger sister of the three Emirati women from the United Arab Emirates, who were attacked with a hammer at the Cumberland Hotel near Marble Arch in London, recounted the terror in tears on Tuesday (7 October).
Philip Spence, 32, had broken into their suite demanding, "Give me f******g money!" before raging into a bloody attack on 6 April.
In front of their children, Spence, mercilessly pounded on the three Emirati women with a claw hammer, leaving them with life-threatening injuries.
The victims, Khulood Al-Najjar, 36, and her sisters Ohoud Al-Najjar, 34, and Fatima Al-Najjar, 31, suffered skull fractures, broken arms and cheekbones.
Ohoud was left with only one functioning eye, five per cent brain function, and is not expected to recover fully.
The victims' fourth sister, Shaikha managed to escape from Spence's bloody attack as she had left the room a little earlier to grab some chocolate from a nearby shop.
When Shaikha returned to the hotel suite on the seventh floor, she was surprised to hear her 11-year-old niece screaming that there was a robber.
"I was confused because my sisters — I didn't know why they are not taking care of their kids, why are they screaming like that? I was confused, I didn't know what was happening. When I entered the room I just saw Ohoud and she was covered... she was, you know, in the bedsheets and I saw the blood but still I was confused about what is happening and I am so horrified," said Shaikha in a video chat from the United Arab Emirates.
Prosecutor Simon Mayo questioned Shaikha further on whether she saw blood on the walls, to which she replied yes, after confirming seeing half of Ohoud's face damaged.
Shaikha had assumed at that moment that she had lost her sister.
The other two sisters, Fatima and Khulood, were also seen lying still on the floor, bleeding from their heads.
Emily Wells, the police official who first arrived on the scene confirmed seeing Fatima bleeding from her head.
"When I moved further into the room I could see Khulood on the floor. She had two blunt force injuries to her forehead as well. She had two sort of holes in her head [gestures above eyes]," said Wells.
Fatima who still suffers from vertigo and dizziness after sustaining a tear to her carotid artery and a fractured skull, broke into tears after seeing Spence in the court room dock, as she left the witness stand.
Spence, who hails from Alperton, northwest London, confessed to attacking the Emirati women in three counts of intending to cause bodily harm and one count of aggravated burglary.
He has denied three counts of attempted murder and one count of conspiracy to commit aggravated burglary.
Meanwhile, co-defendant Thomas Efremi, 57, confessed to engaging in 10 withdrawals estimated at £5,000 using the stolen bankcards.
The third co-defendant James Moss, 33, has also admitted to handling stolen mobile phones, handbags and jewellery.