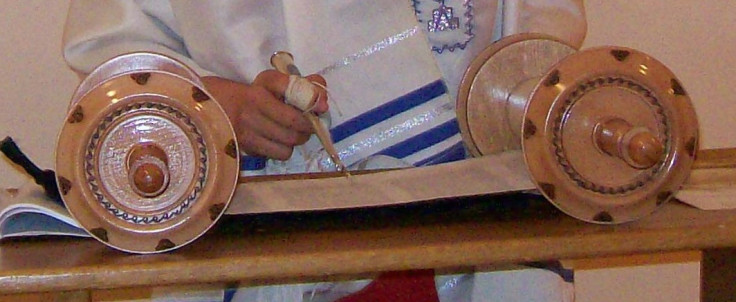 A London Jewish community is "in mourning" after two Torah scrolls worth a total of £40,000 ($44,000) were stolen from a house in Barnet. Police are appealing for information after the scriptures, which they said have "incalculable spiritual value", were taken by an intruder from a house in Ashborne Grove, north-west London, on 22 March.
The suspect ran off after ransacking the house when disturbed by one of the rabbis who lives there. He made off with a safe containing two the Torah scrolls.
One is around 24 inches tall, the other around 18 inches. Both have distinctive decorative handles, with the smaller scroll having a silver breastplate.
Rabbi Larry Tabick and Rabbi Dr Jackie Tabick, said: "Torah scrolls are always hand-written on parchment in Hebrew by trained scribes. Ours had wooden handles at both ends to facilitate rolling to the place where the required reading is.
"Both had velvet mantles, one blue, one red, with gold-embroidered Hebrew words, and trimmed with gold braid. That fact that scrolls are hand-written in itself means that they are expensive to replace.
"But this is not an issue of cost. Their real value is symbolic, and deeply spiritual. Every religious Jew, no matter their persuasion, reveres the Torah scrolls and the words and teachings they contain. Every religious Jewish community reads from scrolls like these every Sabbath and on all Jewish festivals. In fact, the Torah reading forms the heart of these services.
"A community that has lost its Torah scrolls has lost its heart, and it is a cause for mourning, almost as if a much-loved relative and friend had died. The Hampstead Reform Jewish Community is mourning with us."
The suspect is described as a white man, around 5ft 10ins, dressed in black with a scarf across his face.
Anyone with information about the burglary, or who may have seen or been offered the two scrolls for sale, is asked to contact Barnet CID on 020 8733 4439.