London Marathon Runners Wear Black Armbands Amid Heightened Security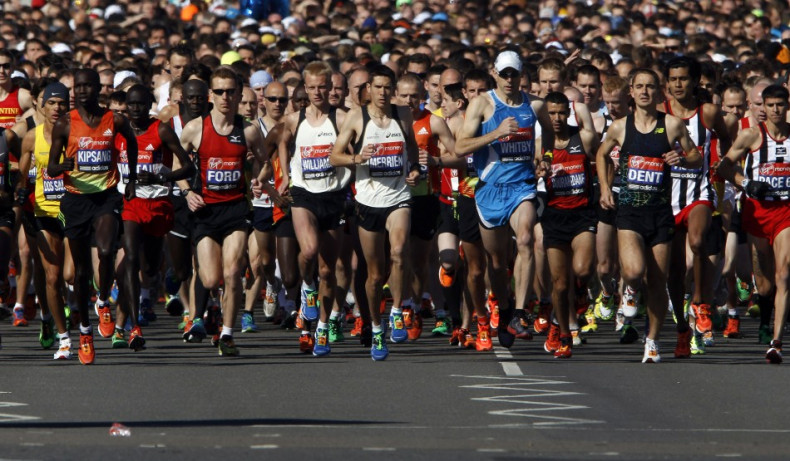 Runners set off today on the London marathon wearing black armbands in honour of the victims of last week's Boston marathon bombings.
The elite women set off at 9am amid heightened security, with hundreds of extra police officers on duty to reassure the public following the attack in the United States, which left three dead and 176 injured.
There will be a 30-second silence in solidarity with the victims at the start of the mass race at 10am.
Many of the estimated 35,000 people taking part in the race are expected to wear the black armbands.
A crowd of 500,000 people is expected to cheer the runners as they race from Blackheath in southeast London to Buckingham Palace, passing many of the capital's iconic landmarks en route.
Among the celebrities taking part will be celebrity chef Michel Roux, of Masterchef.
He told the BBC that his reaction to Monday's attack had been one of "shock and horror".
"I immediately thought of the families of all those who perished. It was just atrocious. But my reaction after that was London; we're going to do it and we're going to do it for them."
Singer Katherine Jenkins will donate money from her sponsors to the Macmillan Cancer Support charity, in memory of her father who died of the disease when she was 15.
Race director Hugh Brasher said that, after Boston, "a full security review took place and everyone was adamant that the show must go on".
The Metropolitan Police confirmed that there would be 40 percent more officers on duty this year, in order to provide "reassurance patrols" for runners and the public.
There will also be extra security for the runners' bags, with 34 lorries transporting them from the start to the finish line.
The Boston bombs are believed to have been left in rucksacks.
Chief Supt Julia Pendry, who has headed marathon security for five years, has said this year's police operation is "about making sure that people who come to London on Sunday feel safe when they are in the city".
But, she added: "There is no link between the Boston Marathon and the London Marathon and there is no change to the threat level at this time to London."
She asked members of the public to keep a close eye on their belongings to avoid sparking security alerts.
"The message I'd like to give to everybody coming is that we want you to come on Sunday, enjoy coming to watch your family and friends race, but please look after your own belongings because unattended packages will cause us to have more work to do," Pendry said.
Olympic champion Mo Farah is among the professional athletes running, and has attracted controversy after reportedly being paid a six-figure sum for taking part and saying he will only run half of the route to practise for a full marathon next year.
Virgin London Marathon has pledged to donate £2 for every runner who finishes Sunday's event to The One Fund Boston, set up to raise money for victims of the explosions.
The race organisers expect the total donation to be at least £70,000.