London 2012 Olympics: American Ashton Eaton Crowned Decathlon Champion
Eaton just missed the decathlon Olympic record by 24 points
American athlete Ashton Eaton can justifiably call himself the "world's greatest athlete", after being crowned the decathlon champion at the London 2012 Olympic Games. The 24 year old American scored an impressive 8,869 points across the ten events - 100m, long jump, shot put, high jump, 400m, 110m hurdles, discus, pole vault, javelin and 1500m.
Eaton's compatriot Trey Hardee took silver after finishing 198 points behind him and Cuban Leonel Suarez claimed his second successive bronze after setting an Olympic record of 76.94m in the javelin throw.
Eaton finished the final event (1500m) in sixth place but that didn't matter - he'd already won the decathlon by then since he took a 222 point lead into the race. The event was won by Belgian Hans Van Alphen, who clocked 4:22.50s.
Incidentally, Eaton holds the decathlon world record of 9039 points, set in June this year but fell short of the Olympic record of 8,893 points, set by Czech Republic's Roman Sebrele.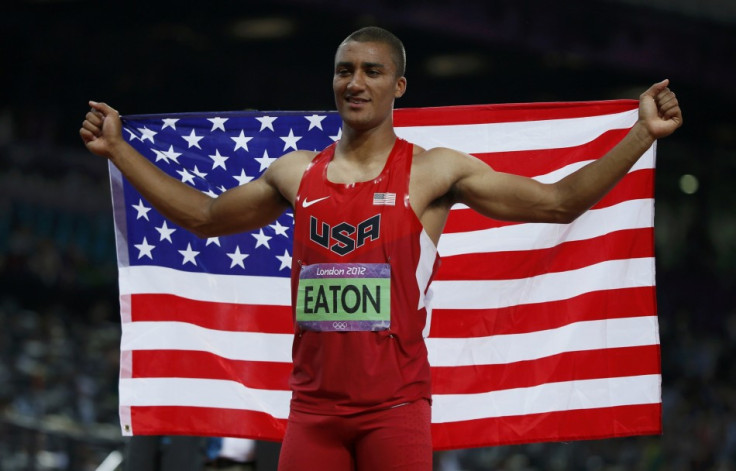 Eaton got off to a good start in the 10-event marathon, with victories in the 100m (13.54s) and long jump (8.03m), only to see his from dip in the shot put, where he finished tenth with a throw of 14.66m. The American was back to winning ways though, claiming second in the high jump (2.05m) and winning the 400m (46.90s). he lost the 110m hurdles event to Hardee, by a fraction of a second to complete the first day's events.
The 220 point lead built up on the first day shrunk to just 99 after a poor performance in the discus throw. Eaton finished last in his group, with a throw of only 42.53m. Hardee finished third with 48.26m.
"I threw a terrible one, he threw a bad one and I was like 'All right, we're doing OK. I threw another bad one, he threw an awesome one and it was: 'Oh I have to figure out what I'm doing and do this' and I threw another bad one. I was so disappointed with myself ... he competed well. I didn't," the Guardian quoted Eaton as saying in the aftermath of that setback.
However, Eaton refused to be demoralised and restored his lead after brilliant showings in the pole vault (third with 5.20m) and the javelin (first, with a personal best of 61.96m).
© Copyright IBTimes 2023. All rights reserved.