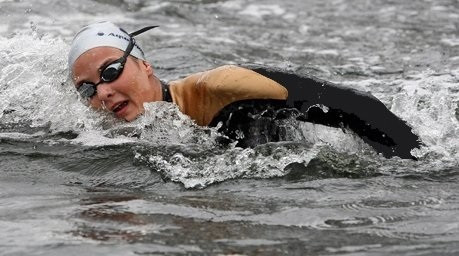 London's Hyde Park hosts one of the most physically challenging Olympic races with British double world champion Keri-Anne Payne, 24, among the favourites for the 10km women's race as she seeks to better the silver medal she won at Beijing 2008.
Defending gold medallist Russian Larisa Ilchenko is out because of health problems but Payne is still up against a strong field. German Angela Maurer and Italian Martina Grimaldi represent the most serious threats.
For the men, Daniel Fogg swims for the Union Jack against medal favourites Thomas Lurz of Germany, Spyridon Gianniotis of Greece and Ous Mellouli of Tunisia.
The 10km marathon is the most recent swimming event to have been added to the Olympic programme, making its debut at the Beijing 2008 Olympic Games.
Swimmers have to complete six laps of the course in Hyde Park's Serpentine, passing through a timing gate after each round.
The women's race starts at noon on 9 August and the men's at noon on 10 August. The race lasts two and a half hours.
The north side of the Serpentine hosts a large ticketed area but access to the rest of the viewing points along the lake shores is free.
Spectators have been warned to arrive early as large crowds are expected and space is limited.
Diana Princess of Wales Memorial
The area surrounding the Diana Princess of Wales Memorial is probably the best to watch the marathon swimming free. The spot is just in front of the ticketed area and it is close to the feeding pontoon where energy drinks will be passed out to swimmers via long poles as they swim past.
Serpentine's Southeast end
Another top spot to watch the race is the southeast shore. The opposite end of the course - the Serpentine Bridge - is closed to the public.