There was more success for the Great Britain rowing team as the men's lightweight four managed to claim the silver medal in perhaps the closest fought final we have seen at Eton Dorney.
The quintet of Peter and Richard Chambers, Chris Bartley and Rob Williams were up against some strong teams in Australia, Denmark and South Africa, with all four countries battling right to the very end.
Denmark went out hard and led for most of the race but with 500m to go all four teams will still in with a chance of landing the gold, however, it was South Africa that managed to find an extra gear and claim the victory by the smallest of margins.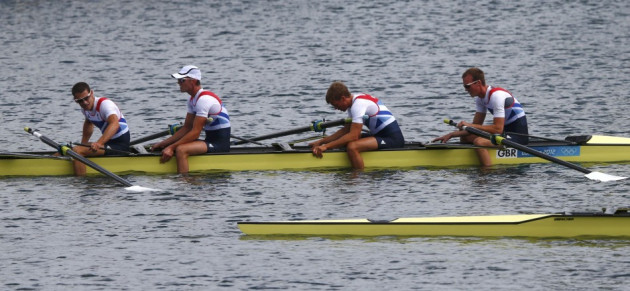 The silver medal was the fourth of the Games, adding to the ones already picked up by cyclist Lizzie Armitstead, the equestrian team and swimmer Michael Jamieson.
"That was really, really brutal. We were just fighting, fighting through the whole thing to get ourselves back into contention. We struggled to keep with the pace of the other crews in the first quarter of the race but we dug our heels in and fought really hard," Richard Chambers told the BBC after the race.
For South Africa it was the first gold medal they had ever won in rowing at any Olympics, but it was agonisingly close for Great Britain who really thought they had a chance of winning gold with just 100m to the finishing line.
We wanted to win. We have to be happy to get a medal at our home Olympics. It's a shame we didn't win but what can you do? It's a shame," said a clearly frustrated Williams.
While the crew were disappointed not to land a gold medal, it capped off another superb day for the British rowers as Sophie Hosking and Katherine Copeland qualifying for the final of the lightweight double sculls by beating world champions Greece by more than three seconds.
The men's four of Andrew Triggs Hodge, Pete Reed, Tom James and Alex Gregory also secured a place in the final after an impressive showing in which they beat the Australian team by nearly two seconds who had won the final World Cup event.
Great Britain have a rich tradition in this race having won gold in Sydney, Athens and Beijing and will now head into the race as the favourites.
Zac Purchase and Mark Hunter also made it through to the final with victory in the lightweight double scull to mean that all 13 British boats have qualified for the finals.