About 150 protesters, including Black Lives Matter activists, marched in north London on Saturday to mark the five year anniversary since the police shooting of Mark Duggan. The rally saw demonstrators retrace the route taken by Duggan's friends and family five years ago from Broadwater Farm to Tottenham Police Station after he was shot dead in a minicab by police on 4 August, 2011.
Chanting "no justice, no peace" and walking under the banner "Tottenham remembers", Duggan's mother, Pamela, joined anti-racism activists who accused the police of "murdering" her son.
Speaking at Saturday's rally, Duggan's aunt, Carole, told IBTimes UK: "We haven't got justice for what the police did on that day. It's five years and we're still fighting. But we won't give up."
Duggan's killing – later found to be lawful by a jury inquest - sparked the worst disorder for a generation, with five days of arson, looting and violence in London and cities across England. The 2011 riots left more than £200m of damage and five people dead.
The Met Police has always maintained Duggan was an armed member of the Tottenham Man Dem gang on his way to carry out an attack, when firearm officers intercepted his minicab in Ferry Lane, Tottenham, and shot him twice. While no gun was found on him, a handgun in a sock was recovered about four metres from his body.
A 2014 inquest into his death returned a lawful killing verdict, with the police marksman who shot Duggan, known only as V53, saying he believed the suspected gangster was an "imminent threat to life". The officer said he shouted "armed police" before seeing Duggan hold an object in his right hand, which he believed to be a gun.
The Duggan family have long-contested the jury verdict, which was upheld at the High Court, as well as the subsequent report by the Independent Police Complaints Commission (IPCC) clearing armed officers of any wrongdoing.
Carole Duggan said the family was in the process of filing a judicial review. "For the sake of Mark's children we want to remove this myth that he (Mark) was a dangerous gangster. The reason why they're deeming him as that is because that's the only way they can justify murdering him. There's no evidence to prove he was a gangster: his criminal record was minimal; the police even said he was a low risk on their radar. It's affected his children. They're getting called 'gangster's son.' "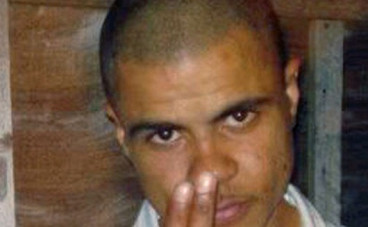 The route from Broadwater Farm to Tottenham Police Station has been well-trodden by activists rallying against police killings for decades.
Saturday's event also remember four other Tottenham residents – Cynthia Jarrett, Joy Gardner, Roger Sylvester and Jermaine Baker – killed by police since the infamous 1985 Broadwater Farm riots, which led to the killing of PC Keith Blakelock.
Stafford Scott, an anti-racist campaigner and close friend of the Duggan family, led crowds outside Tottenham Police station in chants of "no justice, no peace" before introducing family members of other black people killed by police.
Fears Saturday's event would see a repeat of the violence seen in 2011 have so far been allayed, with the protest outside Tottenham Police Station disrupting traffic but remaining peaceful.
The organisers ended by releasing white doves to symbolise "our struggle for peace".