In August 2011, violence erupted across London as thousands of people rioted, looted shops and set fire to properties and vehicles. The disturbance spread to cities and towns elsewhere in England. Five people lost their lives in the chaos, with at least 16 injured. More than 100 homes were destroyed along with dozens of businesses, adding up to around £200 million in damaged property.
Following the police shooting of a 29-year-old father-of-four and suspected drug dealer Mark Duggan on 4 August 2011, a peaceful protest march in Tottenham two days later descended into a running battle with police. The following days saw similar scenes in Hackney, Enfield, Brixton, Peckham, Croydon, Woolwich, Clapham Junction, Ealing and more areas of London. Disturbances were also reported in other English cities, including Liverpool, Manchester and Birmingham. More than 3,000 people were arrested, with over 1,000 charged with offences related to the disorder.
To mark the fifth anniversary of the outbreak of Britain's worst civil disturbances in decades, IBTimes UK looks back at the 2011 London riots.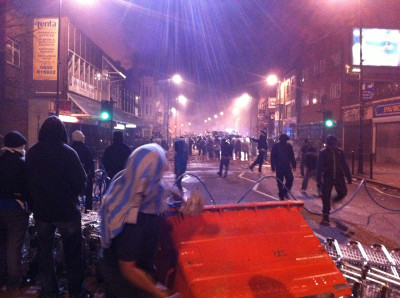 An inquest into the death of Mark Duggan, who was shot twice by a police marksman in Tottenham, ruled that he was lawfully killed by police despite a jury declaring by a majority of eight to two that he did not have a gun at the time. The police officer had claimed he acted in self-defence after he saw Duggan holding a gun and appearing as if he was ready to fire. Following a four-month inquest, a jury declared that Duggan probably threw the gun out of the vehicle's window. His family however rejected the verdict, saying Duggan had been "executed" by police.