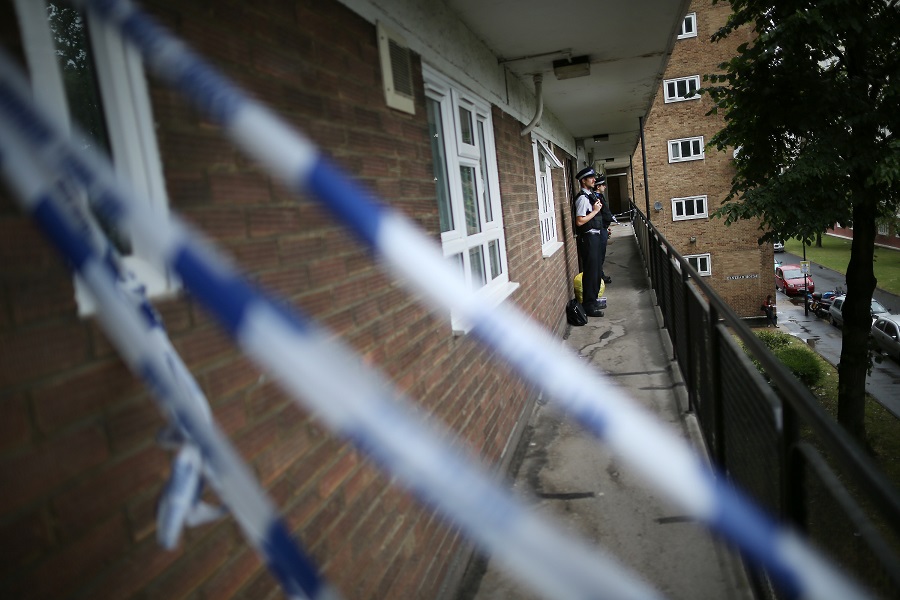 High Road in Haringey has been revealed as the road with the highest number of stabbings in London. Between 2012 and 2014 there were 58 stabbings there, more than double the number recorded along Old Kent Road in Southwark, which had 28 over the same period.
Southwark was the London borough with the most stabbings (605) while Richmond-upon-Thames had the fewest (76). There were 9,666 stabbings across the capital with the number of incidents rising from 3,242 in 2012 to 3,311 in 2014.
The Metropolitan Police service says youngsters today are arming themselves with knives bought on the internet and do not place the blame on its reformed stop and search policy.
Using either your postcode or road name, search our database to find out how many stabbings were recorded near your address.
<th>Year <th>Borough Name <th>Location Street 1 <th>Postcode
2012
Barking & Dagenham
*No recorded street name
* No recorded postcode
2012
Barking & Dagenham
*No recorded street name
* No recorded postcode
2012
Barking & Dagenham
*No recorded street name
* No recorded postcode
2012
Barking & Dagenham
ALFREDS WAY
* No recorded postcode
2012
Barking & Dagenham
ALLEYNDALE ROAD
RM8
2012
Barking & Dagenham
AYLMER ROAD
RM8
2012
Barking & Dagenham
AYLMER ROAD
RM8
2012
Barking & Dagenham
BALLARDS ROAD
RM10
2012
Barking & Dagenham
BAMFORD ROAD
* No recorded postcode
2012
Barking & Dagenham
BECONTREE AVENUE
RM9
2012
Barking & Dagenham
BECONTREE AVENUE
RM9
2012
Barking & Dagenham
BELL FARM AVENUE
RM10
2012
Barking & Dagenham
BILLET ROAD
RM6
2012
Barking & Dagenham
BRADWELL AVENUE
RM10
2012
Barking & Dagenham
BROAD STREET
RM10
2012
Barking & Dagenham
BROAD STREET
RM10
2012
Barking & Dagenham
BROMHALL ROAD
RM8
2012
Barking & Dagenham
CHURCH ELM LANE
RM10
2012
Barking & Dagenham
CHURCH ELM LANE
RM10
2012
Barking & Dagenham
CHURCH STREET
RM10
2012
Barking & Dagenham
COOTE ROAD
RM8
2012
Barking & Dagenham
COWBRIDGE LANE
IG11
2012
Barking & Dagenham
CRANBORNE ROAD
IG11
2012
Barking & Dagenham
CRESCENT ROAD
RM10
2012
Barking & Dagenham
CURZON CRESCENT
IG11
2012
Barking & Dagenham
DOWNING ROAD
RM9
2012
Barking & Dagenham
EAST ROAD
RM6
2012
Barking & Dagenham
EASTERN AVENUE WEST
RM6
2012
Barking & Dagenham
ELLERTON ROAD
RM9
2012
Barking & Dagenham
FARR AVENUE
IG11
2012
Barking & Dagenham
FRESHWATER ROAD
RM8
2012
Barking & Dagenham
GALE STREET
RM9
2012
Barking & Dagenham
GOSFIELD ROAD
RM8
2012
Barking & Dagenham
GREENFIELD GARDENS
RM9
2012
Barking & Dagenham
GROVEWAY
RM8
2012
Barking & Dagenham
HARTS LANE
IG11
2012
Barking & Dagenham
HEATHWAY
RM9
2012
Barking & Dagenham
HENSHAWE ROAD
RM8
2012
Barking & Dagenham
HIGH ROAD
RM6
2012
Barking & Dagenham
HIGH ROAD
RM6
2012
Barking & Dagenham
IBSCOTT CLOSE
RM10
2012
Barking & Dagenham
LANGLEY CRESCENT
RM9
2012
Barking & Dagenham
LINTON ROAD
IG11
2012
Barking & Dagenham
LODGE AVENUE
RM8
2012
Barking & Dagenham
LODGE AVENUE
RM8
2012
Barking & Dagenham
LONDON ROAD
* No recorded postcode
2012
Barking & Dagenham
LONGBRIDGE ROAD
IG11
2012
Barking & Dagenham
LONGBRIDGE ROAD J/W FAIRCROSS ROAD
* No recorded postcode
2012
Barking & Dagenham
LONGBRIDGE ROAD J/W FANSHAW ROUNDABOUT
IG11
2012
Barking & Dagenham
LOXFORD ROAD
IG11
2012
Barking & Dagenham
LOXFORD ROAD
IG11
2012
Barking & Dagenham
LOXFORD ROAD
IG11
2012
Barking & Dagenham
MAPLESTEAD ROAD
RM9
2012
Barking & Dagenham
MAPLESTEAD ROAD
RM9
2012
Barking & Dagenham
MARGERY ROAD
RM8
2012
Barking & Dagenham
MARLBOROUGH ROAD
RM8
2012
Barking & Dagenham
MAYFIELD ROAD
RM8
2012
Barking & Dagenham
MAYFIELD ROAD
RM8
2012
Barking & Dagenham
MONTEAGLE AVENUE
IG11
2012
Barking & Dagenham
NORTHFIELD GARDENS
RM9
2012
Barking & Dagenham
PADNALL COURT
RM6
2012
Barking & Dagenham
RAINHAM ROAD NORTH
* No recorded postcode
2012
Barking & Dagenham
RAINHAM ROAD SOUTH
RM10
2012
Barking & Dagenham
RAINHAM ROAD SOUTH
RM10
2012
Barking & Dagenham
REEDE ROAD
RM10
2012
Barking & Dagenham
RIPPLE ROAD
IG11
2012
Barking & Dagenham
RIPPLE ROAD
IG11
2012
Barking & Dagenham
RIPPLE ROAD
IG11
2012
Barking & Dagenham
RIPPLE ROAD
IG11
2012
Barking & Dagenham
RIPPLE ROAD
IG11
2012
Barking & Dagenham
RIPPLE ROAD
IG11
2012
Barking & Dagenham
ROYCRAFT AVENUE
IG11
2012
Barking & Dagenham
SALISBURY AVENUE
IG11
2012
Barking & Dagenham
SANDRINGHAM ROAD
IG11
2012
Barking & Dagenham
SOUTHWOLD DRIVE
IG11
2012
Barking & Dagenham
ST. MARGARETS
IG11
2012
Barking & Dagenham
ST. MARK'S PLACE
RM10
2012
Barking & Dagenham
ST. MARYS
IG11
2012
Barking & Dagenham
STAMFORD ROAD
RM9
2012
Barking & Dagenham
STATION PARADE
IG11
2012
Barking & Dagenham
THIRD AVENUE
RM10
2012
Barking & Dagenham
UVEDALE ROAD
RM10
2012
Barking & Dagenham
VICARAGE ROAD
RM10
2012
Barking & Dagenham
VICTORIA ROAD
IG11
2012
Barking & Dagenham
VICTORIA ROAD
RM10
2012
Barking & Dagenham
VINCENT ROAD
RM9
2012
Barking & Dagenham
WAKERING ROAD
IG11
2012
Barking & Dagenham
WARRINGTON ROAD
RM8
2012
Barking & Dagenham
WATERBEACH ROAD
RM9
2012
Barking & Dagenham
WELLINGTON DRIVE
RM10
2012
Barking & Dagenham
WHEELERS CROSS
IG11
2012
Barking & Dagenham
WOOD LANE
RM10
2012
Barking & Dagenham
WOOD LANE
RM10
2012
Barking & Dagenham
WOODWARD ROAD
RM9
2013
Barking & Dagenham
*No recorded street name
* No recorded postcode
2013
Barking & Dagenham
ADELIZA CLOSE
IG11
2013
Barking & Dagenham
AGER AVENUE
RM8
2013
Barking & Dagenham
AGER AVENUE
RM8
2013
Barking & Dagenham
ALDBOROUGH ROAD
RM10
2013
Barking & Dagenham
ARMSTEAD WALK
RM10
2013
Barking & Dagenham
ARMSTEAD WALK
RM10
2013
Barking & Dagenham
AXE STREET
IG11
2013
Barking & Dagenham
AXE STREET
IG11
2013
Barking & Dagenham
BADEN POWELL CLOSE
RM9
2013
Barking & Dagenham
BALLARDS ROAD
RM10
2013
Barking & Dagenham
BELL FARM AVENUE
RM10
2013
Barking & Dagenham
BLUEBELL CLOSE
RM7
2013
Barking & Dagenham
BRADWELL AVENUE
RM10
2013
Barking & Dagenham
CECIL AVENUE
IG11
2013
Barking & Dagenham
CENTRAL PARK AVENUE
RM10
2013
Barking & Dagenham
CHURCH ELM LANE
RM10
2013
Barking & Dagenham
CHURCH ELM LANE
* No recorded postcode
2013
Barking & Dagenham
COWBRIDGE LANE
IG11
2013
Barking & Dagenham
DAGENHAM AVENUE
RM9
2013
Barking & Dagenham
DAGENHAM AVENUE
RM9
2013
Barking & Dagenham
DARCY GARDENS
RM9
2013
Barking & Dagenham
DARCY GARDENS
RM9
2013
Barking & Dagenham
DAWSON AVENUE
IG11
2013
Barking & Dagenham
EASTBROOK CLOSE
RM10
2013
Barking & Dagenham
FANSHAWE AVENUE
IG11
2013
Barking & Dagenham
FANSHAWE CRESCENT
RM9
2013
Barking & Dagenham
GORESBROOK ROAD
RM9
2013
Barking & Dagenham
GORESBROOK ROAD
RM9
2013
Barking & Dagenham
GOSFIELD ROAD
RM8
2013
Barking & Dagenham
GREEN LANE
RM8
2013
Barking & Dagenham
GREEN LANE
RM8
2013
Barking & Dagenham
GREEN LANE
* No recorded postcode
2013
Barking & Dagenham
GREENSIDE
RM8
2013
Barking & Dagenham
HAMDEN CRESCENT
RM10
2013
Barking & Dagenham
HARRISON ROAD
RM10
2013
Barking & Dagenham
HEATHWAY
RM10
2013
Barking & Dagenham
HIGH ROAD
RM6
2013
Barking & Dagenham
HORSE BRIDGE CLOSE
RM9
2013
Barking & Dagenham
IBSCOTT CLOSE
RM10
2013
Barking & Dagenham
IVYHOUSE ROAD
RM9
2013
Barking & Dagenham
KILSBY WALK
RM9
2013
Barking & Dagenham
LIMBOURNE AVENUE
RM8
2013
Barking & Dagenham
LONGBRIDGE ROAD
IG11
2013
Barking & Dagenham
MAXEY ROAD
RM9
2013
Barking & Dagenham
MAYBURY ROAD
IG11
2013
Barking & Dagenham
MIDDLETON GROVE
IG11
2013
Barking & Dagenham
NASH ROAD
RM6
2013
Barking & Dagenham
NUNEATON ROAD
RM9
2013
Barking & Dagenham
REVIEW ROAD
RM10
2013
Barking & Dagenham
RIPPLE ROAD
RM9
2013
Barking & Dagenham
ROGERS ROAD
RM10
2013
Barking & Dagenham
ROGERS ROAD
RM10
2013
Barking & Dagenham
ROXWELL ROAD
IG11
2013
Barking & Dagenham
RUGBY GARDENS
RM9
2013
Barking & Dagenham
RUGBY GARDENS
RM9
2013
Barking & Dagenham
RUGBY ROAD
RM9
2013
Barking & Dagenham
RUGBY ROAD
RM9
2013
Barking & Dagenham
SALISBURY AVENUE
IG11
2013
Barking & Dagenham
SCHOOL ROAD
RM10
2013
Barking & Dagenham
ST. AWDRYS ROAD
IG11
2013
Barking & Dagenham
ST. AWDRYS ROAD
IG11
2013
Barking & Dagenham
ST. MARGARETS
IG11
2013
Barking & Dagenham
ST. MARK'S PLACE
RM10
2013
Barking & Dagenham
ST. MARK'S PLACE
RM10
2013
Barking & Dagenham
ST. MARYS
IG11
2013
Barking & Dagenham
STATION PARADE
IG11
2013
Barking & Dagenham
STERN CLOSE
IG11
2013
Barking & Dagenham
STUDLEY ROAD
RM9
2013
Barking & Dagenham
TALLOW CLOSE
RM9
2013
Barking & Dagenham
TANTONY GROVE
RM6
2013
Barking & Dagenham
THE CHASE
* No recorded postcode
2013
Barking & Dagenham
THE HEATHWAY
* No recorded postcode
2013
Barking & Dagenham
TOMLINS ORCHARD
IG11
2013
Barking & Dagenham
UPNEY LANE
IG11
2013
Barking & Dagenham
UPNEY LANE
IG11
2013
Barking & Dagenham
WAKERING ROAD
IG11
2013
Barking & Dagenham
WALNUT TREE ROAD
RM8
2013
Barking & Dagenham
WESTFIELD ROAD
RM9
2014
Barking & Dagenham
A13
IG11
2014
Barking & Dagenham
ALDERMAN AVENUE
IG11
2014
Barking & Dagenham
ALTHORNE WAY
RM10
2014
Barking & Dagenham
ANNE MEWS
IG11
2014
Barking & Dagenham
BEAM AVENUE
RM10
2014
Barking & Dagenham
BECONTREE AVENUE
RM8
2014
Barking & Dagenham
BECONTREE AVENUE
RM8
2014
Barking & Dagenham
BECONTREE AVENUE
RM8
2014
Barking & Dagenham
BOUNDARY ROAD
IG11
2014
Barking & Dagenham
BUTTFIELD CLOSE
RM10
2014
Barking & Dagenham
CAMPDEN CRESCENT
RM8
2014
Barking & Dagenham
CAMPDEN CRESCENT
RM8
2014
Barking & Dagenham
CEDAR AVENUE
RM6
2014
Barking & Dagenham
CHURCH STREET
RM10
2014
Barking & Dagenham
COLLIER ROW ROAD
RM5
2014
Barking & Dagenham
CROSSNESS ROAD
IG11
2014
Barking & Dagenham
DAGENHAM AVENUE
RM9
2014
Barking & Dagenham
DAGENHAM ROAD
RM10
2014
Barking & Dagenham
DAGENHAM ROAD
RM10
2014
Barking & Dagenham
DAGENHAM ROAD
RM10
2014
Barking & Dagenham
DAGENHAM ROAD
RM7
2014
Barking & Dagenham
DOROTHY GARDENS
RM8
2014
Barking & Dagenham
ESSEX ROAD
IG11
2014
Barking & Dagenham
ESSEX ROAD
IG11
2014
Barking & Dagenham
EXETER ROAD
RM10
2014
Barking & Dagenham
FORD ROAD
RM10
2014
Barking & Dagenham
GALE STREET
RM9
2014
Barking & Dagenham
GALE STREET
RM9
2014
Barking & Dagenham
GALE STREET
RM9
2014
Barking & Dagenham
GLENNY ROAD
IG11
2014
Barking & Dagenham
GURNEY CLOSE
IG11
2014
Barking & Dagenham
GURNEY CLOSE
IG11
2014
Barking & Dagenham
GURNEY CLOSE
IG11
2014
Barking & Dagenham
GURNEY CLOSE
IG11
2014
Barking & Dagenham
GURNEY CLOSE
IG11
2014
Barking & Dagenham
GURNEY CLOSE
IG11
2014
Barking & Dagenham
HEATHWAY
RM9
2014
Barking & Dagenham
HEDGEMANS ROAD
RM9
2014
Barking & Dagenham
HEDGEMANS ROAD
RM9
2014
Barking & Dagenham
HEDGEMANS ROAD
RM9
2014
Barking & Dagenham
HEDGEMANS ROAD
RM9
2014
Barking & Dagenham
HEDINGHAM ROAD
RM8
2014
Barking & Dagenham
HERTFORD ROAD
IG11
2014
Barking & Dagenham
HEWETT ROAD
RM8
2014
Barking & Dagenham
HOLGATE GARDENS
RM10
2014
Barking & Dagenham
IBSCOTT CLOSE
RM10
2014
Barking & Dagenham
IBSCOTT CLOSE
RM10
2014
Barking & Dagenham
IBSCOTT CLOSE
RM10
2014
Barking & Dagenham
IVY WALK
RM9
2014
Barking & Dagenham
IVYHOUSE ROAD JUNCTION SPURLING ROAD
RM9
2014
Barking & Dagenham
JOHN BURNS DRIVE
IG11
2014
Barking & Dagenham
KENNEDY ROAD
IG11
2014
Barking & Dagenham
KNIGHT CLOSE
RM8
2014
Barking & Dagenham
LINDSEY ROAD
RM8
2014
Barking & Dagenham
LONDON ROAD
IG11
2014
Barking & Dagenham
LONGBRIDGE ROAD
IG11
2014
Barking & Dagenham
LONGBRIDGE ROAD
IG11
2014
Barking & Dagenham
LONGBRIDGE ROAD
RM8
2014
Barking & Dagenham
LONGBRIDGE ROAD
* No recorded postcode
2014
Barking & Dagenham
LULLINGTON ROAD
RM9
2014
Barking & Dagenham
MAPLESTEAD ROAD
RM9
2014
Barking & Dagenham
MAYBURY ROAD
IG11
2014
Barking & Dagenham
MAYBURY ROAD
IG11
2014
Barking & Dagenham
OXLOW LANE
RM10
2014
Barking & Dagenham
OXLOW LANE
RM10
2014
Barking & Dagenham
OXLOW LANE
RM10
2014
Barking & Dagenham
PARSLOES AVENUE
RM9
2014
Barking & Dagenham
PEMBERTON GARDENS
RM6
2014
Barking & Dagenham
POWELL GARDENS
RM10
2014
Barking & Dagenham
RAINHAM ROAD SOUTH
RM10
2014
Barking & Dagenham
RAYDONS ROAD
RM9
2014
Barking & Dagenham
ROBERTS PLACE
RM10
2014
Barking & Dagenham
ROSE LANE
RM6
2014
Barking & Dagenham
RUSHOLME AVENUE
RM10
2014
Barking & Dagenham
SCHOOL ROAD
RM10
2014
Barking & Dagenham
SELINAS LANE
RM8
2014
Barking & Dagenham
ST. MARGARETS
IG11
2014
Barking & Dagenham
ST. MARGARETS
IG11
2014
Barking & Dagenham
STANLEY AVENUE
RM8
2014
Barking & Dagenham
STATION PARADE
IG11
2014
Barking & Dagenham
TEMPLE AVENUE
RM8
2014
Barking & Dagenham
THE CHASE
RM7
2014
Barking & Dagenham
WANDERER DRIVE
IG11
2014
Barking & Dagenham
WHEELERS CROSS
IG11
2014
Barking & Dagenham
WINSTEAD GARDENS
RM10
2014
Barking & Dagenham
WOOD LANE
RM10
2014
Barking & Dagenham
WOOD LANE
RM8
2014
Barking & Dagenham
WOODWARD ROAD
RM9
2012
Barnet
ADRIAN WALK
NW2
2012
Barnet
ADRIAN WALK
NW2
2012
Barnet
ADRIAN WALK
NW2
2012
Barnet
BARNFIELD ROAD
HA8
2012
Barnet
BIBSWORTH ROAD
N3
2012
Barnet
BOTANY CLOSE
EN4
2012
Barnet
BRENT PLACE
EN5
2012
Barnet
BURNT OAK BROADWAY
HA8
2012
Barnet
BURNT OAK FIELDS
HA8
2012
Barnet
CHURCH ROAD
NW4
2012
Barnet
COLIN CRESCENT
NW9
2012
Barnet
CORNER MEAD
NW9
2012
Barnet
CRESSINGHAM ROAD
HA8
2012
Barnet
CRESSINGHAM ROAD
HA8
2012
Barnet
CRICKLEWOOD LANE
NW2
2012
Barnet
DEANS LANE
HA8
2012
Barnet
DEANSBROOK ROAD
HA8
2012
Barnet
DEANSBROOK ROAD
HA8
2012
Barnet
EAST END ROAD
N2
2012
Barnet
EAST ROAD
HA8
2012
Barnet
EDGWARE ROAD
* No recorded postcode
2012
Barnet
ELM GROVE
NW2
2012
Barnet
ENDERSLEIGH GARDENS
NW4
2012
Barnet
GERON WAY
NW2
2012
Barnet
GLOUCESTER GROVE
HA8
2012
Barnet
GOLDSMITH ROAD
N11
2012
Barnet
GREAT NORTH ROAD
EN5
2012
Barnet
HEMINGTON AVENUE
N11
2012
Barnet
HENDON LANE
N3
2012
Barnet
HIGH ROAD
N2
2012
Barnet
HOWARD WAY
EN5
2012
Barnet
KING STREET
N2
2012
Barnet
LANCASTER ROAD
EN4
2012
Barnet
LANGFORD ROAD
EN4
2012
Barnet
LANGHAM ROAD
HA8
2012
Barnet
LONG LANE
N2
2012
Barnet
LYNDHURST AVENUE
N12
2012
Barnet
MARBLE DRIVE
NW2
2012
Barnet
MAYS LANE
EN5
2012
Barnet
MILESPIT HILL
NW7
2012
Barnet
MOAT CRESCENT
N3
2012
Barnet
MONTROSE AVENUE
HA8
2012
Barnet
MONTROSE AVENUE
HA8
2012
Barnet
OAKLEIGH ROAD NORTH
N20
2012
Barnet
OAKRIDGE DRIVE
N2
2012
Barnet
PARKLEA CLOSE
NW9
2012
Barnet
QUEENS PARADE, QUEENS ROAD
NW4
2012
Barnet
REGENTS PARK ROAD
N3
2012
Barnet
REGENTS PARK ROAD
N3
2012
Barnet
ROSCOFF CLOSE
HA8
2012
Barnet
ROTHERWICK ROAD
NW11
2012
Barnet
ROTHERWICK ROAD
NW11
2012
Barnet
SIMMONS WAY
N20
2012
Barnet
SQUIRES LANE
N3
2012
Barnet
STATION ROAD
NW4
2012
Barnet
STONEGROVE
HA8
2012
Barnet
STONEGROVE
HA8
2012
Barnet
TYRREL WAY
NW9
2012
Barnet
VIVIAN AVENUE
NW4
2012
Barnet
WATFORD WAY
NW4
2012
Barnet
WATFORD WAY
NW7
2012
Barnet
WATLING AVENUE
HA8
2012
Barnet
WATLING AVENUE
HA8
2012
Barnet
WELLHOUSE LANE
EN5
2013
Barnet
ABBOTS ROAD
HA8
2013
Barnet
ABBOTS ROAD
HA8
2013
Barnet
AEROVILLE
NW9
2013
Barnet
AMIAS DRIVE
HA8
2013
Barnet
ANNESLEY AVENUE
NW9
2013
Barnet
ANNESLEY AVENUE
NW9
2013
Barnet
ANNESLEY AVENUE
NW9
2013
Barnet
ASHBOURNE AVENUE
NW11
2013
Barnet
BALLARDS LANE
N12
2013
Barnet
BALLARDS LANE
N3
2013
Barnet
BALLARDS LANE
N3
2013
Barnet
BARFIELD AVENUE
N20
2013
Barnet
BASING HILL
NW11
2013
Barnet
BELLEVUE ROAD
N11
2013
Barnet
BITTACY ROAD
NW7
2013
Barnet
BROOK WALK
N2
2013
Barnet
BURNT OAK BROADWAY
HA8
2013
Barnet
BURTONHOLE LANE
NW7
2013
Barnet
CHASE WAY
N14
2013
Barnet
CHURCH LANE
N2
2013
Barnet
CHURCH ROAD
NW4
2013
Barnet
CHURCHFIELD AVENUE
N12
2013
Barnet
CHURCHFIELD AVENUE
N12
2013
Barnet
CHURCHFIELD AVENUE
N12
2013
Barnet
CHURCHFIELD AVENUE
N12
2013
Barnet
CHURCHFIELD AVENUE
N12
2013
Barnet
CLAREMONT ROAD
NW2
2013
Barnet
COLINDALE AVENUE
NW9
2013
Barnet
CRESSINGHAM ROAD
HA8
2013
Barnet
CROMER ROAD
EN5
2013
Barnet
CROMWELL ROAD
N10
2013
Barnet
DARCY CLOSE
N20
2013
Barnet
DEANS LANE
HA8
2013
Barnet
DEANSBROOK ROAD
HA8
2013
Barnet
DEERFIELDS CLOSE
NW9
2013
Barnet
DEERFIELDS CLOSE
NW9
2013
Barnet
DENMARK GROVE
N1
2013
Barnet
DOLLIS VALLEY DRIVE
EN5
2013
Barnet
DOLLIS VALLEY WAY
EN5
2013
Barnet
EAGLE DRIVE
NW9
2013
Barnet
FALLOW COURT AVENUE
N12
2013
Barnet
FORTESCUE ROAD
HA8
2013
Barnet
GADSBURY CLOSE
NW9
2013
Barnet
GERVASE ROAD
HA8
2013
Barnet
GREAT NORTH ROAD
N2
2013
Barnet
GREAT NORTH ROAD
EN5
2013
Barnet
HAMILTON ROAD
NW11
2013
Barnet
HAMPDEN WAY
N14
2013
Barnet
HANKINS LANE
NW7
2013
Barnet
HIGH ROAD
N12
2013
Barnet
HIGH ROAD
N20
2013
Barnet
HIGH STREET
EN5
2013
Barnet
HIGHLEA CLOSE
NW9
2013
Barnet
HOLLICKWOOD AVENUE
N12
2013
Barnet
HYDE ESTATE ROAD
NW9
2013
Barnet
HYDE ESTATE ROAD
NW9
2013
Barnet
KENILWORTH ROAD
HA8
2013
Barnet
LANKASTER GARDENS
N2
2013
Barnet
MAGPIE CLOSE
NW9
2013
Barnet
MANOR PARK CRESCENT
HA8
2013
Barnet
MILESPIT HILL
NW7
2013
Barnet
NETHER STREET
N3
2013
Barnet
NETHER STREET
N3
2013
Barnet
NEW BRENT STREET
NW4
2013
Barnet
OAKLEIGH ROAD NORTH
N20
2013
Barnet
OAKLEIGH ROAD NORTH
N20
2013
Barnet
OLD FARM ROAD
N2
2013
Barnet
PARKSIDE GARDENS
EN4
2013
Barnet
PENNINE DRIVE
NW2
2013
Barnet
PENNINE DRIVE
NW2
2013
Barnet
PERT CLOSE
N10
2013
Barnet
RAVENSDALE AVENUE
N12
2013
Barnet
REGENT CLOSE
N12
2013
Barnet
RICKARD CLOSE
NW4
2013
Barnet
SILKSTREAM ROAD
HA8
2013
Barnet
STATION ROAD
EN5
2013
Barnet
STATION ROAD
HA8
2013
Barnet
STATION ROAD
HA8
2013
Barnet
STUART AVENUE
NW9
2013
Barnet
SYDNEY ROAD
N10
2013
Barnet
THE GRANGE
N2
2013
Barnet
THE HYDE
NW9
2013
Barnet
THE LONING
NW9
2013
Barnet
TYRREL WAY
NW9
2013
Barnet
WATLING AVENUE
HA8
2013
Barnet
WEST HENDON BROADWAY
NW9
2013
Barnet
WEST HENDON BROADWAY
NW9
2013
Barnet
WILTON ROAD
EN4
2013
Barnet
WOLMER CLOSE
HA8
2013
Barnet
WOODSIDE GROVE
N12
2014
Barnet
ALBION AVENUE
N10
2014
Barnet
AMBER GROVE
NW2
2014
Barnet
BALLARDS LANE
N12
2014
Barnet
BALLARDS LANE
N12
2014
Barnet
BALLARDS LANE
N12
2014
Barnet
BALLARDS LANE
N12
2014
Barnet
BALLARDS LANE
N3
2014
Barnet
BLUNDELL ROAD
HA8
2014
Barnet
BOOTH ROAD
NW9
2014
Barnet
BRADSHAW DRIVE
NW7
2014
Barnet
BRADSHAW DRIVE
NW7
2014
Barnet
BRAY ROAD
NW7
2014
Barnet
BRENT TERRACE
NW2
2014
Barnet
BROADFIELDS AVENUE
HA8
2014
Barnet
CAT HILL
EN4
2014
Barnet
CCC
* No recorded postcode
2014
Barnet
CHARCOT ROAD
NW9
2014
Barnet
CHARCOT ROAD
NW9
2014
Barnet
COLIN GARDENS
NW9
2014
Barnet
COLINDALE AVENUE
NW9
2014
Barnet
CRESSINGHAM ROAD
HA8
2014
Barnet
CRICKLEWOOD LANE
NW2
2014
Barnet
CRICKLEWOOD LANE
NW2
2014
Barnet
CROMER ROAD
EN5
2014
Barnet
DEANSBROOK ROAD
HA8
2014
Barnet
DOLLIS VALLEY DRIVE
EN5
2014
Barnet
DOLLIS VALLEY WAY
EN5
2014
Barnet
DOLLIS VALLEY WAY
EN5
2014
Barnet
DOLLIS VALLEY WAY
EN5
2014
Barnet
EAST BARNET ROAD
EN4
2014
Barnet
EAST BARNET ROAD
EN4
2014
Barnet
EAST ROAD
HA8
2014
Barnet
EDGWARE ROAD
NW9
2014
Barnet
FINCHLEY ROAD
NW11
2014
Barnet
FIVE ACRE
NW9
2014
Barnet
FRIERN BARNET ROAD
N11
2014
Barnet
FRIERN BARNET ROAD
N11
2014
Barnet
GLEBELANDS CLOSE
N12
2014
Barnet
GOLDBEATERS GROVE
HA8
2014
Barnet
GOLDERS GREEN ROAD
NW11
2014
Barnet
GOLDSMITH ROAD
N11
2014
Barnet
GREAT NORTH ROAD
EN5
2014
Barnet
GROVE ROAD
N12
2014
Barnet
HEMINGTON AVENUE
N11
2014
Barnet
HENDON WAY
NW4
2014
Barnet
HERVEY CLOSE
N3
2014
Barnet
HEYBOURNE CRESCENT
NW9
2014
Barnet
HEYBOURNE CRESCENT
NW9
2014
Barnet
HIGH ROAD
N2
2014
Barnet
HIGH STREET
EN5
2014
Barnet
HUNTINGDON ROAD
N2
2014
Barnet
HUNTINGDON ROAD
N2
2014
Barnet
KENLEY AVENUE
NW9
2014
Barnet
LONG LANE
N2
2014
Barnet
MARRIOTTS CLOSE
NW9
2014
Barnet
MARRIOTTS CLOSE
NW9
2014
Barnet
MAYS LANE
EN5
2014
Barnet
MAYS LANE
EN5
2014
Barnet
MEADWAY
EN5
2014
Barnet
MILESPIT HILL
NW7
2014
Barnet
MILLFIELD ROAD
HA8
2014
Barnet
MONTROSE AVENUE
HA8
2014
Barnet
PARK ROAD
NW4
2014
Barnet
PARSON STREET
NW4
2014
Barnet
PAVILION WAY
HA8
2014
Barnet
POTTERS ROAD
EN5
2014
Barnet
RIDGEVIEW CLOSE
EN5
2014
Barnet
SPUR ROAD
HA8
2014
Barnet
STATION APPROACH
EN5
2014
Barnet
STATION ROAD
EN5
2014
Barnet
STONEGROVE
HA8
2014
Barnet
STUDIO MEWS
NW4
2014
Barnet
SUNNINGFIELDS ROAD
NW4
2014
Barnet
SWYNFORD GARDENS
NW4
2014
Barnet
TANGMERE WAY
NW9
2014
Barnet
TARLING ROAD
N2
2014
Barnet
THE BURROUGHS
NW4
2014
Barnet
THE CONCOURSE
NW9
2014
Barnet
THE DRIVE
NW11
2014
Barnet
THE GRANGE
N2
2014
Barnet
THE HYDE
NW9
2014
Barnet
THE VALE
N10
2014
Barnet
TREVOR ROAD
HA8
2014
Barnet
WATFORD WAY
NW4
2014
Barnet
WATLING AVENUE
HA8
2014
Barnet
WATLING AVENUE
HA8
2014
Barnet
WOODSIDE GRANGE ROAD
N12
2012
Bexley
*No recorded street name
* No recorded postcode
2012
Bexley
ARTHUR STREET
DA8
2012
Bexley
AVENUE ROAD
DA8
2012
Bexley
AVENUE ROAD
DA8
2012
Bexley
BATTLE ROAD
DA8
2012
Bexley
BEXLEY ROAD
DA8
2012
Bexley
BIRLING ROAD
DA8
2012
Bexley
BOUNDARY STREET
DA8
2012
Bexley
BURGATE CLOSE
DA1
2012
Bexley
CORALLINE WALK
SE2
2012
Bexley
CRAY ROAD
DA14
2012
Bexley
EDMUND ROAD
DA16
2012
Bexley
ELY CLOSE
DA8
2012
Bexley
FIELDFARE ROAD
SE28
2012
Bexley
FIELDFARE ROAD
SE28
2012
Bexley
GRAVEL HILL CLOSE
DA6
2012
Bexley
LONG LANE
DA7
2012
Bexley
LONG LANE
DA7
2012
Bexley
LONG LANE
DA7
2012
Bexley
MAIN ROAD
DA14
2012
Bexley
MANGOLD WAY
DA18
2012
Bexley
MARTENS AVENUE
DA7
2012
Bexley
NORTHEND ROAD
DA8
2012
Bexley
PARK VIEW ROAD
DA16
2012
Bexley
PARKWAY
DA18
2012
Bexley
PICARDY STREET
DA17
2012
Bexley
REDPOLL WAY
DA18
2012
Bexley
SALTFORD CLOSE
DA8
2012
Bexley
SPRINGFIELD ROAD
DA16
2012
Bexley
SUN COURT
DA8
2012
Bexley
THANET ROAD
DA8
2012
Bexley
THE CLOSE
DA5
2012
Bexley
UPPER WICKHAM LANE
DA16
2012
Bexley
UPPER WICKHAM LANE
DA16
2012
Bexley
WHERNSIDE CLOSE
SE28
2012
Bexley
WOLVERCOTE ROAD
SE2
2013
Bexley
ABBEY ROAD
SE2
2013
Bexley
ABBEY ROAD
SE2
2013
Bexley
AUSTEN ROAD
DA8
2013
Bexley
AVENUE ROAD
DA7
2013
Bexley
AXMINSTER CRESCENT
DA16
2013
Bexley
BATTLE ROAD
DA8
2013
Bexley
BEDONWELL ROAD
DA17
2013
Bexley
BELLEGROVE ROAD
DA16
2013
Bexley
BELLEGROVE ROAD
DA16
2013
Bexley
BLEDLOW CLOSE
SE28
2013
Bexley
BROADWAY
DA6
2013
Bexley
BROADWAY
DA6
2013
Bexley
BROADWAY
DA6
2013
Bexley
BRUCE CLOSE
DA16
2013
Bexley
COURTLAND GROVE
SE28
2013
Bexley
CRICKETERS CLOSE
DA8
2013
Bexley
DRAKE CRESCENT
SE28
2013
Bexley
ELSA ROAD
DA16
2013
Bexley
ERITH ROAD
DA17
2013
Bexley
FRASER ROAD
DA8
2013
Bexley
FRASER ROAD
DA8
2013
Bexley
HAZEL DRIVE
DA8
2013
Bexley
HOLLYWOOD WAY
DA8
2013
Bexley
HURSTWOOD AVENUE
DA7
2013
Bexley
JAMES WATT WAY
DA8
2013
Bexley
KALE ROAD
DA18
2013
Bexley
KALE ROAD
DA18
2013
Bexley
KIMBERLEY DRIVE
DA14
2013
Bexley
KINGSWOOD AVENUE
DA17
2013
Bexley
LEATHERBOTTLE GREEN
DA18
2013
Bexley
LONG LANE
DA7
2013
Bexley
LOWER ROAD
DA17
2013
Bexley
MALLARD WALK
DA14
2013
Bexley
MANGOLD WAY
DA18
2013
Bexley
MILL PLACE
DA1
2013
Bexley
NORTHDOWN ROAD
DA16
2013
Bexley
NORTHDOWN ROAD
DA16
2013
Bexley
NUXLEY ROAD
DA17
2013
Bexley
SCOTT CRESCENT
DA8
2013
Bexley
SNIPE CLOSE
DA8
2013
Bexley
ST. KATHERINES ROAD
DA18
2013
Bexley
STAINES WALK
DA14
2013
Bexley
STATION ROAD
DA15
2013
Bexley
THE CRESCENT
DA14
2013
Bexley
TYRRELL AVENUE
DA16
2013
Bexley
WATERFIELD CLOSE
DA17
2013
Bexley
WEST STREET
DA8
2013
Bexley
WEST STREET
DA8
2013
Bexley
WILLIS ROAD
DA8
2013
Bexley
WOOLWICH ROAD
DA17
2013
Bexley
WOOLWICH ROAD
DA6
2014
Bexley
*No recorded street name
* No recorded postcode
2014
Bexley
BEACON ROAD
DA8
2014
Bexley
BEACON ROAD
DA8
2014
Bexley
BELLEGROVE ROAD
DA16
2014
Bexley
BERWICK CRESCENT
DA15
2014
Bexley
BINSEY WALK
SE2
2014
Bexley
BLENDON ROAD
DA5
2014
Bexley
BOUNDARY STREET
DA8
2014
Bexley
BOURNE ROAD
DA1
2014
Bexley
BROADWAY
DA6
2014
Bexley
BROADWAY
DA6
2014
Bexley
CCC
* No recorded postcode
2014
Bexley
CHISLEHURST ROAD
DA14
2014
Bexley
CLEVE ROAD
DA14
2014
Bexley
CLIVE ROAD
DA17
2014
Bexley
COPTEFIELD DRIVE
DA17
2014
Bexley
COPTEFIELD DRIVE
DA17
2014
Bexley
CORALLINE WALK
SE2
2014
Bexley
CORINTHIAN MANORWAY
DA8
2014
Bexley
COTON ROAD
DA16
2014
Bexley
DENTON ROAD
DA16
2014
Bexley
DORCHESTER AVENUE
DA5
2014
Bexley
DYLAN ROAD
DA17
2014
Bexley
ELLENBOROUGH ROAD
DA14
2014
Bexley
FAIRFORD AVENUE
DA7
2014
Bexley
FROGNAL AVENUE
DA14
2014
Bexley
GRAHAM ROAD
DA6
2014
Bexley
GRAHAM ROAD
DA6
2014
Bexley
HALFWAY STREET
DA15
2014
Bexley
HEMSTED ROAD
DA8
2014
Bexley
HINKSEY PATH
SE2
2014
Bexley
HOOK LANE
DA16
2014
Bexley
HOOK LANE JW WELLING HIGH STREET
DA16
2014
Bexley
IRON MILL LANE
DA1
2014
Bexley
LINCOLN CLOSE
DA8
2014
Bexley
LINGEY CLOSE
DA15
2014
Bexley
LINGEY CLOSE
DA15
2014
Bexley
LOWER ROAD
DA17
2014
Bexley
LOWER ROAD
DA17
2014
Bexley
LUMLEY CLOSE
DA17
2014
Bexley
MAIN ROAD
DA14
2014
Bexley
MAXIM ROAD
DA1
2014
Bexley
MAXIM ROAD
DA1
2014
Bexley
MAXIM ROAD
DA1
2014
Bexley
MAYNARD CLOSE
DA8
2014
Bexley
NORTH CRAY ROAD
DA5
2014
Bexley
RADNOR AVENUE
DA16
2014
Bexley
RUSKIN ROAD
DA17
2014
Bexley
SANDPIPER DRIVE
DA8
2014
Bexley
SHORTLANDS CLOSE
DA17
2014
Bexley
SIDCUP BY PASS
DA14
2014
Bexley
SUN COURT
DA8
2014
Bexley
SUNLAND AVENUE
DA6
2014
Bexley
UPPER ABBEY ROAD
DA17
2014
Bexley
VALENCE ROAD
DA8
2014
Bexley
VICTORIA ROAD
DA8
2014
Bexley
VICTORIA ROAD
DA8
2014
Bexley
WATERSMEET WAY
SE28
2014
Bexley
WATERSMEET WAY
SE28
2014
Bexley
WOOLWICH ROAD
DA6
2014
Bexley
WOOLWICH ROAD
DA6
2014
Bexley
YARNTON WAY
DA18
2012
Brent
AIRCO CLOSE
NW9
2012
Brent
ALRIC AVENUE
NW10
2012
Brent
ASPEN DRIVE
HA0
2012
Brent
AYLESBURY STREET
NW10
2012
Brent
BALLOGIE AVENUE
NW10
2012
Brent
BAMFORD AVENUE
HA0
2012
Brent
BARNHILL ROAD
HA9
2012
Brent
BENTHAM WALK
NW10
2012
Brent
BRIDGE ROAD
HA9
2012
Brent
BRIDGE ROAD
NW10
2012
Brent
BRONDESBURY ROAD
NW6
2012
Brent
BROOK ROAD
NW2
2012
Brent
BUCKINGHAM ROAD
NW10
2012
Brent
CAMBRIDGE ROAD
NW6
2012
Brent
CHALKHILL ROAD
HA9
2012
Brent
CHAMBERLAYNE ROAD
NW10
2012
Brent
CHARTERIS ROAD
NW6
2012
Brent
CHATSWORTH ROAD
NW2
2012
Brent
CHIPPENHAM GARDENS
NW6
2012
Brent
CHOLMONDELEY AVENUE
NW10
2012
Brent
CHRISTCHURCH AVENUE
NW6
2012
Brent
CLARENDON GARDENS
HA9
2012
Brent
CONNAUGHT ROAD
NW10
2012
Brent
CONNAUGHT ROAD
NW10
2012
Brent
CRAVEN PARK ROAD
NW10
2012
Brent
CREST ROAD
NW2
2012
Brent
CREST ROAD
NW2
2012
Brent
CRICKLEWOOD BROADWAY
NW2
2012
Brent
DARTMOUTH ROAD
NW2
2012
Brent
DOUGLAS ROAD
NW6
2012
Brent
EALING ROAD
HA0
2012
Brent
EALING ROAD
HA0
2012
Brent
EDGWARE ROAD
NW2
2012
Brent
ELGAR AVENUE
NW10
2012
Brent
ENGINEERS WAY
HA9
2012
Brent
ESSEX ROAD
NW10
2012
Brent
EXETER ROAD
NW2
2012
Brent
FORTUNE GATE ROAD
NW10
2012
Brent
FORTY AVENUE
HA9
2012
Brent
FORTY LANE
HA9
2012
Brent
FORTY LANE
HA9
2012
Brent
GLOUCESTER CLOSE
NW10
2012
Brent
HARLESDEN GARDENS
NW10
2012
Brent
HARLESDEN HIGH STREET
NW10
2012
Brent
HARROW ROAD
HA0
2012
Brent
HARROW ROAD
HA9
2012
Brent
HARROW ROAD
NW10
2012
Brent
HARROW ROAD
* No recorded postcode
2012
Brent
HAY LANE
NW9
2012
Brent
HEATHER PARK DRIVE
HA0
2012
Brent
HENDERSON CLOSE
NW10
2012
Brent
HERBERT GARDENS
NW10
2012
Brent
HIGH ROAD
HA0
2012
Brent
HIGH ROAD
HA9
2012
Brent
HIGH ROAD
NW10
2012
Brent
HIGH ROAD
NW10
2012
Brent
HIGH ROAD
NW10
2012
Brent
HIGH ROAD
NW10
2012
Brent
HIGH ROAD
NW10
2012
Brent
HIGH ROAD
* No recorded postcode
2012
Brent
HIGH ROAD
NW10
2012
Brent
HIGH STREET
NW10
2012
Brent
HIGH STREET
NW10
2012
Brent
HIGH STREET
NW10
2012
Brent
HIGH STREET
NW10
2012
Brent
HIGH STREET
NW10
2012
Brent
HILLFIELD AVENUE
HA0
2012
Brent
HIRST CRESCENT
HA9
2012
Brent
KENDAL ROAD
NW10
2012
Brent
KENDAL ROAD
NW10
2012
Brent
KILBURN HIGH ROAD
NW6
2012
Brent
KILBURN HIGH ROAD
NW6
2012
Brent
KINGSBURY ROAD
NW9
2012
Brent
KINGSBURY ROAD
NW9
2012
Brent
LANCELOT ROAD
HA0
2012
Brent
LITCHFIELD GARDENS
NW10
2012
Brent
MORDAUNT ROAD
NW10
2012
Brent
MORTIMER ROAD
NW10
2012
Brent
MOUNT PLEASANT
HA0
2012
Brent
NEASDEN LANE
NW10
2012
Brent
NEASDEN LANE
NW10
2012
Brent
NEASDEN LANE
NW10
2012
Brent
NEASDEN LANE
NW10
2012
Brent
NEASDEN LANE NORTH J/W VERNEY STREET
NW10
2012
Brent
NICOLL ROAD
NW10
2012
Brent
NORTHVIEW CRESCENT
NW10
2012
Brent
NORTON ROAD
HA0
2012
Brent
PARK PARADE
NW10
2012
Brent
PARK PARADE
NW10
2012
Brent
PARK PARADE
NW10
2012
Brent
PARKSIDE AVENUE
NW10
2012
Brent
POUND LANE
NW10
2012
Brent
PRIORY PARK ROAD
NW6
2012
Brent
PRIORY PARK ROAD
NW6
2012
Brent
QUEENSBURY STATION PARADE
HA8
2012
Brent
ROCKHALL ROAD
NW2
2012
Brent
ROCKHALL ROAD
NW2
2012
Brent
ROUNDTREE ROAD
HA0
2012
Brent
RUCKLIDGE AVENUE
NW10
2012
Brent
SAUNDERTON ROAD
HA0
2012
Brent
SOUTH WAY
HA9
2012
Brent
ST. JOHNS AVENUE
NW10
2012
Brent
ST. MARYS ROAD
NW10
2012
Brent
ST. MICHAELS AVENUE
HA9
2012
Brent
ST. MICHAELS AVENUE
HA9
2012
Brent
STATION GROVE
HA0
2012
Brent
THE LEADINGS
HA9
2012
Brent
TOLLGATE GARDENS
NW6
2012
Brent
TORBAY ROAD
NW6
2012
Brent
VERNEY STREET
NW10
2012
Brent
WATFORD ROAD
HA0
2012
Brent
WATFORD ROAD
HA0
2012
Brent
WATFORD ROAD
HA1
2012
Brent
WEMBLEY HIGH ROAD
* No recorded postcode
2012
Brent
WEST HILL
HA9
2012
Brent
WESTFIELD CLOSE
NW9
2012
Brent
WILLESDEN LANE
NW6
2012
Brent
WILLESDEN LANE
NW6
2012
Brent
WILLESDEN LANE
NW6
2012
Brent
WINDERMERE AVENUE
HA9
2012
Brent
WINDSOR CRESCENT
HA9
2012
Brent
WINTHROP WALK
HA9
2012
Brent
WOOD ROAD
NW10
2012
Brent
WYBORNE WAY
NW10
2012
Brent
WYLD WAY
HA9
2013
Brent
ANDER CLOSE
HA0
2013
Brent
ANSON ROAD
NW2
2013
Brent
ANSON ROAD
NW2
2013
Brent
ASPEN DRIVE
HA0
2013
Brent
ASPEN DRIVE
HA0
2013
Brent
BANISTER ROAD
W10
2013
Brent
BLENHEIM GARDENS
NW2
2013
Brent
BREWERY CLOSE
HA0
2013
Brent
BRONDESBURY PARK
NW2
2013
Brent
BUTLER ROAD
NW10
2013
Brent
BYRON ROAD
HA0
2013
Brent
BYRON ROAD
HA0
2013
Brent
CAMBRIDGE ROAD
NW6
2013
Brent
CARLTON AVENUE EAST
HA9
2013
Brent
CARLTON AVENUE EAST
HA9
2013
Brent
CECIL AVENUE
HA9
2013
Brent
CHALKHILL ROAD
HA9
2013
Brent
CHAPTER ROAD
NW2
2013
Brent
CHAPTER ROAD
NW2
2013
Brent
CHATSWORTH ROAD
NW2
2013
Brent
CHESHAM STREET
NW10
2013
Brent
CHICHELE ROAD
NW2
2013
Brent
CLIFTON ROAD
NW10
2013
Brent
COBBOLD ROAD
NW10
2013
Brent
COLES GREEN ROAD
NW2
2013
Brent
COMBER CLOSE
NW2
2013
Brent
CRAVEN PARK
NW10
2013
Brent
CRAWFORD AVENUE
HA0
2013
Brent
EALING ROAD
HA0
2013
Brent
EDGWARE ROAD
NW2
2013
Brent
ELLIS CLOSE
NW2
2013
Brent
ELM ROAD
HA9
2013
Brent
ELMS LANE
HA0
2013
Brent
EMPIRE WAY
HA9
2013
Brent
ESKDALE CLOSE
HA9
2013
Brent
ESKDALE CLOSE
HA9
2013
Brent
FAIRLIGHT AVENUE
NW10
2013
Brent
FIRST DRIVE
NW10
2013
Brent
FLAMSTED AVENUE
HA9
2013
Brent
FORTUNE GATE ROAD
NW10
2013
Brent
FORTUNE GATE ROAD
NW10
2013
Brent
FORTY LANE
HA9
2013
Brent
HANOVER ROAD
NW10
2013
Brent
HARLESDEN GARDENS
NW10
2013
Brent
HARLESDEN ROAD
NW10
2013
Brent
HARLESDEN ROAD
NW10
2013
Brent
HARLESDEN ROAD
NW10
2013
Brent
HARRISON ROAD
NW10
2013
Brent
HARROW ROAD
NW10
2013
Brent
HAYCROFT GARDENS
NW10
2013
Brent
HIGH ROAD
HA9
2013
Brent
HIGH ROAD
NW10
2013
Brent
HIGH ROAD
HA9
2013
Brent
HIGH STREET
NW10
2013
Brent
HILLFIELD AVENUE
HA0
2013
Brent
KENTON ROAD
HA3
2013
Brent
KENTON ROAD
HA3
2013
Brent
KILBURN SQUARE
NW6
2013
Brent
KILBURN SQUARE
NW6
2013
Brent
KINGSBURY ROAD
NW9
2013
Brent
KINGSBURY ROAD
NW9
2013
Brent
KINGSBURY ROAD
NW9
2013
Brent
KINGSBURY ROAD
NW9
2013
Brent
KINGSBURY ROAD
NW9
2013
Brent
LANCELOT ROAD
HA0
2013
Brent
LANCELOT ROAD
HA0
2013
Brent
LARKSPUR CLOSE
NW9
2013
Brent
LEGHORN ROAD
NW10
2013
Brent
LEYBOURNE ROAD
NW9
2013
Brent
LITCHFIELD GARDENS
NW10
2013
Brent
LLANOVER ROAD
HA9
2013
Brent
LUSHINGTON ROAD
NW10
2013
Brent
LYON PARK AVENUE
HA0
2013
Brent
LYON PARK AVENUE
HA0
2013
Brent
LYON PARK AVENUE
HA0
2013
Brent
MAYO ROAD
NW10
2013
Brent
MORTIMER ROAD
NW10
2013
Brent
NEASDEN LANE
NW10
2013
Brent
NICOLL ROAD
NW10
2013
Brent
NORTH CIRCULAR ROAD
NW10
2013
Brent
NORTH CIRCULAR ROAD
NW10
2013
Brent
OLYMPIC WAY
HA9
2013
Brent
OLYMPIC WAY
HA9
2013
Brent
PARK LANE
HA9
2013
Brent
PARK ROAD
NW9
2013
Brent
PRESS ROAD
NW10
2013
Brent
PRESTON ROAD
HA9
2013
Brent
PRESTON ROAD
HA9
2013
Brent
PURVES ROAD
NW10
2013
Brent
QUEENSBURY STATION PARADE
HA8
2013
Brent
RANELAGH ROAD
HA0
2013
Brent
ROSEMEAD AVENUE
HA9
2013
Brent
ST. AUGUSTINES AVENUE
HA9
2013
Brent
ST. JOHNS AVENUE
NW10
2013
Brent
ST. JOHNS ROAD
HA9
2013
Brent
ST. JOHNS ROAD
HA9
2013
Brent
ST. JOHNS ROAD
HA9
2013
Brent
STAG LANE J/W PRINCESS AVENUE
NW9
2013
Brent
STANLEY AVENUE
HA0
2013
Brent
TUDOR COURT NORTH
HA9
2013
Brent
TURNER CLOSE
HA0
2013
Brent
VICTORIA AVENUE
HA9
2013
Brent
VICTORIA AVENUE
HA9
2013
Brent
VICTORIA AVENUE
HA9
2013
Brent
VIVIAN GARDENS
HA9
2013
Brent
WEMBLEY HILL ROAD
HA9
2013
Brent
WENDOVER ROAD
NW10
2013
Brent
WENDOVER ROAD
NW10
2013
Brent
WESTFIELD CLOSE
NW9
2013
Brent
WINCHELSEA ROAD
NW10
2013
Brent
WOODSTOCK ROAD
HA0
2013
Brent
WYLD WAY
HA9
2014
Brent
ACTON LANE
NW10
2014
Brent
ANSON ROAD
NW2
2014
Brent
BATHURST GARDENS
NW10
2014
Brent
BERKELEY ROAD
NW9
2014
Brent
BOYCROFT AVENUE
NW9
2014
Brent
BOYCROFT AVENUE
NW9
2014
Brent
BOYCROFT AVENUE
NW9
2014
Brent
BRENTFIELD ROAD
NW10
2014
Brent
BRIDGEHILL CLOSE
HA0
2014
Brent
BROWNLOW ROAD
NW10
2014
Brent
BUCKLEY ROAD
NW6
2014
Brent
BUCKLEY ROAD
NW6
2014
Brent
BURNLEY ROAD
NW10
2014
Brent
BURNLEY ROAD
NW10
2014
Brent
CCC
* No recorded postcode
2014
Brent
CENTRAL SQUARE
HA9
2014
Brent
CHAPLIN ROAD
NW2
2014
Brent
CHICHELE ROAD J/W WALM LANE
NW2
2014
Brent
CHURCH LANE
NW9
2014
Brent
CHURCH LANE
NW9
2014
Brent
CHURCHILL ROAD
NW2
2014
Brent
COBBOLD ROAD
NW10
2014
Brent
COBBOLD ROAD
NW10
2014
Brent
COLLEGE ROAD
NW10
2014
Brent
CONLEY ROAD
NW10
2014
Brent
CRAVEN PARK ROAD
NW10
2014
Brent
CRAVEN PARK ROAD
NW10
2014
Brent
CRAVEN PARK ROAD
NW10
2014
Brent
CROWN WALK
HA9
2014
Brent
CRUNDALE AVENUE
NW9
2014
Brent
DENZIL ROAD
NW10
2014
Brent
DONNINGTON ROAD
NW10
2014
Brent
DRAYTON ROAD
NW10
2014
Brent
DRAYTON ROAD
NW10
2014
Brent
DYNE ROAD
NW6
2014
Brent
EAGLE ROAD
HA0
2014
Brent
EALING ROAD J/W LYON PARK AVENUE
HA0
2014
Brent
EDGWARE ROAD
NW2
2014
Brent
EDISON DRIVE
HA9
2014
Brent
ELM ROAD
HA9
2014
Brent
EMPIRE WAY
HA9
2014
Brent
EMPIRE WAY
HA9
2014
Brent
ENERGEN CLOSE
NW10
2014
Brent
ENGINEERS WAY
HA9
2014
Brent
ESSEX ROAD
NW10
2014
Brent
ESSEX ROAD
NW10
2014
Brent
FLOWERS CLOSE
NW2
2014
Brent
FORTUNE GATE ROAD
NW10
2014
Brent
FORTY LANE
HA9
2014
Brent
GEARY ROAD
NW10
2014
Brent
GLENGALL ROAD
NW6
2014
Brent
HARLESDEN ROAD
NW10
2014
Brent
HARROW ROAD
HA0
2014
Brent
HARROW ROAD
HA0
2014
Brent
HARROW ROAD
HA0
2014
Brent
HIGH ROAD
* No recorded postcode
2014
Brent
HIGH STREET
NW10
2014
Brent
KENDAL ROAD
NW10
2014
Brent
KILBURN HIGH ROAD
NW6
2014
Brent
KILBURN HIGH ROAD
NW6
2014
Brent
KILBURN LANE
W10
2014
Brent
KINGSBURY ROAD
NW9
2014
Brent
KINGSBURY ROAD
NW9
2014
Brent
LLANOVER ROAD
HA9
2014
Brent
LYNTON CLOSE
NW10
2014
Brent
LYNTON CLOSE
NW10
2014
Brent
MANOR FARM ROAD
HA0
2014
Brent
MAYBANK AVENUE
HA0
2014
Brent
MEAD PLAT
NW10
2014
Brent
MOUNT PLEASANT
HA0
2014
Brent
NEASDEN LANE
NW10
2014
Brent
NEASDEN LANE
NW10
2014
Brent
NEASDEN LANE
NW10
2014
Brent
NEASDEN LANE
NW10
2014
Brent
NEASDEN LANE
NW10
2014
Brent
NORTHWICK ROAD
HA0
2014
Brent
PARK PARADE
NW10
2014
Brent
PEEL ROAD
HA9
2014
Brent
POUND LANE
NW10
2014
Brent
PRESTON ROAD
HA9
2014
Brent
PRINCES AVENUE
NW9
2014
Brent
RAVENSWORTH ROAD
NW10
2014
Brent
REDFERN ROAD
NW10
2014
Brent
ROKESBY PLACE
HA0
2014
Brent
SELLONS AVENUE
NW10
2014
Brent
SHOOT UP HILL
NW2
2014
Brent
ST. MARYS ROAD
NW10
2014
Brent
ST. THOMAS'S ROAD
NW10
2014
Brent
SUDBURY CRESCENT
HA0
2014
Brent
SUDBURY CRESCENT
HA0
2014
Brent
SYLVESTER ROAD
HA0
2014
Brent
TANFIELD AVENUE
NW2
2014
Brent
THE CRESCENT
NW2
2014
Brent
UNITY CLOSE
NW10
2014
Brent
UNITY CLOSE
NW10
2014
Brent
UNITY CLOSE
NW10
2014
Brent
VICTORIA AVENUE
HA9
2014
Brent
WATFORD ROAD
HA1
2014
Brent
WILLESDEN LANE
NW2
2014
Brent
WILLESDEN LANE
NW6
2014
Brent
WILLESDEN LANE
NW6
2014
Brent
WINCHESTER AVENUE
NW6
2014
Brent
WOODSTOCK ROAD
HA0
2012
Bromley
ABBOTS WAY
BR3
2012
Bromley
ANERLEY ROAD
SE20
2012
Bromley
BROOK LANE
BR1
2012
Bromley
CAREW WAY
BR5
2012
Bromley
COPERS COPE ROAD
BR3
2012
Bromley
COTMANDENE CRESCENT
BR5
2012
Bromley
CRYSTAL PALACE PARK ROAD
SE26
2012
Bromley
CURTISMILL WAY
BR5
2012
Bromley
CURTISMILL WAY
BR5
2012
Bromley
ELMSTEAD LANE
BR7
2012
Bromley
FOXGROVE AVENUE
BR3
2012
Bromley
GLASSMILL LANE
BR2
2012
Bromley
HASTINGS ROAD
BR2
2012
Bromley
HAVELOCK ROAD
BR2
2012
Bromley
HAWKSBROOK LANE
BR3
2012
Bromley
HAWTHORN GROVE
SE20
2012
Bromley
HAWTHORN GROVE
SE20
2012
Bromley
HAYES LANE
BR3
2012
Bromley
HAYES STREET
BR2
2012
Bromley
HIGH STREET
BR1
2012
Bromley
HIGH STREET
BR3
2012
Bromley
HIGH STREET
BR3
2012
Bromley
HIGH STREET
BR5
2012
Bromley
HIGH STREET
SE20
2012
Bromley
HIGH STREET
* No recorded postcode
2012
Bromley
HOWARD ROAD
SE20
2012
Bromley
LANSDOWNE ROAD
BR1
2012
Bromley
LEESONS WAY
BR5
2012
Bromley
MACKENZIE ROAD
BR3
2012
Bromley
MAPLE ROAD
SE20
2012
Bromley
MARKET SQUARE
BR1
2012
Bromley
MONKS ORCHARD ROAD
BR3
2012
Bromley
OAKDENE ROAD
BR5
2012
Bromley
PARK HILL ROAD
BR2
2012
Bromley
PERRY STREET GARDENS
BR7
2012
Bromley
PICKHURST LANE
BR4
2012
Bromley
PIKE CLOSE
BR1
2012
Bromley
PLAISTOW LANE
BR1
2012
Bromley
RAVENSBURY ROAD
BR5
2012
Bromley
RAYFIELD CLOSE
BR2
2012
Bromley
RIDSDALE ROAD
SE20
2012
Bromley
ROBIN WAY
BR5
2012
Bromley
ROOKERY LANE
BR2
2012
Bromley
ROYSTON ROAD
SE20
2012
Bromley
ROYSTON ROAD
SE20
2012
Bromley
SOUTHEND ROAD
BR3
2012
Bromley
SOUTHEND ROAD
BR3
2012
Bromley
SOUTHOVER
BR1
2012
Bromley
STATION APPROACH
BR6
2012
Bromley
STEYNING GROVE
SE9
2012
Bromley
UPPER ELMERS END ROAD
BR3
2012
Bromley
VINE ROAD
BR6
2012
Bromley
WELLINGTON ROAD
BR5
2012
Bromley
WIDMORE ROAD
BR1
2012
Bromley
WINDSOR DRIVE
BR6
2013
Bromley
AMHERST DRIVE
BR5
2013
Bromley
ANERLEY HILL
SE19
2013
Bromley
ANERLEY PARK
SE20
2013
Bromley
ANERLEY ROAD
SE20
2013
Bromley
ANERLEY VALE
SE19
2013
Bromley
ANGLESEA ROAD
BR5
2013
Bromley
BARNFIELD ROAD
BR5
2013
Bromley
BARNFIELD ROAD
BR5
2013
Bromley
BECKENHAM ROAD
BR3
2013
Bromley
BERENS WAY
BR7
2013
Bromley
BOYLAND ROAD
BR1
2013
Bromley
BRIDGEWOOD CLOSE
SE20
2013
Bromley
BROW CRESCENT
BR5
2013
Bromley
BRUCE GROVE
BR6
2013
Bromley
CATTISTOCK ROAD
SE9
2013
Bromley
CATTISTOCK ROAD
SE9
2013
Bromley
CHORLEY WOOD CRESCENT
BR5
2013
Bromley
CHULSA ROAD
SE26
2013
Bromley
CHURCH ROAD
SE19
2013
Bromley
CHURCHFIELDS ROAD
BR3
2013
Bromley
CLEMENT ROAD
BR3
2013
Bromley
COTMANDENE CRESCENT
BR5
2013
Bromley
CRANLEY PARADE
SE9
2013
Bromley
CRESCENT ROAD
BR3
2013
Bromley
CROCKENHILL ROAD
BR8
2013
Bromley
CROYDON ROAD
SE20
2013
Bromley
CUDHAM LANE NORTH
TN14
2013
Bromley
CURTISMILL WAY
BR5
2013
Bromley
DARGATE CLOSE
SE19
2013
Bromley
DERWENT ROAD
SE20
2013
Bromley
EDGEHILL ROAD
BR7
2013
Bromley
ELMERS END ROAD
BR3
2013
Bromley
ELMERS END ROAD
BR3
2013
Bromley
ERNEST GROVE
BR3
2013
Bromley
ERNEST GROVE
BR3
2013
Bromley
ERNEST GROVE
BR3
2013
Bromley
GLENTRAMMON ROAD
BR6
2013
Bromley
GLENTRAMMON ROAD
BR6
2013
Bromley
GRASMERE GARDENS
BR6
2013
Bromley
HAWKSBROOK LANE
BR3
2013
Bromley
HAWTHORN GROVE
SE20
2013
Bromley
HAYES LANE
BR2
2013
Bromley
HAYES LANE
BR2
2013
Bromley
HAZEL WALK
BR2
2013
Bromley
HIGH STREET
BR6
2013
Bromley
HIGH STREET
BR6
2013
Bromley
HOMEFIELD ROAD
BR1
2013
Bromley
JAIL LANE
TN16
2013
Bromley
KEYMER CLOSE
TN16
2013
Bromley
KEYMER CLOSE
TN16
2013
Bromley
KEYMER CLOSE
TN16
2013
Bromley
KINGS HALL ROAD
BR3
2013
Bromley
LARKFIELD CLOSE
BR2
2013
Bromley
LONDON ROAD
BR1
2013
Bromley
LONDON ROAD
BR1
2013
Bromley
LONDON ROAD
BR1
2013
Bromley
MADEIRA AVENUE
BR1
2013
Bromley
MAIN ROAD
TN16
2013
Bromley
MALLARD WALK
BR3
2013
Bromley
OFFENHAM ROAD
SE9
2013
Bromley
PALACE SQUARE
SE19
2013
Bromley
PERTH ROAD
BR3
2013
Bromley
PIKE CLOSE
BR1
2013
Bromley
PLEYDELL AVENUE
SE19
2013
Bromley
PORTLAND ROAD
BR1
2013
Bromley
RAVENSCROFT ROAD
BR3
2013
Bromley
SPUR ROAD
BR6
2013
Bromley
ST JOHNS ROAD
SE20
2013
Bromley
ST. KEVERNE ROAD
SE9
2013
Bromley
STARTS HILL AVENUE
BR6
2013
Bromley
SYDENHAM HILL
* No recorded postcode
2013
Bromley
THESIGER ROAD
SE20
2013
Bromley
THICKET ROAD
SE20
2013
Bromley
THURSLEY ROAD
SE9
2013
Bromley
TREMAINE ROAD
SE20
2013
Bromley
UPPER ELMERS END ROAD
BR3
2013
Bromley
UPPER ELMERS END ROAD
BR3
2013
Bromley
WADHURST CLOSE
SE20
2013
Bromley
WALSINGHAM ROAD
BR5
2013
Bromley
WEST COMMON ROAD
BR2
2013
Bromley
WIDMORE ROAD
BR1
2013
Bromley
ZELAH ROAD
BR5
2014
Bromley
AMHERST DRIVE
BR5
2014
Bromley
ANERLEY ROAD
SE19
2014
Bromley
ANERLEY STATION ROAD
SE20
2014
Bromley
ANERLEY VALE
SE19
2014
Bromley
BEACONSFIELD PARADE
SE9
2014
Bromley
BECK LANE
BR3
2014
Bromley
BLACKBROOK LANE
* No recorded postcode
2014
Bromley
BLENHEIM ROAD
SE20
2014
Bromley
BORKWOOD PARK
BR6
2014
Bromley
BRACKLEY ROAD
BR3
2014
Bromley
BYCROFT STREET
SE20
2014
Bromley
CATTISTOCK ROAD
SE9
2014
Bromley
COLEBROOKE RISE
BR2
2014
Bromley
COPERS COPE ROAD
BR3
2014
Bromley
CRANLEIGH CLOSE
SE20
2014
Bromley
CROCKENHILL ROAD
BR5
2014
Bromley
CROFTON ROAD
BR6
2014
Bromley
CROXLEY GREEN
BR5
2014
Bromley
CROYDON ROAD
SE20
2014
Bromley
CROYDON ROAD
SE20
2014
Bromley
CROYDON ROAD
SE20
2014
Bromley
CROYDON ROAD
SE20
2014
Bromley
CROYDON ROAD
SE20
2014
Bromley
DORNEY RISE
BR5
2014
Bromley
ELMERS END ROAD
BR3
2014
Bromley
FORSTER ROAD
BR3
2014
Bromley
FOXGROVE ROAD
BR3
2014
Bromley
GLADSTONE MEWS
SE20
2014
Bromley
GLASSMILL LANE
BR2
2014
Bromley
GLASSMILL LANE
BR2
2014
Bromley
GRASMERE ROAD
BR1
2014
Bromley
GREEN LANE
SE20
2014
Bromley
HADDON ROAD
BR5
2014
Bromley
HAWKWOOD LANE
BR7
2014
Bromley
HIGH STREET
BR1
2014
Bromley
HIGH STREET
BR1
2014
Bromley
HIGH STREET
BR1
2014
Bromley
HIGH STREET
BR1
2014
Bromley
HIGH STREET
BR1
2014
Bromley
HIGH STREET
BR1
2014
Bromley
HIGH STREET
BR3
2014
Bromley
HIGH STREET
SE20
2014
Bromley
HIGH STREET
* No recorded postcode
2014
Bromley
HIGH STREET
BR1
2014
Bromley
HOMESDALE ROAD
BR2
2014
Bromley
HOMESDALE ROAD
BR2
2014
Bromley
IVYCHURCH CLOSE
SE20
2014
Bromley
KINGSDOWN WAY
BR2
2014
Bromley
LANGDON ROAD
BR2
2014
Bromley
LAWRIE PARK ROAD
SE26
2014
Bromley
MANOR ROAD
* No recorded postcode
2014
Bromley
MAPLE ROAD
SE20
2014
Bromley
MAPLE ROAD
SE20
2014
Bromley
MASONS HILL
BR1
2014
Bromley
MINSTER ROAD
BR1
2014
Bromley
MINSTER ROAD
BR1
2014
Bromley
OLD MANOR WAY
BR7
2014
Bromley
PARK END
BR1
2014
Bromley
PLAISTOW GROVE
BR1
2014
Bromley
RANMORE PATH
BR5
2014
Bromley
RANMORE PATH
BR5
2014
Bromley
ROOKERY LANE
BR2
2014
Bromley
SAMOS ROAD
SE20
2014
Bromley
SANDWAY ROAD
BR5
2014
Bromley
SANDY LANE
DA14
2014
Bromley
SEFTON ROAD
BR5
2014
Bromley
SNOWDOWN CLOSE
SE20
2014
Bromley
STONELEIGH ROAD
BR1
2014
Bromley
TOVIL CLOSE
SE20
2014
Bromley
WEST STREET
BR1
2014
Bromley
WICHLING CLOSE
BR5
2014
Bromley
WOODBINE GROVE
SE20
2014
Bromley
WOODBINE GROVE
SE20
2014
Bromley
WORCESTER CLOSE
SE20
2012
Camden
ACTON STREET
WC1X
2012
Camden
AMPTHILL SQUARE
NW1
2012
Camden
BROADHURST GARDENS
NW6
2012
Camden
BROADHURST GARDENS
NW6
2012
Camden
BROOMSLEIGH STREET
NW6
2012
Camden
CAMDEN HIGH STREET
NW1
2012
Camden
CAMDEN HIGH STREET
NW1
2012
Camden
CAMDEN HIGH STREET
NW1
2012
Camden
CAMDEN HIGH STREET
NW1
2012
Camden
CAMDEN SQUARE
NW1
2012
Camden
CCC
* No recorded postcode
2012
Camden
CHARLTON STREET
NW1
2012
Camden
CROMER STREET
WC1H
2012
Camden
DARTMOUTH PARK ROAD
NW5
2012
Camden
FINCHLEY ROAD
NW3
2012
Camden
FINCHLEY ROAD
NW3
2012
Camden
FINCHLEY ROAD
NW3
2012
Camden
FLAXMAN TERRACE
WC1H
2012
Camden
FLAXMAN TERRACE
WC1H
2012
Camden
GOLDHURST TERRACE
NW6
2012
Camden
GORDON HOUSE ROAD
NW5
2012
Camden
GORDON HOUSE ROAD
NW5
2012
Camden
GRAFTON ROAD
NW5
2012
Camden
GREAT QUEEN STREET
WC2B
2012
Camden
GREAT QUEEN STREET
WC2B
2012
Camden
HAMPSTEAD HIGH STREET
NW3
2012
Camden
HARMOOD STREET
NW1
2012
Camden
HARRINGTON SQUARE
NW1
2012
Camden
HAVERSTOCK HILL
NW3
2012
Camden
HAVERSTOCK ROAD
NW5
2012
Camden
HAWLEY STREET
NW1
2012
Camden
HIGHGATE ROAD
NW5
2012
Camden
HIGHGATE ROAD
NW5
2012
Camden
INVERNESS STREET
NW1
2012
Camden
JAMESTOWN ROAD
NW1
2012
Camden
JAMESTOWN ROAD
NW1
2012
Camden
KENTISH TOWN ROAD
NW5
2012
Camden
KENTISH TOWN ROAD
NW5
2012
Camden
KILBURN HIGH ROAD
NW6
2012
Camden
KILBURN HIGH ROAD
NW6
2012
Camden
KILBURN HIGH ROAD
NW6
2012
Camden
LEATHER LANE
EC1N
2012
Camden
LEATHER LANE
EC1N
2012
Camden
LITHOS ROAD
NW3
2012
Camden
MANSTONE ROAD
NW2
2012
Camden
MORNINGTON TERRACE
NW1
2012
Camden
MORTIMER CRESCENT
NW6
2012
Camden
MUSEUM STREET
WC1A
2012
Camden
NETHERWOOD STREET
NW6
2012
Camden
OVAL ROAD
NW1
2012
Camden
PANCRAS ROAD
N1C
2012
Camden
PARKHILL ROAD
NW3
2012
Camden
PHOENIX ROAD
NW1
2012
Camden
PORTPOOL LANE
EC1N
2012
Camden
QUEENS CRESCENT
NW5
2012
Camden
REDHILL STREET
NW1
2012
Camden
ROCHESTER ROAD
NW1
2012
Camden
ROCHESTER SQUARE
NW1
2012
Camden
ROSEBERY AVENUE
EC1R
2012
Camden
ROYAL COLLEGE STREET
NW1
2012
Camden
SANDSTONE PLACE
N19
2012
Camden
SHAFTESBURY AVENUE
WC2H
2012
Camden
SHOOT UP HILL
NW2
2012
Camden
SOUTHAMPTON ROW
WC1B
2012
Camden
ST AUGUSTINES ROAD
NW1
2012
Camden
STANHOPE STREET
NW1
2012
Camden
TORRIANO AVENUE
NW5
2012
Camden
TOTTENHAM COURT ROAD
W1T
2012
Camden
TOWER STREET
WC2H
2012
Camden
WELLESLEY ROAD
NW5
2012
Camden
WOBURN PLACE
WC1H
2013
Camden
*No recorded street name
* No recorded postcode
2013
Camden
ADELAIDE ROAD
NW3
2013
Camden
ARGYLE SQUARE
WC1H
2013
Camden
ARLINGTON ROAD
NW1
2013
Camden
BELSIZE ROAD
NW6
2013
Camden
BIRKENHEAD STREET
WC1H
2013
Camden
BLACKBURN ROAD
NW6
2013
Camden
BRECKNOCK ROAD
N7
2013
Camden
BUCKNALL STREET J/W DYOTT STREET
WC1
2013
Camden
CAMDEN HIGH STREET
NW1
2013
Camden
CAMDEN HIGH STREET
NW1
2013
Camden
CAMDEN HIGH STREET
NW1
2013
Camden
CAMDEN HIGH STREET
NW1
2013
Camden
CAMDEN HIGH STREET
NW1
2013
Camden
CAMDEN ROAD
NW1
2013
Camden
CAMDEN ROAD
NW1
2013
Camden
CHALTON STREET
NW1
2013
Camden
CHARLTON STREET
NW1
2013
Camden
CHESTER ROAD
N19
2013
Camden
CHESTER TERRACE
NW1
2013
Camden
COTLEIGH ROAD
NW6
2013
Camden
CROGSLAND ROAD
NW1
2013
Camden
CUMBERLAND MARKET
NW1
2013
Camden
DORIC WAY
NW1
2013
Camden
EUSTON ROAD
NW1
2013
Camden
EUSTON ROAD
NW1
2013
Camden
EXMOUTH MEWS
NW1
2013
Camden
FERDINAND STREET
NW1
2013
Camden
FORDWYCH ROAD
NW2
2013
Camden
FREDERICK STREET
WC1X
2013
Camden
GOWER STREET
WC1E
2013
Camden
GREAT JAMES STREET
WC1
2013
Camden
GREAT QUEEN STREET
WC2B
2013
Camden
HAWLEY ROAD
NW1
2013
Camden
HIGHGATE ROAD
NW5
2013
Camden
HOLMES ROAD
NW5
2013
Camden
JUDD STREET
WC1H
2013
Camden
KENTISH TOWN ROAD
NW1
2013
Camden
KENTISH TOWN ROAD
* No recorded postcode
2013
Camden
KILBURN HIGH ROAD
NW6
2013
Camden
KILBURN HIGH ROAD
NW6
2013
Camden
KILBURN HIGH ROAD
NW6
2013
Camden
KILBURN HIGH ROAD
NW6
2013
Camden
KILBURN HIGH ROAD
NW6
2013
Camden
KING'S CROSS ROAD
WC1X
2013
Camden
KING'S CROSS ROAD
WC1X
2013
Camden
LEIGHTON ROAD
NW5
2013
Camden
LITHOS ROAD
NW3
2013
Camden
LONGFORD STREET
NW1
2013
Camden
LONGFORD STREET
NW1
2013
Camden
MACKLIN STREET
WC2B
2013
Camden
MARSDEN STREET
NW5
2013
Camden
MAUD WILKES CLOSE
NW5
2013
Camden
MORTIMER CRESCENT
NW6
2013
Camden
MURRAY STREET
NW1
2013
Camden
NETHERWOOD STREET
NW6
2013
Camden
PALMERSTON ROAD
NW6
2013
Camden
PARKHILL ROAD
NW3
2013
Camden
PLATTS LANE
NW3
2013
Camden
PRINCE OF WALES ROAD
NW5
2013
Camden
PRINCE OF WALES ROAD
NW5
2013
Camden
RHYL STREET
NW5
2013
Camden
ROYAL COLLEGE STREET
NW1
2013
Camden
SIDMOUTH STREET
WC1H
2013
Camden
SOUTH KILBURN
* No recorded postcode
2013
Camden
ST. CHAD'S PLACE
WC1X
2013
Camden
TAVISTOCK SQUARE
WC1H
2013
Camden
TOTTENHAM COURT ROAD
W1T
2013
Camden
TRITON STREET
NW1
2013
Camden
UPPER WOBURN PLACE
WC1H
2013
Camden
UPPER WOBURN PLACE
WC1H
2013
Camden
VICARS ROAD
NW5
2013
Camden
WOBURN PLACE
WC1H
2013
Camden
YORK MEWS
NW5
2014
Camden
*No recorded street name
WC1X
2014
Camden
ABBEY ROAD
NW8
2014
Camden
ABBEY ROAD
NW8
2014
Camden
ABBEY ROAD
* No recorded postcode
2014
Camden
ADELAIDE ROAD
NW3
2014
Camden
AGAR GROVE
NW1
2014
Camden
AINSWORTH WAY
NW8
2014
Camden
ALBANY STREET
NW1
2014
Camden
ARLINGTON ROAD
NW1
2014
Camden
BASSETT STREET
NW5
2014
Camden
BELSIZE PARK GARDENS
NW3
2014
Camden
BELSIZE ROAD
NW6
2014
Camden
BOUNDARY ROAD
NW8
2014
Camden
BRAMSHILL GARDENS
NW5
2014
Camden
BROOKE STREET
EC1N
2014
Camden
BRUNSWICK CENTRE
WC1N
2014
Camden
BURGHLEY ROAD
NW5
2014
Camden
BURGHLEY ROAD
NW5
2014
Camden
CAMDEN HIGH STREET
NW1
2014
Camden
CAMDEN HIGH STREET
NW1
2014
Camden
CAMDEN HIGH STREET
NW1
2014
Camden
CAMDEN HIGH STREET
NW1
2014
Camden
CAMDEN HIGH STREET
NW1
2014
Camden
CAMDEN HIGH STREET
NW1
2014
Camden
CAMDEN HIGH STREET
NW1
2014
Camden
CAMDEN HIGH STREET
NW1
2014
Camden
CAMDEN HIGH STREET
NW1
2014
Camden
CAMDEN HIGH STREET
NW1
2014
Camden
CAMDEN LOCK
NW1
2014
Camden
CAMDEN ROAD
NW1
2014
Camden
CAMDEN ROAD
NW1
2014
Camden
CAMDEN ROAD
NW1
2014
Camden
CAMDEN STREET
NW1
2014
Camden
CASTLEHAVEN ROAD
NW1
2014
Camden
CASTLEHAVEN ROAD
NW1
2014
Camden
CHALK FARM ROAD
NW1
2014
Camden
CHALTON STREET
NW1
2014
Camden
COLLEGE PLACE
NW1
2014
Camden
ETON AVENUE
NW3
2014
Camden
FINCHLEY ROAD
NW3
2014
Camden
FITZROY COURT
W1T
2014
Camden
FREDERICK STREET
WC1X
2014
Camden
GARNETT ROAD
NW3
2014
Camden
GRAFTON WAY
W1T
2014
Camden
GRAY'S INN ROAD
WC1X
2014
Camden
GREAT RUSSELL STREET
WC1B
2014
Camden
GREENLAND ROAD
NW1
2014
Camden
GREVILLE ROAD
NW6
2014
Camden
HAMPSTEAD ROAD
NW1
2014
Camden
HAVERSTOCK HILL
NW3
2014
Camden
HIGHGATE ROAD
NW5
2014
Camden
IVERSON ROAD J/C KILBURN HIGH ROAD
NW6
2014
Camden
KENTISH TOWN ROAD
NW5
2014
Camden
KENTISH TOWN ROAD
* No recorded postcode
2014
Camden
KING HENRYS ROAD
NW3
2014
Camden
LAMBLE STREET
NW5
2014
Camden
LAWFORD ROAD
NW5
2014
Camden
LEIGHTON ROAD
NW5
2014
Camden
LISSENDEN GARDENS
NW5
2014
Camden
LISSENDEN GARDENS
NW5
2014
Camden
LOUDOUN ROAD
NW8
2014
Camden
MAIDEN LANE
NW1
2014
Camden
MALDEN ROAD
NW5
2014
Camden
MELTON STREET
NW1
2014
Camden
PARKWAY
NW1
2014
Camden
POND STREET
NW3
2014
Camden
PORTPOOL LANE
EC1N
2014
Camden
PORTPOOL LANE
EC1N
2014
Camden
POWLETT PLACE
NW1
2014
Camden
PRATT STREET
NW1
2014
Camden
PRINCE OF WALES ROAD
NW5
2014
Camden
QUEX ROAD
NW6
2014
Camden
ROCHESTER SQUARE
NW1
2014
Camden
ST. PANCRAS WAY
NW1
2014
Camden
ST. PANCRAS WAY
NW1
2014
Camden
ST. PANCRAS WAY
NW1
2014
Camden
ST. PANCRAS WAY
NW1
2014
Camden
ST. PAULS CRESCENT
NW1
2014
Camden
TALACRE ROAD
NW5
2014
Camden
TORRIANO AVENUE
NW5
2014
Camden
TOTTENHAM COURT ROAD
W1T
2014
Camden
TOTTENHAM COURT ROAD
W1T
2014
Camden
TOTTENHAM COURT ROAD
W1T
2014
Camden
UPPER PARK ROAD
NW3
2014
Camden
WERRINGTON STREET
NW1
2014
Camden
WEST END LANE
NW6
2014
Camden
WESTBERE ROAD
NW2
2014
Camden
WESTBERE ROAD
NW2
2014
Camden
WESTBERE ROAD
NW2
2014
Camden
WESTBERE ROAD
NW2
2014
Camden
WHITFIELD STREET
W1T
2014
Camden
WILKIN STREET
NW5
2014
Camden
WILLINGHAM CLOSE
NW5
2014
Camden
WILLINGHAM CLOSE
NW5
2012
City of Westminster
ADELAIDE STREET
WC2N
2012
City of Westminster
ALDERNEY STREET
SW1V
2012
City of Westminster
AMBERLEY ROAD
W2
2012
City of Westminster
ASHBRIDGE STREET
NW8
2012
City of Westminster
ASHMORE ROAD
W9
2012
City of Westminster
ASHMORE ROAD
W9
2012
City of Westminster
BOURNE TERRACE
W2
2012
City of Westminster
BROADLEY STREET
NW8
2012
City of Westminster
BUCKINGHAM PALACE ROAD
SW1W
2012
City of Westminster
BUCKINGHAM PALACE ROAD
SW1W
2012
City of Westminster
CARLTON VALE
NW6
2012
City of Westminster
CHARING CROSS ROAD
WC2H
2012
City of Westminster
CHARING CROSS ROAD
WC2H
2012
City of Westminster
CHELSEA BRIDGE ROAD
SW1W
2012
City of Westminster
CHIPPENHAM ROAD
W9
2012
City of Westminster
CHURCH STREET ESTATE
NW8
2012
City of Westminster
CHURCHILL GARDENS
SW1V
2012
City of Westminster
CROMPTON STREET
W2
2012
City of Westminster
DART STREET
W10
2012
City of Westminster
DEAN STREET
W1D
2012
City of Westminster
DOLPHIN SQUARE
SW1V
2012
City of Westminster
DROOP STREET
W10
2012
City of Westminster
EDGWARE ROAD
W2
2012
City of Westminster
EDGWARE ROAD
W2
2012
City of Westminster
EDGWARE ROAD
W2
2012
City of Westminster
EDGWARE ROAD
* No recorded postcode
2012
City of Westminster
ELVERTON STREET
SW1P
2012
City of Westminster
ENNISMORE GARDENS
SW7
2012
City of Westminster
FERNHEAD ROAD
W9
2012
City of Westminster
FRAMPTON STREET
NW8
2012
City of Westminster
GLOUCESTER STREET
SW1V
2012
City of Westminster
GOLDNEY ROAD
W9
2012
City of Westminster
GREAT TITCHFIELD STREET
W1W
2012
City of Westminster
GREAT TITCHFIELD STREET
W1W
2012
City of Westminster
GROVE END ROAD
NW8
2012
City of Westminster
HALL PLACE
W2
2012
City of Westminster
HARROW ROAD
W9
2012
City of Westminster
HARROW ROAD
W9
2012
City of Westminster
HOLBEIN PLACE
SW1W
2012
City of Westminster
HYDE PARK
SW1
2012
City of Westminster
JOHN FEARON WALK
W10
2012
City of Westminster
KILBURN LANE
W9
2012
City of Westminster
KNIGHTSBRIDGE
SW1X
2012
City of Westminster
LEICESTER SQUARE
WC2H
2012
City of Westminster
LEICESTER SQUARE
WC2H
2012
City of Westminster
LILESTONE STREET
NW8
2012
City of Westminster
LILESTONE STREET
NW8
2012
City of Westminster
LISSON STREET
NW1
2012
City of Westminster
LISSON STREET
NW1
2012
City of Westminster
LOWER BELGRAVE STREET
SW1W
2012
City of Westminster
MARBLE ARCH
W1H
2012
City of Westminster
MARBLE ARCH
W1H
2012
City of Westminster
MARBLE ARCH
W1H
2012
City of Westminster
MARGARET STREET
W1W
2012
City of Westminster
OLD COMPTON STREET
W1D
2012
City of Westminster
OLIPHANT STREET
W10
2012
City of Westminster
OXFORD SQUARE
W2
2012
City of Westminster
PADDINGTON GREEN
W2
2012
City of Westminster
PAGE STREET
SW1P
2012
City of Westminster
PENFOLD STREET
NW8
2012
City of Westminster
PICCADILLY
W1J
2012
City of Westminster
POLAND STREET
W1F
2012
City of Westminster
PORTNALL ROAD
W9
2012
City of Westminster
PORTNALL ROAD
W9
2012
City of Westminster
PORTNALL ROAD
W9
2012
City of Westminster
QUEENSWAY
W2
2012
City of Westminster
REGENT STREET
W1B
2012
City of Westminster
REGENT STREET
W1B
2012
City of Westminster
REGENT STREET
W1B
2012
City of Westminster
REGENT STREET
W1B
2012
City of Westminster
REGENT STREET
W1B
2012
City of Westminster
REGENT STREET
W1B
2012
City of Westminster
ROMILLY STREET
W1D
2012
City of Westminster
ROMILLY STREET
W1D
2012
City of Westminster
RUPERT STREET
W1D
2012
City of Westminster
SALEM ROAD
W2
2012
City of Westminster
SHAFTESBURY AVENUE
WC2H
2012
City of Westminster
SHIRLAND ROAD
W9
2012
City of Westminster
SOHO STREET
W1D
2012
City of Westminster
SOUTH WHARF ROAD
W2
2012
City of Westminster
ST. STEPHENS GARDENS
W2
2012
City of Westminster
SURREY STREET
WC2R
2012
City of Westminster
SUSSEX GARDENS
W2
2012
City of Westminster
SUTHERLAND AVENUE
W9
2012
City of Westminster
VAUXHALL BRIDGE ROAD
SW1V
2012
City of Westminster
VICTORIA EMBANKMENT
SW1A
2012
City of Westminster
VICTORIA STREET
SW1E
2012
City of Westminster
VINCENT SQUARE
SW1P
2012
City of Westminster
WARWICK WAY
SW1
2012
City of Westminster
WESTBOURNE GREEN
W2
2012
City of Westminster
WESTBOURNE GREEN JUCTION WITH HARROW ROAD
W2
2012
City of Westminster
WESTBOURNE STREET
W2
2012
City of Westminster
WESTMORELAND PLACE
SW1V
2012
City of Westminster
WHITEHALL
SW1A
2012
City of Westminster
WILD STREET
WC2B
2013
City of Westminster
*No recorded street name
* No recorded postcode
2013
City of Westminster
*No recorded street name
* No recorded postcode
2013
City of Westminster
ABBEY ORCHARD STREET
SW1P
2013
City of Westminster
ABBEY ORCHARD STREET
SW1P
2013
City of Westminster
ALDWYCH
WC2B
2013
City of Westminster
AYLESFORD STREET
SW1V
2013
City of Westminster
BAKER STREET
W1U
2013
City of Westminster
BARK PLACE
W2
2013
City of Westminster
BEAR STREET
WC2H
2013
City of Westminster
BERWICK STREET
W1F
2013
City of Westminster
BIRDCAGE WALK
SW1E
2013
City of Westminster
BOATING LAKE
NW1
2013
City of Westminster
BOUNDARY ROAD
NW8
2013
City of Westminster
BRAVINGTON ROAD
W9
2013
City of Westminster
BRAVINGTON ROAD
W9
2013
City of Westminster
BRAVINGTON ROAD
W9
2013
City of Westminster
BREWER STREET
W1F
2013
City of Westminster
CARLTON VALE
W9
2013
City of Westminster
CHARLWOOD STREET
SW1V
2013
City of Westminster
CHEPSTOW ROAD
W2
2013
City of Westminster
CHIPPENHAM ROAD
W9
2013
City of Westminster
CIRCUS ROAD
NW8
2013
City of Westminster
CIRCUS ROAD
NW8
2013
City of Westminster
COVENTRY STREET
W1D
2013
City of Westminster
DELAMERE TERRACE
W2
2013
City of Westminster
DELAMERE TERRACE
W2
2013
City of Westminster
DELEMERE TERRACE
W2
2013
City of Westminster
DENNING CLOSE
NW8
2013
City of Westminster
DRAYFORD CLOSE
W9
2013
City of Westminster
EBURY BRIDGE ROAD
SW1W
2013
City of Westminster
EDGWARE ROAD
W2
2013
City of Westminster
EDGWARE ROAD
W2
2013
City of Westminster
EDGWARE ROAD
W2
2013
City of Westminster
EDGWARE ROAD
W2
2013
City of Westminster
EDGWARE ROAD
W2
2013
City of Westminster
EMBANKMENT
SW15
2013
City of Westminster
EMBANKMENT
SW15
2013
City of Westminster
FINCHLEY ROAD
NW8
2013
City of Westminster
GLOUCESTER PLACE
NW1
2013
City of Westminster
GOLDNEY ROAD
W9
2013
City of Westminster
GREEK STREET
W1D
2013
City of Westminster
GROVE END ROAD
NW8
2013
City of Westminster
HALLFIELD ESTATE
W2
2013
City of Westminster
HANWAY STREET
W1T
2013
City of Westminster
HARBET ROAD
W2
2013
City of Westminster
HATTON STREET
NW8
2013
City of Westminster
JEROME CRESCENT
NW8
2013
City of Westminster
KILBURN LANE
W9
2013
City of Westminster
KILRAVOCK STREET
W10
2013
City of Westminster
LANCEFIELD STREET
W10
2013
City of Westminster
LANHILL ROAD
W9
2013
City of Westminster
LEICESTER SQUARE
WC2H
2013
City of Westminster
LEICESTER SQUARE
WC2H
2013
City of Westminster
LORDS HILL BRIDGE
W9
2013
City of Westminster
LUPUS STREET
SW1V
2013
City of Westminster
LUPUS STREET
SW1V
2013
City of Westminster
LUPUS STREET
SW1V
2013
City of Westminster
MARBLE ARCH
W1H
2013
City of Westminster
MARBLE ARCH
W1H
2013
City of Westminster
MARBLE ARCH
W1H
2013
City of Westminster
MARYLEBONE ROAD J/W PARK SQUARE EAST
NW1
2013
City of Westminster
NORTHUMBERLAND AVENUE
WC2N
2013
City of Westminster
OXFORD STREET
W1C
2013
City of Westminster
PARK PLACE VILLAS
W2
2013
City of Westminster
PETTY FRANCE
SW1H
2013
City of Westminster
PORCHESTER ROAD / BISHOP BRIDGE ROAD
W2
2013
City of Westminster
PRAED STREET
W2
2013
City of Westminster
QUEENSWAY
W2
2013
City of Westminster
QUEENSWAY
W2
2013
City of Westminster
REGENCY STREET
SW1P
2013
City of Westminster
REGENT STREET
W1B
2013
City of Westminster
REGENT STREET
* No recorded postcode
2013
City of Westminster
ROCHESTER ROW
SW1P
2013
City of Westminster
ROCHESTER ROW
SW1P
2013
City of Westminster
SALTRAM CRESCENT
W9
2013
City of Westminster
SHAFTESBURY AVENUE
W1D
2013
City of Westminster
SHAFTESBURY AVENUE
W1D
2013
City of Westminster
SHIRLAND MEWS
W9
2013
City of Westminster
SOUTH WHARF ROAD
W2
2013
City of Westminster
SOUTH WHARF ROAD
W2
2013
City of Westminster
ST. GEORGES DRIVE
SW1V
2013
City of Westminster
ST. GEORGES FIELDS
W2
2013
City of Westminster
STANHOPE TERRACE
W2
2013
City of Westminster
STRAND
WC2R
2013
City of Westminster
STRATFORD PLACE
W1C
2013
City of Westminster
STRATTON STREET
W1J
2013
City of Westminster
TACHBROOK STREET
SW1V
2013
City of Westminster
TALBOT ROAD
W2
2013
City of Westminster
TORQUAY STREET
W2
2013
City of Westminster
TORQUAY STREET
W2
2013
City of Westminster
TRAFALGAR SQUARE
WC2N
2013
City of Westminster
VAUXHALL BRIDGE ROAD
SW1V
2013
City of Westminster
VINCENT SQUARE
SW1P
2013
City of Westminster
WARDOUR STREET
W1D
2013
City of Westminster
WARWICK CRESCENT
W2
2013
City of Westminster
WARWICK CRESCENT
W2
2013
City of Westminster
WESTBOURNE PARK ROAD
W2
2013
City of Westminster
WESTBOURNE TERRACE
W2
2013
City of Westminster
WESTBOURNE TERRACE
W2
2013
City of Westminster
WESTBOURNE TERRACE
W2
2013
City of Westminster
WILTON ROAD
SW1V
2014
City of Westminster
ADAMS ROW
W1K
2014
City of Westminster
ARNEWAY STREET
SW1P
2014
City of Westminster
ATHENS GARDENS, HARROW ROAD
W9
2014
City of Westminster
AYLESFORD STREET
SW1V
2014
City of Westminster
AYLESFORD STREET
SW1V
2014
City of Westminster
AYLESFORD STREET
SW1V
2014
City of Westminster
BARNWOOD CLOSE
W9
2014
City of Westminster
BAYSWATER ROAD
W2
2014
City of Westminster
BAYSWATER ROAD J/W WESTBOURNE STREET
W2
2014
City of Westminster
BELGRAVE ROAD
SW1V
2014
City of Westminster
CABBELL STREET
NW1
2014
City of Westminster
CARLISLE PLACE
SW1P
2014
City of Westminster
CARLTON VALE
NW6
2014
City of Westminster
CHARING CROSS ROAD
WC2H
2014
City of Westminster
CHICHESTER ROAD
W2
2014
City of Westminster
CHIPPENHAM ROAD
W9
2014
City of Westminster
CHURCHILL GARDENS
SW1V
2014
City of Westminster
COVENT GARDEN
WC2E
2014
City of Westminster
COVENT GARDEN
WC2E
2014
City of Westminster
COVENTRY STREET
W1D
2014
City of Westminster
CRANBOURN STREET
WC2H
2014
City of Westminster
CRANBOURN STREET
WC2H
2014
City of Westminster
CRAVEN HILL
W2
2014
City of Westminster
CRAWFORD STREET
W1H
2014
City of Westminster
CROMPTON STREET
W2
2014
City of Westminster
CUMBERLAND STREET
SW1V
2014
City of Westminster
DEAN STREET
W1D
2014
City of Westminster
DERING STREET
W1S
2014
City of Westminster
DORSET CLOSE
NW1
2014
City of Westminster
DOWNFIELD CLOSE
W9
2014
City of Westminster
DUKE STREET
W1U
2014
City of Westminster
EBURY BRIDGE
SW1W
2014
City of Westminster
EBURY BRIDGE ROAD
SW1W
2014
City of Westminster
EBURY BRIDGE ROAD
SW1W
2014
City of Westminster
EBURY BRIDGE ROAD
SW1W
2014
City of Westminster
ECCLESTON SQUARE
SW1V
2014
City of Westminster
EDGWARE ROAD
W2
2014
City of Westminster
EDGWARE ROAD
W2
2014
City of Westminster
FERNHEAD ROAD
W9
2014
City of Westminster
FINCHLEY ROAD
NW8
2014
City of Westminster
FINCHLEY ROAD
NW8
2014
City of Westminster
FRAMPTON STREET
NW8
2014
City of Westminster
FRAMPTON STREET
NW8
2014
City of Westminster
GATLIFF ROAD
SW1W
2014
City of Westminster
GATLIFF ROAD
SW1W
2014
City of Westminster
GEORGE LOWE COURT
W2
2014
City of Westminster
GRAHAM TERRACE
SW1W
2014
City of Westminster
GRAND UNION CLOSE
W9
2014
City of Westminster
GREAT TITCHFIELD STREET
W1W
2014
City of Westminster
GROSVENOR ROAD
SW1V
2014
City of Westminster
HALL PLACE
W2
2014
City of Westminster
HALLFIELD ESTATE
W2
2014
City of Westminster
HALLFIELD ESTATE
W2
2014
City of Westminster
HALLFIELD ESTATE
W2
2014
City of Westminster
HARROW ROAD
W10
2014
City of Westminster
HARROW ROAD
W2
2014
City of Westminster
HARROW ROAD
W9
2014
City of Westminster
HARROW ROAD
W9
2014
City of Westminster
HARROW ROAD
W9
2014
City of Westminster
HARROW ROAD
W9
2014
City of Westminster
HARROW ROAD
W9
2014
City of Westminster
HARROWBY STREET
W1H
2014
City of Westminster
HYDE PARK
W2
2014
City of Westminster
HYDE PARK
W2
2014
City of Westminster
HYDE PARK
W2
2014
City of Westminster
INVERNESS TERRACE
W2
2014
City of Westminster
IRVING STREET
WC2H
2014
City of Westminster
JOHN AIRD COURT
W2
2014
City of Westminster
LILESTONE STREET
NW8
2014
City of Westminster
LISSON GROVE
NW1
2014
City of Westminster
LITTLE NEWPORT STREET
WC2H
2014
City of Westminster
LITTLE NEWPORT STREET
WC2H
2014
City of Westminster
LODGE ROAD
NW8
2014
City of Westminster
LONDON STREET
W2
2014
City of Westminster
LONDON STREET
W2
2014
City of Westminster
LUPUS STREET
SW1V
2014
City of Westminster
LUPUS STREET
SW1V
2014
City of Westminster
LUPUS STREET
SW1V
2014
City of Westminster
LUPUS STREET
SW1V
2014
City of Westminster
LUXBOROUGH STREET
W1U
2014
City of Westminster
LUXBOROUGH STREET
W1U
2014
City of Westminster
MALLORY STREET
NW8
2014
City of Westminster
MALLORY STREET
NW8
2014
City of Westminster
MARBLE ARCH
W1H
2014
City of Westminster
MARYLEBONE ROAD
NW1
2014
City of Westminster
MARYLEBONE ROAD
NW1
2014
City of Westminster
MORTIMER STREET
W1W
2014
City of Westminster
NEW ROW
WC2N
2014
City of Westminster
NEWMAN STREET
W1T
2014
City of Westminster
NEWPORT COURT
WC2H
2014
City of Westminster
NUGENT TERRACE
NW8
2014
City of Westminster
OLD COMPTON STREET
W1D
2014
City of Westminster
ORANGE YARD
W1D
2014
City of Westminster
ORMOND YARD
SW1Y
2014
City of Westminster
OXFORD STREET
W1D
2014
City of Westminster
OXFORD STREET
W1D
2014
City of Westminster
OXFORD STREET
W1D
2014
City of Westminster
OXFORD STREET
W1D
2014
City of Westminster
OXFORD STREET
W1D
2014
City of Westminster
OXFORD STREET
W1D
2014
City of Westminster
OXFORD STREET
W1D
2014
City of Westminster
PARK ROAD
NW8
2014
City of Westminster
PIMLICO ROAD
SW1W
2014
City of Westminster
PORCHESTER SQUARE
W2
2014
City of Westminster
PORTMAN STREET
W1H
2014
City of Westminster
PORTSEA PLACE
W2
2014
City of Westminster
PRAED STREET
W2
2014
City of Westminster
PRAED STREET
W2
2014
City of Westminster
PRAED STREET
W2
2014
City of Westminster
RANDOLPH AVENUE
W9
2014
City of Westminster
REGENCY STREET
SW1
2014
City of Westminster
SCOTT ELLIS GARDENS
NW8
2014
City of Westminster
SHAFTESBURY AVENUE
W1D
2014
City of Westminster
SHAFTESBURY AVENUE
WC2H
2014
City of Westminster
SHIRLAND ROAD
W9
2014
City of Westminster
SOUTH MOLTON STREET
W1K
2014
City of Westminster
ST. ANNES COURT
W1F
2014
City of Westminster
ST. JAMES'S STREET
SW1A
2014
City of Westminster
ST. MARYS SQUARE
W2
2014
City of Westminster
STRAND
WC2R
2014
City of Westminster
SUSSEX PLACE
W2
2014
City of Westminster
SUTHERLAND AVENUE
W9
2014
City of Westminster
SUTHERLAND AVENUE
W9
2014
City of Westminster
SWISS COURT
W1D
2014
City of Westminster
TACHBROOK STREET
SW1V
2014
City of Westminster
TAVISTOCK CRESCENT
W11
2014
City of Westminster
THIRD AVENUE
W10
2014
City of Westminster
VICTORIA STREET
SW1E
2014
City of Westminster
VICTORIA STREET
SW1E
2014
City of Westminster
VICTORIA STREET
SW1H
2014
City of Westminster
VILLIERS STREET
WC2N
2014
City of Westminster
VILLIERS STREET
WC2N
2014
City of Westminster
WALTERTON ROAD
W9
2014
City of Westminster
WARDOUR STREET
W1D
2014
City of Westminster
WESTBOURNE TERRACE
W2
2014
City of Westminster
WINSLEY STREET
W1W
2014
City of Westminster
WOODCHESTER SQUARE
W2
2014
City of Westminster
WOODCHESTER SQUARE
W2
2014
City of Westminster
WOODCHESTER SQUARE
W2
2012
Croydon
ADDISCOMBE ROAD
CR0
2012
Croydon
AUCKLAND ROAD
SE19
2012
Croydon
BACKLEY GARDENS
SE25
2012
Croydon
BEAUCHAMP ROAD
SE19
2012
Croydon
BEDSER CLOSE
CR7
2012
Croydon
BEDSER CLOSE
CR7
2012
Croydon
BEDWARDINE ROAD
SE19
2012
Croydon
BENSHAM LANE
CR7
2012
Croydon
BEULAH ROAD
CR7
2012
Croydon
BEULAH ROAD
CR7
2012
Croydon
BEULAH ROAD
CR7
2012
Croydon
BEULAH ROAD
CR7
2012
Croydon
BRICKFIELD ROAD
CR7
2012
Croydon
BRIGSTOCK ROAD
CR7
2012
Croydon
BRIGSTOCK ROAD
CR7
2012
Croydon
BRIGSTOCK ROAD
CR7
2012
Croydon
BRIGSTOCK ROAD
CR7
2012
Croydon
BRIGSTOCK ROAD
* No recorded postcode
2012
Croydon
CAMPBELL ROAD
CR0
2012
Croydon
CANTERBURY ROAD
CR0
2012
Croydon
CANTERBURY ROAD
CR0
2012
Croydon
CAPRI ROAD
CR0
2012
Croydon
CARMICHAEL ROAD
SE25
2012
Croydon
CATOR CLOSE
CR0
2012
Croydon
CECIL ROAD
CR0
2012
Croydon
CENTRAL HILL
SE19
2012
Croydon
CENTRAL HILL
SE19
2012
Croydon
CENTRAL HILL
SE19
2012
Croydon
CENTRAL PARADE
CR0
2012
Croydon
CHARNWOOD ROAD
SE25
2012
Croydon
CHARNWOOD ROAD
SE25
2012
Croydon
CHARNWOOD ROAD
SE25
2012
Croydon
CHERRY ORCHARD ROAD
CR0
2012
Croydon
CLIFTON ROAD
SE25
2012
Croydon
CLYDE ROAD
CR0
2012
Croydon
COLLEGE ROAD
CR9
2012
Croydon
COOMBE ROAD
* No recorded postcode
2012
Croydon
COULSDON ROAD
CR5
2012
Croydon
COURTWOOD LANE
CR0
2012
Croydon
COVINGTON WAY
SW16
2012
Croydon
CROWN POINT PARADE
SE19
2012
Croydon
DAGNALL PARK
SE25
2012
Croydon
DANIELL WAY
CR0
2012
Croydon
DENMARK ROAD
SE25
2012
Croydon
DOYLE ROAD
SE25
2012
Croydon
DULVERTON ROAD
CR2
2012
Croydon
DUPPAS HILL TERRACE
CR0
2012
Croydon
EASTNEY ROAD
CR0
2012
Croydon
ELY ROAD
CR0
2012
Croydon
FARNBOROUGH AVENUE
CR2
2012
Croydon
FIELDWAY
CR0
2012
Croydon
FIELDWAY
CR0
2012
Croydon
FIELDWAY
CR0
2012
Croydon
FOXLEY LANE
CR8
2012
Croydon
FOXLEY LANE
CR8
2012
Croydon
FRANKLIN WAY
CR0
2012
Croydon
FRIENDS ROAD
CR0
2012
Croydon
FURZE ROAD
CR7
2012
Croydon
GEORGE STREET
CR0
2012
Croydon
GODSTONE ROAD
CR8
2012
Croydon
GRANGE PARK ROAD
CR7
2012
Croydon
GRANGE ROAD
CR7
2012
Croydon
GRANGE ROAD
CR7
2012
Croydon
GRANGE ROAD
SE19
2012
Croydon
GRANVILLE CLOSE
CR0
2012
Croydon
GUILDFORD ROAD
CR0
2012
Croydon
HALING PARK
CR2
2012
Croydon
HAREPIT CLOSE
CR2
2012
Croydon
HARRINGTON ROAD
SE25
2012
Croydon
HAWTHORN AVENUE
CR7
2012
Croydon
HEADLEY DRIVE
CR0
2012
Croydon
HERMITAGE ROAD
CR8
2012
Croydon
HIGH STREET
CR0
2012
Croydon
HIGH STREET
CR0
2012
Croydon
HIGH STREET
CR7
2012
Croydon
HIGH STREET
CR7
2012
Croydon
HIGH STREET
CR7
2012
Croydon
HIGH STREET
CR7
2012
Croydon
HIGH STREET
CR7
2012
Croydon
HIGH STREET
CR7
2012
Croydon
HIGH STREET
CR8
2012
Croydon
HILLSMEAD WAY
CR2
2012
Croydon
HOWBERRY ROAD
CR7
2012
Croydon
KATHARINE STREET
CR9
2012
Croydon
KILMARTIN AVENUE
SW16
2012
Croydon
LANCASTER ROAD
SE25
2012
Croydon
LEDBURY ROAD
CR0
2012
Croydon
LEIGHTON STREET
CR0
2012
Croydon
LINCOLN CLOSE
SE25
2012
Croydon
LODGE LANE
CR0
2012
Croydon
LODGE ROAD
CR0
2012
Croydon
LONDON ROAD
CR0
2012
Croydon
LONDON ROAD
CR0
2012
Croydon
LONDON ROAD
CR0
2012
Croydon
LONDON ROAD
CR0
2012
Croydon
LONDON ROAD
CR7
2012
Croydon
LONDON ROAD
CR7
2012
Croydon
LONDON ROAD
CR7
2012
Croydon
LONDON ROAD
SW16
2012
Croydon
LONDON ROAD
* No recorded postcode
2012
Croydon
LONG LANE
CR0
2012
Croydon
LONGHEATH GARDENS
CR0
2012
Croydon
LONGHEATH GARDENS
CR0
2012
Croydon
LONGHEATH GARDENS
CR0
2012
Croydon
LONGHEATH GARDENS
CR0
2012
Croydon
LOWER ADDISCOMBE ROAD
* No recorded postcode
2012
Croydon
MERTON ROAD
SE25
2012
Croydon
MITCHAM ROAD
CR0
2012
Croydon
MITCHAM ROAD
CR9
2012
Croydon
MORLAND AVENUE
CR0
2012
Croydon
NORBURY AVENUE
CR7
2012
Croydon
NORBURY HILL
SW16
2012
Croydon
NORBURY HILL
SW16
2012
Croydon
NOTTINGHAM ROAD
CR2
2012
Croydon
OLD TOWN
CR0
2012
Croydon
OSBORNE ROAD
CR7
2012
Croydon
PARK HILL ROAD
CR0
2012
Croydon
PARK LANE
CR0
2012
Croydon
PARK LANE
CR0
2012
Croydon
PHEASANT CLOSE
CR8
2012
Croydon
PHEASANT CLOSE
CR8
2012
Croydon
PORTLAND ROAD
SE25
2012
Croydon
PORTLAND ROAD
SE25
2012
Croydon
PORTLAND ROAD
SE25
2012
Croydon
PORTLAND ROAD
SE25
2012
Croydon
PORTLAND ROAD
* No recorded postcode
2012
Croydon
PRINCESS ROAD
CR0
2012
Croydon
QUEEN ELIZABETHS DRIVE
CR0
2012
Croydon
RICHMOND ROAD
* No recorded postcode
2012
Croydon
ROSECOURT ROAD
CR0
2012
Croydon
SELHURST NEW ROAD
SE25
2012
Croydon
SELHURST PLACE
SE25
2012
Croydon
SELHURST PLACE
SE25
2012
Croydon
SOUTH NORWOOD HILL
SE25
2012
Croydon
SOUTHLANDS CLOSE
CR5
2012
Croydon
ST GEORGE'S WALK
* No recorded postcode
2012
Croydon
ST. MARKS ROAD
SE25
2012
Croydon
ST. PETERS ROAD
CR0
2012
Croydon
ST. PETERS ROAD
CR0
2012
Croydon
STANFORD ROAD
SW16
2012
Croydon
STATION ROAD
CR0
2012
Croydon
STATION ROAD
CR0
2012
Croydon
STATION ROAD
SE25
2012
Croydon
STRATHYRE AVENUE
SW16
2012
Croydon
SUMNER ROAD
CR0
2012
Croydon
TAVISTOCK ROAD
CR0
2012
Croydon
THORNTON ROAD
CR0
2012
Croydon
THORPE CLOSE
CR0
2012
Croydon
THORPE CLOSE
CR0
2012
Croydon
TOWPATH WAY
CR0
2012
Croydon
WARRINGTON ROAD
CR0
2012
Croydon
WATCOMBE ROAD
SE25
2012
Croydon
WESTOW HILL
SE19
2012
Croydon
WESTOW STREET
SE19
2012
Croydon
WHITWORTH ROAD
SE25
2012
Croydon
WICKHAM ROAD
CR0
2012
Croydon
WINDMILL ROAD
CR0
2012
Croydon
WINDMILL ROAD
CR0
2012
Croydon
WINDMILL ROAD
CR0
2012
Croydon
WINTERBOURNE ROAD
CR7
2012
Croydon
WOBURN ROAD
CR9
2013
Croydon
*No recorded street name
* No recorded postcode
2013
Croydon
ABINGDON ROAD
SW16
2013
Croydon
ADDISON ROAD
SE25
2013
Croydon
ALBERT ROAD
SE25
2013
Croydon
ALBERT ROAD
SE25
2013
Croydon
ALBERT ROAD
SE25
2013
Croydon
ALLEN ROAD
CR0
2013
Croydon
APPLEGARTH
CR0
2013
Croydon
APPLEGARTH
CR0
2013
Croydon
ARUNDEL ROAD
CR0
2013
Croydon
AUCKLAND ROAD
SE19
2013
Croydon
AVENUE GARDENS
SE25
2013
Croydon
BALFOUR ROAD
SE25
2013
Croydon
BARCLAY ROAD
CR0
2013
Croydon
BEULAH CRESCENT
CR7
2013
Croydon
BIRCHANGER ROAD
SE25
2013
Croydon
BRAMBLE CLOSE
CR0
2013
Croydon
BRIGHTON ROAD
CR5
2013
Croydon
BRIGHTON ROAD
CR8
2013
Croydon
BRIGHTON ROAD
CR8
2013
Croydon
BRIGSTOCK ROAD
CR7
2013
Croydon
BRIGSTOCK ROAD
CR7
2013
Croydon
BULGANAK ROAD
CR7
2013
Croydon
BULLER ROAD
* No recorded postcode
2013
Croydon
BURLINGTON ROAD
CR7
2013
Croydon
BURLINGTON ROAD
CR7
2013
Croydon
BURRELL CLOSE
CR0
2013
Croydon
BURRELL CLOSE
CR0
2013
Croydon
CARGREEN ROAD
SE25
2013
Croydon
CECIL ROAD
CR0
2013
Croydon
CHARNWOOD ROAD
SE25
2013
Croydon
CHRISTIE DRIVE
CR0
2013
Croydon
COLLEGE ROAD
CR9
2013
Croydon
COLLIERS WATER LANE
CR7
2013
Croydon
CROWN HILL, CHURCH STREET
CR0
2013
Croydon
CROWN HILL, CHURCH STREET
CR0
2013
Croydon
CUDHAM DRIVE
CR0
2013
Croydon
CUDHAM DRIVE
CR0
2013
Croydon
DENMEAD ROAD
CR0
2013
Croydon
DENMEAD ROAD
CR0
2013
Croydon
ECCLESBOURNE ROAD
CR7
2013
Croydon
EDGAR ROAD
CR2
2013
Croydon
FACTORY LANE
CR0
2013
Croydon
FAIRFIELD PATH
CR0
2013
Croydon
FAIRHOLME ROAD
CR0
2013
Croydon
FARQUHARSON ROAD
CR0
2013
Croydon
FIRSBY AVENUE
CR0
2013
Croydon
FRESHFIELDS
CR0
2013
Croydon
FRIMLEY CLOSE
CR0
2013
Croydon
GEORGE STREET
CR0
2013
Croydon
GEORGE STREET
CR0
2013
Croydon
GRANGE ROAD
CR7
2013
Croydon
GRANVILLE CLOSE
CR0
2013
Croydon
GREEN LANE
CR7
2013
Croydon
GREEN LANE
SW16
2013
Croydon
GREEN LANE
SW16
2013
Croydon
GRENVILLE ROAD
CR0
2013
Croydon
GRESHAM ROAD
SE25
2013
Croydon
GUILDFORD ROAD
CR0
2013
Croydon
HARGWYNE STREET
SW9
2013
Croydon
HEADCORN ROAD
CR7
2013
Croydon
HESTERMAN WAY
CR0
2013
Croydon
HIGH STREET
CR0
2013
Croydon
HIGH STREET
CR0
2013
Croydon
HIGH STREET
CR0
2013
Croydon
HIGH STREET
CR0
2013
Croydon
HIGH STREET
CR8
2013
Croydon
HIGH STREET
CR9
2013
Croydon
HIGH STREET
CR9
2013
Croydon
INGATESTONE ROAD
SE25
2013
Croydon
KELVIN GARDENS
CR0
2013
Croydon
LANSDOWNE ROAD
CR0
2013
Croydon
LEBANON ROAD
CR0
2013
Croydon
LIVINGSTONE ROAD
CR7
2013
Croydon
LONDON ROAD
CR0
2013
Croydon
LONDON ROAD
CR0
2013
Croydon
LONDON ROAD
CR0
2013
Croydon
LONDON ROAD
CR0
2013
Croydon
LONDON ROAD
CR0
2013
Croydon
LONDON ROAD
CR7
2013
Croydon
LONDON ROAD
SW16
2013
Croydon
LONDON ROAD
* No recorded postcode
2013
Croydon
LONG LANE
CR0
2013
Croydon
LOWER ADDISCOMBE ROAD
CR0
2013
Croydon
LUCERNE ROAD
CR7
2013
Croydon
MABERLEY ROAD
SE19
2013
Croydon
MELROSE AVENUE
SW16
2013
Croydon
MITCHLEY AVENUE
CR8
2013
Croydon
MOORE ROAD
SE19
2013
Croydon
NORTH WALK
CR0
2013
Croydon
NORTHBOROUGH ROAD
SW16
2013
Croydon
OAKFIELD ROAD
CR0
2013
Croydon
OCKLEY ROAD
CR0
2013
Croydon
PANTON CLOSE
CR0
2013
Croydon
PARCHMORE ROAD
CR7
2013
Croydon
PARK LANE
CR0
2013
Croydon
PARK LANE
CR9
2013
Croydon
PENGE ROAD
SE25
2013
Croydon
PENGE ROAD
SE25
2013
Croydon
PERCY ROAD
SE25
2013
Croydon
PERCY ROAD
SE25
2013
Croydon
PERCY ROAD
SE25
2013
Croydon
PITLAKE
CR0
2013
Croydon
PORTLAND ROAD
SE25
2013
Croydon
PORTLAND ROAD
* No recorded postcode
2013
Croydon
PURLEY WAY
CR0
2013
Croydon
REGINA ROAD
SE25
2013
Croydon
RESERVOIR CLOSE
CR7
2013
Croydon
RUSTHALL CLOSE
CR0
2013
Croydon
SAXON ROAD
SE25
2013
Croydon
SONNING ROAD
SE25
2013
Croydon
SOUTH END
CR0
2013
Croydon
SOUTH END
CR0
2013
Croydon
SPRING LANE
SE25
2013
Croydon
ST. GEORGES WALK
CR0
2013
Croydon
ST. SAVIOURS ROAD
CR0
2013
Croydon
STANFORD ROAD
SW16
2013
Croydon
STAPLETON GARDENS
CR0
2013
Croydon
SUMNER ROAD
* No recorded postcode
2013
Croydon
SUSSEX ROAD
CR2
2013
Croydon
TENNISON ROAD
SE25
2013
Croydon
TRAFALGAR WAY
CR0
2013
Croydon
TRAFALGAR WAY
CR0
2013
Croydon
TUDOR CLOSE
CR2
2013
Croydon
TUDOR CLOSE
CR2
2013
Croydon
TUDOR CLOSE
CR2
2013
Croydon
TYLECROFT ROAD
SW16
2013
Croydon
WANDLE ROAD
CR0
2013
Croydon
WARLINGHAM ROAD
CR7
2013
Croydon
WARMINSTER GARDENS
SE25
2013
Croydon
WARRINGTON ROAD
CR0
2013
Croydon
WELLESLEY ROAD
* No recorded postcode
2013
Croydon
WESTGATE ROAD
SE25
2013
Croydon
WHITWORTH ROAD
SE25
2013
Croydon
WHITWORTH ROAD
SE25
2013
Croydon
WHITWORTH ROAD
SE25
2013
Croydon
WINDMILL ROAD
CR0
2013
Croydon
WOODSIDE ROAD
SE25
2014
Croydon
*No recorded street name
* No recorded postcode
2014
Croydon
ADDINGTON ROAD
CR2
2014
Croydon
ADDISCOMBE AVENUE
CR0
2014
Croydon
ARMISTICE GARDENS
SE25
2014
Croydon
ATTLEE CLOSE
CR7
2014
Croydon
BARDOLPH AVENUE
CR0
2014
Croydon
BELGRAVE ROAD
SE25
2014
Croydon
BENSHAM GROVE
CR7
2014
Croydon
BERNEY ROAD
CR0
2014
Croydon
BEULAH HILL
SE19
2014
Croydon
BEULAH HILL
SE19
2014
Croydon
BEULAH HILL
SE19
2014
Croydon
BEULAH HILL
SE19
2014
Croydon
BIRCHANGER ROAD
SE25
2014
Croydon
BRIGHTON ROAD
CR5
2014
Croydon
BRIGSTOCK ROAD
CR7
2014
Croydon
BRIGSTOCK ROAD
CR7
2014
Croydon
BRIGSTOCK ROAD
CR7
2014
Croydon
BRIGSTOCK ROAD
CR7
2014
Croydon
BROOK ROAD
CR7
2014
Croydon
BROOM ROAD
CR0
2014
Croydon
BROUGHTON ROAD
CR7
2014
Croydon
BURGOYNE ROAD
SE25
2014
Croydon
CANAL WALK
CR0
2014
Croydon
CANTERBURY ROAD
CR0
2014
Croydon
CCC
* No recorded postcode
2014
Croydon
CCC
* No recorded postcode
2014
Croydon
CCC
* No recorded postcode
2014
Croydon
CHAPMAN ROAD
CR0
2014
Croydon
CHARRINGTON ROAD
CR0
2014
Croydon
CHIPSTEAD VALLEY ROAD
CR5
2014
Croydon
CHURCH ROAD
SE19
2014
Croydon
CLARENDON ROAD
CR0
2014
Croydon
COOMBE ROAD
CR0
2014
Croydon
CROWN HILL, CHURCH STREET
CR0
2014
Croydon
CROWN HILL, CHURCH STREET
CR0
2014
Croydon
CROWN POINT PARADE
SE19
2014
Croydon
DAVIDSON ROAD
CR0
2014
Croydon
DEVONSHIRE ROAD
CR0
2014
Croydon
DINGWALL ROAD
CR9
2014
Croydon
DRUMMOND ROAD
CR0
2014
Croydon
DUNLEY DRIVE
CR0
2014
Croydon
FALKLAND PARK AVENUE
SE25
2014
Croydon
FOUNTAIN ROAD
CR7
2014
Croydon
FREELANDS AVENUE
CR2
2014
Croydon
FRENSHAM DRIVE
CR0
2014
Croydon
GEORGE STREET
CR0
2014
Croydon
GRANVILLE CLOSE
CR0
2014
Croydon
GRANVILLE CLOSE
CR0
2014
Croydon
GRANVILLE CLOSE
CR0
2014
Croydon
GRANVILLE CLOSE
CR0
2014
Croydon
GREEN LANE
CR7
2014
Croydon
GREEN LANE
CR7
2014
Croydon
HALING PARK ROAD
CR2
2014
Croydon
HARTLEY ROAD
CR0
2014
Croydon
HATHAWAY ROAD
CR0
2014
Croydon
HERMITAGE LANE
SW16
2014
Croydon
HERMITAGE LANE
SW16
2014
Croydon
HIGH STREET
CR0
2014
Croydon
HIGH STREET
CR8
2014
Croydon
HIGH STREET
CR8
2014
Croydon
HIGH STREET
SE25
2014
Croydon
HIGH STREET, NORWOOD
* No recorded postcode
2014
Croydon
HIGHFIELD ROAD
CR8
2014
Croydon
HOLMESDALE ROAD
SE25
2014
Croydon
HOLMESDALE ROAD
SE25
2014
Croydon
HOOD CLOSE
CR0
2014
Croydon
KATHARINE STREET
CR0
2014
Croydon
KEMBLE ROAD
CR0
2014
Croydon
KIMBERLEY ROAD
CR0
2014
Croydon
LADBROOK ROAD
SE25
2014
Croydon
LANSDOWNE ROAD
CR0
2014
Croydon
LANSDOWNE ROAD
CR0
2014
Croydon
LODGE LANE
CR0
2014
Croydon
LODGE ROAD
CR0
2014
Croydon
LONDON ROAD
CR0
2014
Croydon
LONDON ROAD
CR0
2014
Croydon
LONDON ROAD
CR0
2014
Croydon
LONDON ROAD
CR7
2014
Croydon
LONDON ROAD
CR7
2014
Croydon
LONDON ROAD
CR7
2014
Croydon
LONDON ROAD
CR7
2014
Croydon
LONDON ROAD
CR7
2014
Croydon
LONDON ROAD
CR7
2014
Croydon
LONDON ROAD
CR7
2014
Croydon
LONDON ROAD
SW16
2014
Croydon
LONDON ROAD
* No recorded postcode
2014
Croydon
MARDEN CRESCENT
CR0
2014
Croydon
MARION ROAD
CR7
2014
Croydon
MELFORT AVENUE
CR7
2014
Croydon
MELVILLE AVENUE
CR2
2014
Croydon
MILNE PARK EAST
CR0
2014
Croydon
MILTON ROAD
CR0
2014
Croydon
MORLAND AVENUE
CR0
2014
Croydon
NORTHWOOD AVENUE
CR8
2014
Croydon
OAKFIELD ROAD
CR0
2014
Croydon
OAKFIELD ROAD
CR0
2014
Croydon
OAKHILL ROAD
SW16
2014
Croydon
OUTRAM ROAD
CR0
2014
Croydon
PARK LANE
CR9
2014
Croydon
PIRBRIGHT CRESCENT
CR0
2014
Croydon
PLACEHOUSE LANE
CR5
2014
Croydon
PORTLAND ROAD
SE25
2014
Croydon
QUEENS ROAD
CR0
2014
Croydon
RAVENSDALE GARDENS
SE19
2014
Croydon
REGINA ROAD
SE25
2014
Croydon
ROSEBERY AVENUE
CR7
2014
Croydon
RUSSELL HILL
CR8
2014
Croydon
SELSDON PARK ROAD
CR2
2014
Croydon
SOUTH END
CR0
2014
Croydon
SOUTH END
CR0
2014
Croydon
SOUTH END
CR0
2014
Croydon
SOUTH NORWOOD HILL
SE25
2014
Croydon
SOUTHBROOK ROAD
SW16
2014
Croydon
SPA HILL
SE19
2014
Croydon
ST. AUBYNS ROAD
SE19
2014
Croydon
ST. AUGUSTINES AVENUE
CR2
2014
Croydon
ST. GEORGES WALK
CR0
2014
Croydon
STANLEY ROAD
CR0
2014
Croydon
STATION APPROACH
CR5
2014
Croydon
SUMNER ROAD
CR0
2014
Croydon
THORNTON ROAD
CR7
2014
Croydon
THORNTON ROAD
CR7
2014
Croydon
VICARAGE ROAD
CR0
2014
Croydon
VINCENT ROAD
CR0
2014
Croydon
WADDON ROAD
CR0
2014
Croydon
WALTON GREEN
CR0
2014
Croydon
WARMINSTER ROAD
SE25
2014
Croydon
WELLESLEY ROAD
CR0
2014
Croydon
WELLESLEY ROAD
CR0
2014
Croydon
WHITEHORSE ROAD
CR0
2014
Croydon
WHITEHORSE ROAD
CR0
2014
Croydon
WHITEHORSE ROAD
CR0
2014
Croydon
WHITEHORSE ROAD
CR0
2014
Croydon
WHITEHORSE ROAD
CR7
2014
Croydon
WHITEHORSE ROAD
* No recorded postcode
2014
Croydon
WHITGIFT CENTRE
CR0
2014
Croydon
WHITGIFT CENTRE
CR0
2014
Croydon
WOODVILLE ROAD
CR7
2014
Croydon
WYCHE GROVE
* No recorded postcode
2012
Ealing
*No recorded street name
* No recorded postcode
2012
Ealing
*No recorded street name
* No recorded postcode
2012
Ealing
ABBOTTS ROAD
UB1
2012
Ealing
ABBOTTS ROAD
UB1
2012
Ealing
ACACIA ROAD
W3
2012
Ealing
ALEXANDRA AVENUE
UB1
2012
Ealing
ALLENBY ROAD
UB1
2012
Ealing
ALLENBY ROAD
UB1
2012
Ealing
ALLENBY ROAD
UB1
2012
Ealing
ALLINGHAM CLOSE
W7
2012
Ealing
ASHBOURNE PARADE
W5
2012
Ealing
BEDSER DRIVE
UB6
2012
Ealing
BELVUE ROAD
UB5
2012
Ealing
BELVUE ROAD
UB5
2012
Ealing
BIDEFORD AVENUE
UB6
2012
Ealing
BILTON ROAD
UB6
2012
Ealing
BILTON ROAD J/W LEE ROAD
UB6
2012
Ealing
BILTON ROAD J/W LEE ROAD
UB6
2012
Ealing
BOLLO BRIDGE ROAD
W3
2012
Ealing
BOURNEMEAD AVENUE
UB5
2012
Ealing
BRIDGMAN ROAD
W4
2012
Ealing
BROADWAY
W13
2012
Ealing
BROMYARD AVENUE
W3
2012
Ealing
BULLS BRIDGE ROAD
UB2
2012
Ealing
CARLYLE ROAD
W5
2012
Ealing
CHERINGTON ROAD
W7
2012
Ealing
CHURCHFIELD ROAD
W3
2012
Ealing
COMPTON CRESCENT
UB5
2012
Ealing
COPLEY CLOSE
W7
2012
Ealing
CORONATION ROAD
NW10
2012
Ealing
CRESWICK ROAD
W3
2012
Ealing
CULLEN WAY
NW10
2012
Ealing
CULLEN WAY
NW10
2012
Ealing
CULLEN WAY
NW10
2012
Ealing
DEANS GARDENS
W13
2012
Ealing
DORSET AVENUE
UB2
2012
Ealing
DRAYTON BRIDGE ROAD
W7
2012
Ealing
EAST ACTON LANE
W3
2012
Ealing
EDWARD ROAD
UB5
2012
Ealing
ELMBANK WAY
W7
2012
Ealing
ESSEX ROAD
W3
2012
Ealing
GREEN MAN LANE
W13
2012
Ealing
GREENFORD ROAD
* No recorded postcode
2012
Ealing
GURNELL GROVE
W13
2012
Ealing
HAMBROUGH ROAD
UB1
2012
Ealing
HAMMOND ROAD
UB2
2012
Ealing
HANBURY ROAD
W3
2012
Ealing
HANBURY ROAD
W3
2012
Ealing
HAVEN GREEN
W5
2012
Ealing
HAWTREY AVENUE
UB5
2012
Ealing
HAWTREY AVENUE
UB5
2012
Ealing
HIGH STREET
W3
2012
Ealing
HIGH STREET
W3
2012
Ealing
HIGH STREET
W3
2012
Ealing
HIGH STREET
W3
2012
Ealing
HIGH STREET
W5
2012
Ealing
HIGH STREET
W5
2012
Ealing
HILLYARD ROAD
W7
2012
Ealing
HORN LANE
W3
2012
Ealing
HORN LANE
W3
2012
Ealing
HORSENDEN LANE SOUTH
UB6
2012
Ealing
HORTUS ROAD
UB2
2012
Ealing
HUNT ROAD
UB2
2012
Ealing
IN COPNEY PASSAGE
W7
2012
Ealing
KENDAL AVENUE
W3
2012
Ealing
KENILWORTH GARDENS
UB1
2012
Ealing
KING STREET
UB1
2012
Ealing
LEAMINGTON ROAD
UB2
2012
Ealing
LEONARD ROAD
UB2
2012
Ealing
LOWFIELD ROAD
W3
2012
Ealing
MALDON ROAD
W3
2012
Ealing
MATTOCK LANE
W13
2012
Ealing
MELROSE AVENUE
UB6
2012
Ealing
MELROSE AVENUE
UB6
2012
Ealing
MICHAEL GAYNOR CLOSE
W7
2012
Ealing
NIMROD CLOSE
UB5
2012
Ealing
OLDFIELD LANE NORTH
UB6
2012
Ealing
OLYMPIC WAY
UB6
2012
Ealing
OSTERLEY PARK ROAD
UB2
2012
Ealing
PALMERSTON ROAD
W3
2012
Ealing
PARK ROAD EAST
W3
2012
Ealing
PERRY AVENUE
W3
2012
Ealing
PERRY AVENUE
W3
2012
Ealing
RAGLEY CLOSE
W3
2012
Ealing
RECREATION ROAD
UB2
2012
Ealing
RIBBLESDALE AVENUE
UB5
2012
Ealing
RIDDING LANE
UB6
2012
Ealing
RIVERSIDE CLOSE
W7
2012
Ealing
SHAFTESBURY GARDENS
NW10
2012
Ealing
SHERWOOD CLOSE
W13
2012
Ealing
SHERWOOD CLOSE
W13
2012
Ealing
SOMERSET ROAD
UB1
2012
Ealing
SOMERSET ROAD
UB1
2012
Ealing
SOUTH AVENUE
UB1
2012
Ealing
SOUTH EALING ROAD
W5
2012
Ealing
SOUTHDOWN AVENUE
W7
2012
Ealing
ST. KILDA ROAD
W13
2012
Ealing
STATION ROAD
W7
2012
Ealing
TELFORD ROAD
UB1
2012
Ealing
TEMPLEMAN ROAD
W7
2012
Ealing
THE BROADWAY
UB1
2012
Ealing
THE BROADWAY
W5
2012
Ealing
THE GREEN
UB2
2012
Ealing
THE KNOLL
W13
2012
Ealing
THE MALL
W5
2012
Ealing
THE MALL
W5
2012
Ealing
THE MALL
W5
2012
Ealing
THE VALE
W3
2012
Ealing
TOWNSEND ROAD
UB1
2012
Ealing
UXBRIDGE ROAD
UB1
2012
Ealing
UXBRIDGE ROAD
UB1
2012
Ealing
UXBRIDGE ROAD
W13
2012
Ealing
UXBRIDGE ROAD
W3
2012
Ealing
UXBRIDGE ROAD
W7
2012
Ealing
UXBRIDGE ROAD
W7
2012
Ealing
UXBRIDGE ROAD
W7
2012
Ealing
VILLIERS ROAD
UB1
2012
Ealing
WARWICK DENE
W5
2012
Ealing
WARWICK ROAD
UB2
2012
Ealing
WARWICK ROAD
UB2
2012
Ealing
WAXLOW WAY
UB5
2012
Ealing
WAXLOW WAY
UB5
2012
Ealing
WEBB PLACE
NW10
2012
Ealing
WESTERN AVENUE
W3
2012
Ealing
WESTERN ROAD
UB2
2012
Ealing
WHITTON AVENUE WEST
UB6
2012
Ealing
WILLOWBROOK ROAD
UB2
2012
Ealing
WILSMERE DRIVE
UB5
2012
Ealing
WINDSOR ROAD
W5
2012
Ealing
WITHAM ROAD
W13
2012
Ealing
WOLVERTON GARDENS
W5
2012
Ealing
WOOD END LANE
UB5
2013
Ealing
*No recorded street name
UB5
2013
Ealing
*No recorded street name
* No recorded postcode
2013
Ealing
ABBOTTS ROAD
* No recorded postcode
2013
Ealing
ACTON LANE
W4
2013
Ealing
ADELAIDE ROAD
UB2
2013
Ealing
ADELAIDE ROAD
UB2
2013
Ealing
BEECH AVENUE
W3
2013
Ealing
BENGARTH ROAD
UB5
2013
Ealing
BIDEFORD AVENUE
UB6
2013
Ealing
BIDEFORD AVENUE
UB6
2013
Ealing
BIDEFORD AVENUE
UB6
2013
Ealing
BIDEFORD AVENUE
UB6
2013
Ealing
BIRKBECK AVENUE
UB6
2013
Ealing
BOYD AVENUE
UB1
2013
Ealing
BOYD AVENUE
UB1
2013
Ealing
BROADWAY
W13
2013
Ealing
BROWNING AVENUE
W7
2013
Ealing
BROWNING AVENUE
W7
2013
Ealing
BROWNING AVENUE
W7
2013
Ealing
BROWNING AVENUE
W7
2013
Ealing
BULLS BRIDGE ROAD
UB2
2013
Ealing
BYRON WAY
UB5
2013
Ealing
CASTLE ROAD
UB5
2013
Ealing
CASTLE ROAD
UB5
2013
Ealing
CASTLE ROAD
UB5
2013
Ealing
CEDAR GROVE
W5
2013
Ealing
CEDAR GROVE
W5
2013
Ealing
CHATSWORTH GARDENS
W3
2013
Ealing
CHELTENHAM CLOSE
UB5
2013
Ealing
CHELTENHAM PLACE
W3
2013
Ealing
CHELTENHAM PLACE
W3
2013
Ealing
CHELTENHAM PLACE
W3
2013
Ealing
CHURCH ROAD
UB5
2013
Ealing
CHURCH ROAD
* No recorded postcode
2013
Ealing
CHURCHFIELD ROAD
W3
2013
Ealing
CHURCHFIELD ROAD
* No recorded postcode
2013
Ealing
CLANDON CLOSE
W3
2013
Ealing
CLARENCE STREET
UB2
2013
Ealing
CLIFFORD CLOSE
UB5
2013
Ealing
COPLEY CLOSE
W7
2013
Ealing
COTTON AVENUE
W3
2013
Ealing
COWINGS MEAD
UB5
2013
Ealing
COWINGS MEAD
UB5
2013
Ealing
CUMBERLAND PARK
W3
2013
Ealing
CURREY ROAD
UB6
2013
Ealing
DANE ROAD
UB1
2013
Ealing
DEHAVILLAND CLOSE
UB5
2013
Ealing
DERLEY ROAD
* No recorded postcode
2013
Ealing
DRAYTON GREEN
W13
2013
Ealing
EAST ACTON LANE
W3
2013
Ealing
ELM TREE CLOSE
UB5
2013
Ealing
EMANUEL AVENUE
W3
2013
Ealing
FARADAY ROAD
W3
2013
Ealing
GOODHALL STREET
NW10
2013
Ealing
GOODHALL STREET
NW10
2013
Ealing
GORST ROAD
NW10
2013
Ealing
GORST ROAD
NW10
2013
Ealing
GORST ROAD
NW10
2013
Ealing
GRAFTON ROAD
W3
2013
Ealing
GREEN MAN LANE
W13
2013
Ealing
GREEN MAN LANE/ ROMSEY ROAD
W13
2013
Ealing
GREEN WALK
UB2
2013
Ealing
GREENFORD ROAD
UB6
2013
Ealing
GREENFORD ROAD
UB6
2013
Ealing
GREENFORD ROAD
UB6
2013
Ealing
GUNNERSBURY LANE
W3
2013
Ealing
GUNNERSBURY LANE
W3
2013
Ealing
HAMILTON ROAD
W5
2013
Ealing
HANBURY ROAD
W3
2013
Ealing
HANGER LANE
W5
2013
Ealing
HANWAY ROAD
W7
2013
Ealing
HARTINGTON ROAD
W13
2013
Ealing
HAVELOCK ROAD
UB2
2013
Ealing
HAWTHORN FARM AVENUE
UB5
2013
Ealing
HIGH STREET
W3
2013
Ealing
HIGH STREET
W3
2013
Ealing
HILL RISE
UB6
2013
Ealing
HORN LANE
* No recorded postcode
2013
Ealing
HUNT ROAD
UB2
2013
Ealing
IRON BRIDGE CLOSE
UB2
2013
Ealing
JETSTAR WAY
UB5
2013
Ealing
JOSEPH AVENUE, FRIARY PARK
W3
2013
Ealing
JULIAN AVENUE
W3
2013
Ealing
KENDAL AVENUE
W3
2013
Ealing
KINGS AVENUE
UB6
2013
Ealing
LADY MARGARET ROAD
UB1
2013
Ealing
LADY MARGARET ROAD
UB1
2013
Ealing
LARCH AVENUE
W3
2013
Ealing
LONG DRIVE
W3
2013
Ealing
LOWER BOSTON ROAD
W7
2013
Ealing
MANOR ROAD
W13
2013
Ealing
MARNHAM CRESCENT
UB6
2013
Ealing
MATTOCK LANE
W13
2013
Ealing
MEADOW CLOSE
UB5
2013
Ealing
NEMOURE ROAD
W3
2013
Ealing
NORTH ROAD
UB1
2013
Ealing
NORTHFIELD AVENUE
W13
2013
Ealing
OAKLANDS ROAD
W7
2013
Ealing
OLD OAK COMMON LANE
W3
2013
Ealing
OLD OAK COMMON LANE
W3
2013
Ealing
OSBORNE ROAD
W3
2013
Ealing
PETTS HILL
UB5
2013
Ealing
PETTS HILL
UB5
2013
Ealing
RANDOLPH ROAD
UB1
2013
Ealing
RAVENOR PARK
* No recorded postcode
2013
Ealing
REDCAR CLOSE
UB5
2013
Ealing
RUISLIP ROAD
UB5
2013
Ealing
RUISLIP ROAD
UB6
2013
Ealing
RUISLIP ROAD
UB6
2013
Ealing
RUISLIP ROAD
* No recorded postcode
2013
Ealing
SALISBURY ROAD
W13
2013
Ealing
SCHOOL ROAD
NW10
2013
Ealing
SENTINEL CLOSE
UB5
2013
Ealing
SHERWOOD CLOSE
W13
2013
Ealing
SINGAPORE ROAD
W13
2013
Ealing
SINGAPORE ROAD
W13
2013
Ealing
SOMERSET ROAD
UB1
2013
Ealing
SOUTH ROAD
UB1
2013
Ealing
SOUTHALL PARK
* No recorded postcode
2013
Ealing
SPARKS CLOSE, FRIARY PARK
W3
2013
Ealing
SPARKS CLOSE, FRIARY PARK
W3
2013
Ealing
SPARKS CLOSE, FRIARY PARK
W3
2013
Ealing
ST. ANDREWS ROAD
W3
2013
Ealing
ST. LEONARDS ROAD
NW10
2013
Ealing
ST. MARYS ROAD
W5
2013
Ealing
SYCAMORE AVENUE
W5
2013
Ealing
TAYWOOD ROAD
UB5
2013
Ealing
THE AVENUE
W13
2013
Ealing
THE AVENUE
W13
2013
Ealing
THE AVENUE
W4
2013
Ealing
THE BROADWAY
W5
2013
Ealing
THE GROVE
W5
2013
Ealing
THE MALL
W5
2013
Ealing
THORNDIKE AVENUE
UB5
2013
Ealing
THORNDIKE AVENUE
UB5
2013
Ealing
TWYFORD AVENUE
W3
2013
Ealing
UXBRIDGE ROAD
UB1
2013
Ealing
UXBRIDGE ROAD
UB1
2013
Ealing
UXBRIDGE ROAD
UB1
2013
Ealing
UXBRIDGE ROAD
W13
2013
Ealing
UXBRIDGE ROAD
W3
2013
Ealing
UXBRIDGE ROAD
W5
2013
Ealing
WESTERN ROAD
UB2
2013
Ealing
WESTERN ROAD
UB2
2013
Ealing
WILLIAMS ROAD
UB2
2013
Ealing
YEADING LANE
UB5
2014
Ealing
ADELAIDE ROAD
UB2
2014
Ealing
ADELAIDE ROAD
UB2
2014
Ealing
ALLENBY ROAD
UB1
2014
Ealing
ARGYLE ROAD
* No recorded postcode
2014
Ealing
ARGYLE ROAD
* No recorded postcode
2014
Ealing
AZALEA CLOSE
W7
2014
Ealing
BEACONSFIELD ROAD
UB1
2014
Ealing
BEACONSFIELD ROAD
UB1
2014
Ealing
BEACONSFIELD ROAD/SOUTH ROAD
UB1
2014
Ealing
BERRYMEAD GARDENS
W3
2014
Ealing
BILTON ROAD
UB6
2014
Ealing
BIRCH GROVE
W3
2014
Ealing
BOYD AVENUE
UB1
2014
Ealing
BRENT ROAD
UB2
2014
Ealing
BRICK LANE
UB5
2014
Ealing
BROADMEAD ROAD
UB5
2014
Ealing
BROADWAY
W13
2014
Ealing
BROADWAY
W13
2014
Ealing
BROADWAY
W13
2014
Ealing
BROADWAY
W13
2014
Ealing
BROUNCKER ROAD
W3
2014
Ealing
BROUNCKER ROAD
W3
2014
Ealing
BURLINGTON GARDENS
W3
2014
Ealing
CAMBRIDGE ROAD
UB1
2014
Ealing
CCC
* No recorded postcode
2014
Ealing
CHARTWELL CLOSE
UB6
2014
Ealing
CHELTENHAM PLACE
W3
2014
Ealing
CHELTENHAM PLACE
W3
2014
Ealing
CHIGNELL PLACE
W13
2014
Ealing
CHURCH ROAD
UB5
2014
Ealing
CHURCHFIELD ROAD
W3
2014
Ealing
CHURCHFIELD ROAD
W3
2014
Ealing
CLARENCE STREET
UB2
2014
Ealing
COLLETT WAY
UB2
2014
Ealing
COPLEY CLOSE
W7
2014
Ealing
COSTONS LANE
UB6
2014
Ealing
COWGATE ROAD
UB6
2014
Ealing
DARWIN DRIVE
UB1
2014
Ealing
DEANS GARDENS
W13
2014
Ealing
DRAYTON BRIDGE ROAD
W7
2014
Ealing
DUDLEY ROAD
UB2
2014
Ealing
EASTCOTE LANE
UB5
2014
Ealing
EASTFIELDS ROAD
W3
2014
Ealing
ECCLESTON ROAD
W13
2014
Ealing
FARRIER ROAD
UB5
2014
Ealing
FARRIER ROAD
UB5
2014
Ealing
FEATHERSTONE ROAD
UB2
2014
Ealing
GIFFORD GARDENS
W7
2014
Ealing
GOLDSMITH AVENUE
W3
2014
Ealing
GORST ROAD
NW10
2014
Ealing
GORST ROAD
NW10
2014
Ealing
GORST ROAD
NW10
2014
Ealing
GORST ROAD
NW10
2014
Ealing
GRAND UNION CANAL TOWPATH
UB6
2014
Ealing
GRANDSTAND WAY
UB5
2014
Ealing
GRANGE PARK
W5
2014
Ealing
GRANGE ROAD
W5
2014
Ealing
GRANGE ROAD
W5
2014
Ealing
GRANGE ROAD
W5
2014
Ealing
GREENFORD ROAD
UB6
2014
Ealing
GREENFORD ROAD
UB6
2014
Ealing
GREENFORD ROAD
UB6
2014
Ealing
GREENFORD ROAD
* No recorded postcode
2014
Ealing
GUNNERSBURY LANE
W3
2014
Ealing
HAMILTON ROAD
UB1
2014
Ealing
HAMMOND ROAD
UB2
2014
Ealing
HASTINGS ROAD
W13
2014
Ealing
HASTINGS ROAD
W13
2014
Ealing
HAVELOCK ROAD
UB2
2014
Ealing
HAYMILL CLOSE
UB6
2014
Ealing
HIGH STREET
UB1
2014
Ealing
HIGH STREET
W3
2014
Ealing
HIGH STREET
W3
2014
Ealing
HIGH STREET
W3
2014
Ealing
HIGH STREET
W3
2014
Ealing
HIGH STREET
W3
2014
Ealing
HIGH STREET
W5
2014
Ealing
HIGH STREET
W5
2014
Ealing
HIGHVIEW ROAD
W13
2014
Ealing
HILLARY ROAD
UB2
2014
Ealing
HORN LANE
W3
2014
Ealing
HUNT ROAD
UB2
2014
Ealing
JORDAN ROAD
UB6
2014
Ealing
KENDAL AVENUE
W5
2014
Ealing
KENDAL AVENUE
W3
2014
Ealing
KITTIWAKE ROAD
UB5
2014
Ealing
LADY MARGARET RAOD
* No recorded postcode
2014
Ealing
LADY MARGARET ROAD
UB1
2014
Ealing
LADY MARGARET ROAD
UB1
2014
Ealing
LADY MARGARET ROAD
UB1
2014
Ealing
LADY MARGARET ROAD
* No recorded postcode
2014
Ealing
LILLIAN BROADWAY
* No recorded postcode
2014
Ealing
MALVERN WAY
W13
2014
Ealing
MILLET ROAD
UB6
2014
Ealing
MINERVA ROAD
NW10
2014
Ealing
MONTAGUE ROAD
W7
2014
Ealing
MONTAGUE ROAD
W7
2014
Ealing
MONTAGUE WAYE
UB2
2014
Ealing
NEWBURY WAY
UB5
2014
Ealing
NEWMARKET AVENUE
UB5
2014
Ealing
OAKWOOD AVENUE
UB1
2014
Ealing
OLDFIELD LANE NORTH
UB6
2014
Ealing
OLDFIELD LANE SOUTH
* No recorded postcode
2014
Ealing
OLDFIELD LANE SOUTH
* No recorded postcode
2014
Ealing
OSBORNE ROAD
W3
2014
Ealing
PARK AVENUE
UB1
2014
Ealing
PARK ROAD EAST
W3
2014
Ealing
PARKFIELD DRIVE
UB5
2014
Ealing
RECTORY PARK AVENUE
UB5
2014
Ealing
RUISLIP ROAD
UB6
2014
Ealing
SAXON ROAD
UB1
2014
Ealing
SCHOOL ROAD
NW10
2014
Ealing
SCHOOL ROAD
NW10
2014
Ealing
SCHOOL ROAD
NW10
2014
Ealing
SHEPHERDS PATH
UB5
2014
Ealing
SOUTH ROAD
UB1
2014
Ealing
SOUTH ROAD
UB1
2014
Ealing
SOUTH ROAD
UB1
2014
Ealing
SOUTHWELL AVENUE
UB5
2014
Ealing
ST. JOSEPHS DRIVE
UB1
2014
Ealing
STOCKDOVE WAY
UB6
2014
Ealing
STROUD FIELD
UB5
2014
Ealing
STROUD FIELD
UB5
2014
Ealing
STROUD FIELD
UB5
2014
Ealing
STROUD FIELD
UB5
2014
Ealing
TACHBROOK ROAD
UB2
2014
Ealing
TAYLORS GREEN
W3
2014
Ealing
TAYWOOD ROAD
UB5
2014
Ealing
TAYWOOD ROAD
UB5
2014
Ealing
TAYWOOD ROAD
UB5
2014
Ealing
TAYWOOD ROAD
UB5
2014
Ealing
THE BROADWAY
UB1
2014
Ealing
THE GREEN
UB2
2014
Ealing
TRINITY ROAD
UB1
2014
Ealing
TWYFORD CRESCENT
W3
2014
Ealing
TWYFORD CRESCENT
W3
2014
Ealing
UXBRIDGE ROAD
UB1
2014
Ealing
UXBRIDGE ROAD
W13
2014
Ealing
UXBRIDGE ROAD
W13
2014
Ealing
UXBRIDGE ROAD
W13
2014
Ealing
UXBRIDGE ROAD
W7
2014
Ealing
VICTORIA ROAD
UB2
2014
Ealing
VILLIERS ROAD
UB1
2014
Ealing
WALMGATE ROAD
UB6
2014
Ealing
WALMGATE ROAD
UB6
2014
Ealing
WAVERLEY GARDENS
NW10
2014
Ealing
WAVERLEY GARDENS
NW10
2014
Ealing
WESTERN AVENUE
UB6
2014
Ealing
WESTERN AVENUE
W3
2014
Ealing
WESTERN AVENUE
W5
2014
Ealing
WESTERN ROAD
UB2
2014
Ealing
WESTERN ROAD
* No recorded postcode
2014
Ealing
WESTVALE MEWS
W3
2014
Ealing
WHITTON AVENUE WEST
UB6
2014
Ealing
WHITTON AVENUE WEST
UB6
2014
Ealing
WINCANTON CRESCENT
UB5
2014
Ealing
WINCHESTER STREET
W3
2014
Ealing
WINDMILL LANE
TW5
2014
Ealing
WINDMILL LANE
UB2
2014
Ealing
WOODHOUSE AVENUE
UB6
2014
Ealing
WYKE GARDENS
W7
2014
Ealing
WYKE GARDENS
W7
2014
Ealing
YEADING LANE
UB5
2014
Ealing
YEADING LANE
UB5
2012
Enfield
ABRIDGE CLOSE
EN8
2012
Enfield
ALBERTA ROAD
EN1
2012
Enfield
ALSTON ROAD
N18
2012
Enfield
ARCHERS DRIVE
EN3
2012
Enfield
AVENUE ROAD
N14
2012
Enfield
AYLANDS ROAD
EN3
2012
Enfield
BAKER STREET
EN1
2012
Enfield
BEACONSFIELD ROAD
EN3
2012
Enfield
BEACONSFIELD ROAD
EN3
2012
Enfield
BEDFORD CRESCENT
EN3
2012
Enfield
BELSIZE AVENUE
N13
2012
Enfield
BOWES ROAD
N11
2012
Enfield
BOWES ROAD
N13
2012
Enfield
BRAMLEY ROAD
N14
2012
Enfield
BULLSMOOR LANE
EN1
2012
Enfield
BURY STREET
N9
2012
Enfield
CECIL ROAD
EN2
2012
Enfield
CECIL ROAD
EN2
2012
Enfield
CECIL ROAD
EN2
2012
Enfield
CENTRE WAY
N9
2012
Enfield
CHALFONT ROAD
N9
2012
Enfield
CHARLTON ROAD
N9
2012
Enfield
CHURCH STREET
N9
2012
Enfield
COWPER ROAD
N18
2012
Enfield
CUMBERLAND ROAD
N9
2012
Enfield
DURANTS ROAD
EN3
2012
Enfield
FORE STREET
N18
2012
Enfield
FORE STREET
N9
2012
Enfield
GARFIELD ROAD
EN3
2012
Enfield
GOODWIN ROAD
N9
2012
Enfield
GREAT CAMBRIDGE ROAD
N9
2012
Enfield
GREEN LANES
N13
2012
Enfield
GREEN LANES
N13
2012
Enfield
HADLEIGH ROAD
N9
2012
Enfield
HARBET ROAD
N18
2012
Enfield
HARBET ROAD
N18
2012
Enfield
HASELBURY ROAD
N9
2012
Enfield
HAWTHORN ROAD
N18
2012
Enfield
HERTFORD ROAD
EN3
2012
Enfield
HERTFORD ROAD
EN3
2012
Enfield
HERTFORD ROAD
EN3
2012
Enfield
HERTFORD ROAD
EN3
2012
Enfield
HERTFORD ROAD
N9
2012
Enfield
HIGH ROAD
N11
2012
Enfield
HIGH STREET
EN3
2012
Enfield
HIGH STREET
EN3
2012
Enfield
HIGHVIEW GARDENS
N11
2012
Enfield
HOE LANE
EN1
2012
Enfield
HUXLEY ROAD
N18
2012
Enfield
JOHNBY CLOSE
EN3
2012
Enfield
KEATS CLOSE, SCOTLAND GREEN ROAD
EN3
2012
Enfield
KEATS CLOSE, SCOTLAND GREEN ROAD
EN3
2012
Enfield
KENDAL PARADE, SILVER STREET
N18
2012
Enfield
KINGSWAY
EN3
2012
Enfield
LACEY CLOSE
N9
2012
Enfield
LARMANS ROAD
EN3
2012
Enfield
LEEDS STREET
N18
2012
Enfield
LONDON ROAD
EN2
2012
Enfield
MAGPIE CLOSE
EN1
2012
Enfield
MARTIN CLOSE
N9
2012
Enfield
MARTIN CLOSE
N9
2012
Enfield
MORLEY AVENUE
N18
2012
Enfield
NURSERY ROAD
N14
2012
Enfield
OAKLANDS AVENUE
N9
2012
Enfield
PALMERSTON ROAD
N13
2012
Enfield
PARK LANE
N9
2012
Enfield
PICKWICK MEWS
N18
2012
Enfield
PLEVNA ROAD
N9
2012
Enfield
PRIMROSE AVENUE
EN2
2012
Enfield
PRINCES ROAD
N18
2012
Enfield
RIGBY PLACE
EN3
2012
Enfield
SCOTLAND GREEN ROAD
EN3
2012
Enfield
SCOTLAND GREEN ROAD
EN3
2012
Enfield
SCOTLAND GREEN ROAD
EN3
2012
Enfield
SHIRLEY GROVE
N9
2012
Enfield
SILVER STREET
N18
2012
Enfield
SNELLS PARK
N18
2012
Enfield
ST. GEORGES ROAD
EN1
2012
Enfield
TEAL CLOSE
EN3
2012
Enfield
THE MARKET SQUARE
N9
2012
Enfield
THE RIDGEWAY
EN2
2012
Enfield
THE SUNNY ROAD
EN3
2012
Enfield
THE SUNNY ROAD
EN3
2012
Enfield
THE SUNNY ROAD
EN3
2012
Enfield
THORNEYCROFT DRIVE
EN3
2012
Enfield
TILLOTSON ROAD
N9
2012
Enfield
TOTTENHALL ROAD
N13
2012
Enfield
TOTTENHALL ROAD
N13
2012
Enfield
VICTORIA ROAD
N9
2012
Enfield
WARWICK ROAD
N18
2012
Enfield
WEIR HALL AVENUE
N18
2012
Enfield
WETHERBY ROAD
EN2
2012
Enfield
WINDMILL HILL
EN2
2013
Enfield
ADDISON ROAD
EN3
2013
Enfield
ALMA ROAD
EN3
2013
Enfield
ANGEL CORNER PARADE, FORE STREET
N18
2013
Enfield
AYLEY CROFT
EN1
2013
Enfield
BOWES ROAD
N13
2013
Enfield
BOWES ROAD
N13
2013
Enfield
BOWES ROAD
N13
2013
Enfield
BOWES ROAD
N13
2013
Enfield
BRICK LANE
EN3
2013
Enfield
BULLSMOOR WAY
EN8
2013
Enfield
BURY STREET
N9
2013
Enfield
CENTRAL AVENUE
EN1
2013
Enfield
CHASE COURT GARDENS
EN2
2013
Enfield
CHURCH STREET
N9
2013
Enfield
CHURCH STREET
N9
2013
Enfield
CHURCH STREET
N9
2013
Enfield
COLMAN PARADE, SOUTHBURY ROAD
EN1
2013
Enfield
CRAIG PARK ROAD
N18
2013
Enfield
CROYLAND ROAD
N9
2013
Enfield
CUCKOO HALL LANE
N9
2013
Enfield
DEARSLEY ROAD
EN1
2013
Enfield
DENDRIDGE CLOSE
EN1
2013
Enfield
DURANTS PARK
EN3
2013
Enfield
EASTFIELD ROAD
EN3
2013
Enfield
ELMHURST ROAD
EN3
2013
Enfield
ELSINGE ROAD
EN1
2013
Enfield
ENSTONE ROAD
EN3
2013
Enfield
EVERSLEY PARK ROAD
N21
2013
Enfield
FORE STREET
N18
2013
Enfield
FORE STREET
N18
2013
Enfield
FORE STREET
N18
2013
Enfield
FORE STREET
N9
2013
Enfield
FRASER ROAD
N9
2013
Enfield
GATWARD GREEN
N9
2013
Enfield
GATWARD GREEN
N9
2013
Enfield
GILBERT STREET
EN3
2013
Enfield
GOODWIN ROAD
N9
2013
Enfield
HASELBURY ROAD
N9
2013
Enfield
HEREWARD GARDENS
N13
2013
Enfield
HERTFORD ROAD
EN3
2013
Enfield
HERTFORD ROAD
EN3
2013
Enfield
HERTFORD ROAD
EN3
2013
Enfield
HERTFORD ROAD
EN3
2013
Enfield
HERTFORD ROAD
N9
2013
Enfield
HERTFORD ROAD
* No recorded postcode
2013
Enfield
HIGH STREET
EN3
2013
Enfield
HOE LANE
EN3
2013
Enfield
HOLMESDALE
EN8
2013
Enfield
HOUNDSFIELD ROAD
N9
2013
Enfield
KENDAL PARADE, SILVER STREET
N18
2013
Enfield
KENDAL PARADE, SILVER STREET
N18
2013
Enfield
KENDAL PARADE, SILVER STREET
N18
2013
Enfield
LARMANS ROAD
EN3
2013
Enfield
LAVENDER HILL
EN2
2013
Enfield
LONDON ROAD
EN2
2013
Enfield
LOWDEN ROAD
N9
2013
Enfield
LYTTON AVENUE
EN3
2013
Enfield
MAHON CLOSE
EN1
2013
Enfield
MONTAGU CRESCENT
N18
2013
Enfield
MOTTINGHAM ROAD
N9
2013
Enfield
NAGS HEAD ROAD
EN3
2013
Enfield
NAPIER ROAD
EN3
2013
Enfield
NAPIER ROAD
EN3
2013
Enfield
NORFOLK ROAD
EN3
2013
Enfield
NORTH MALL
N9
2013
Enfield
NORTH MALL
N9
2013
Enfield
OLD ROAD
EN3
2013
Enfield
ORDNANCE ROAD
EN3
2013
Enfield
ORDNANCE ROAD
EN3
2013
Enfield
ORPINGTON GARDENS
N18
2013
Enfield
OSWARD PLACE
N9
2013
Enfield
PEGAMOID ROAD
N18
2013
Enfield
PERCIVAL ROAD
EN1
2013
Enfield
PRINCES ROAD
N18
2013
Enfield
QUEENS AVENUE
N21
2013
Enfield
SHERBORNE AVENUE
EN3
2013
Enfield
SIDNEY AVENUE
N13
2013
Enfield
SOUTHBURY ROAD
EN1
2013
Enfield
SOUTHBURY ROAD
EN1
2013
Enfield
SPRINGBANK
N21
2013
Enfield
STAFFORD CLOSE
N14
2013
Enfield
STANDARD ROAD
EN3
2013
Enfield
STATION PARADE
N14
2013
Enfield
STERLING WAY
N18
2013
Enfield
SWEET BRIAR WALK
N18
2013
Enfield
TANNERS END LANE
N18
2013
Enfield
TEWKESBURY TERRACE
N11
2013
Enfield
THE LIMES AVENUE
N11
2013
Enfield
THE RIDE
EN3
2013
Enfield
THORNABY GARDENS
N18
2013
Enfield
TOWN ROAD
N9
2013
Enfield
TRESILIAN AVENUE
N21
2013
Enfield
TRESILIAN AVENUE
N21
2013
Enfield
TURKEY STREET
EN3
2013
Enfield
TURKEY STREET
EN3
2013
Enfield
TYSOE AVENUE
EN3
2013
Enfield
ULSTER GARDENS
N13
2013
Enfield
VICTORIA ROAD
N9
2013
Enfield
WESTERHAM AVENUE
N9
2013
Enfield
WESTGATE COURT
EN8
2013
Enfield
WHITTINGTON ROAD
N22
2013
Enfield
WILBURY WAY
N18
2013
Enfield
WINCHESTER ROAD
N9
2013
Enfield
WOLVES LANE
N13
2013
Enfield
WOLVES LANE
N13
2014
Enfield
A10 / DEANSWAY
N13
2014
Enfield
ALBANY ROAD
EN3
2014
Enfield
ALBANY ROAD
EN3
2014
Enfield
ALBANY ROAD
EN3
2014
Enfield
ALEXANDRA ROAD
EN3
2014
Enfield
ALMA ROAD
EN3
2014
Enfield
APPLE GROVE
EN1
2014
Enfield
AYLANDS ROAD
EN3
2014
Enfield
BAIRD ROAD
EN1
2014
Enfield
BAKER STREET
EN1
2014
Enfield
BAKER STREET
EN1
2014
Enfield
BARBOT CLOSE
N9
2014
Enfield
BERKSHIRE GARDENS
N13
2014
Enfield
BOLEYN AVENUE
EN1
2014
Enfield
BOLEYN AVENUE
EN1
2014
Enfield
BOUNCES ROAD
N9
2014
Enfield
BOUNCES ROAD
N9
2014
Enfield
BOWES ROAD
N11
2014
Enfield
BRIMSDOWN AVENUE
EN3
2014
Enfield
CAVENDISH ROAD
N18
2014
Enfield
CAVENDISH ROAD
N18
2014
Enfield
CHASE ROAD
N14
2014
Enfield
CHASE SIDE
N14
2014
Enfield
CHASE SIDE
N14
2014
Enfield
CHERRY ROAD
EN3
2014
Enfield
CHURCH STREET
N9
2014
Enfield
CHURCH STREET
N9
2014
Enfield
CHURCH STREET
N9
2014
Enfield
CLARENCE ROAD
EN3
2014
Enfield
COMPTON ROAD
N21
2014
Enfield
COMPTON ROAD
N21
2014
Enfield
CONNAUGHT GARDENS
N13
2014
Enfield
CORNWALLIS ROAD
N9
2014
Enfield
DARTFORD AVENUE
N9
2014
Enfield
DENTON ROAD
N18
2014
Enfield
DUNNOCK CLOSE
N9
2014
Enfield
DURANTS ROAD
EN3
2014
Enfield
EASTFIELD ROAD
EN3
2014
Enfield
ELMDALE ROAD
N13
2014
Enfield
EMPIRE AVENUE
N18
2014
Enfield
EMPIRE AVENUE
N18
2014
Enfield
ENSTONE ROAD
EN3
2014
Enfield
EXETER ROAD
EN3
2014
Enfield
FORE STREET
N18
2014
Enfield
FORE STREET
N18
2014
Enfield
FORE STREET
N18
2014
Enfield
FORE STREET
N18
2014
Enfield
FORE STREET
N9
2014
Enfield
FORE STREET
* No recorded postcode
2014
Enfield
FOTHERINGHAM ROAD
EN1
2014
Enfield
FOX LANE
N13
2014
Enfield
GLOVER DRIVE
N18
2014
Enfield
GOLDSDOWN CLOSE
EN3
2014
Enfield
GORDON ROAD
N9
2014
Enfield
GREAT CAMBRIDGE ROAD
EN1
2014
Enfield
GREAT CAMBRIDGE ROAD
EN1
2014
Enfield
GROSVENOR GARDENS
N14
2014
Enfield
HARBET ROAD
N18
2014
Enfield
HASELBURY ROAD
N18
2014
Enfield
HAWTHORN AVENUE
N13
2014
Enfield
HERTFORD ROAD
EN3
2014
Enfield
HERTFORD ROAD
EN3
2014
Enfield
HERTFORD ROAD
EN3
2014
Enfield
HIGH STREET
EN3
2014
Enfield
HIGH STREET
EN3
2014
Enfield
HIGHFIELD ROAD
N21
2014
Enfield
HOOK GATE
EN1
2014
Enfield
ISLAND CENTRE WAY
EN3
2014
Enfield
LANCASTER ROAD
EN2
2014
Enfield
LATYMER ROAD
N9
2014
Enfield
LAURA CLOSE
EN1
2014
Enfield
LEIGHTON ROAD
EN1
2014
Enfield
LINNET CLOSE
N9
2014
Enfield
LINNET CLOSE
N9
2014
Enfield
LION ROAD
N9
2014
Enfield
LION ROAD
N9
2014
Enfield
LITTLE BURY STREET
N9
2014
Enfield
MOYNIHAN DRIVE
N21
2014
Enfield
NELSON ROAD
N9
2014
Enfield
NEW RIVER CRESCENT
N13
2014
Enfield
NIGHTINGALE ROAD
N9
2014
Enfield
NIGHTINGALE ROAD
N9
2014
Enfield
NURSERY ROAD
N14
2014
Enfield
PARR CLOSE
N9
2014
Enfield
PARR CLOSE
N9
2014
Enfield
PEMBROKE AVENUE
EN1
2014
Enfield
PENTLAND CLOSE
N9
2014
Enfield
PENTRICH AVENUE
EN1
2014
Enfield
PLOWMAN CLOSE
N18
2014
Enfield
POYNTER ROAD
EN1
2014
Enfield
PRIORY CLOSE
N14
2014
Enfield
PRIORY CLOSE
N14
2014
Enfield
RICHMOND CRESCENT
N9
2014
Enfield
RICHMOND CRESCENT
N9
2014
Enfield
RIDGE AVENUE
N21
2014
Enfield
RIDGE AVENUE
N21
2014
Enfield
SANDHURST ROAD
N9
2014
Enfield
SCOTLAND GREEN ROAD NORTH
EN3
2014
Enfield
SEAFIELD ROAD
N11
2014
Enfield
SHOOTERS ROAD
EN2
2014
Enfield
SILVER STREET
* No recorded postcode
2014
Enfield
SNELLS PARK
N18
2014
Enfield
SNELLS PARK
N18
2014
Enfield
SOUTH EASTERN AVENUE
N9
2014
Enfield
SOUTH EASTERN AVENUE
N9
2014
Enfield
SOUTH MALL
N9
2014
Enfield
SOUTH STREET
EN3
2014
Enfield
SOUTH STREET
EN3
2014
Enfield
SOUTHBURY AVENUE
EN1
2014
Enfield
SOUTHBURY ROAD
EN1
2014
Enfield
ST. MALO AVENUE
N9
2014
Enfield
ST. MALO AVENUE
N9
2014
Enfield
STANDARD ROAD
EN3
2014
Enfield
STATHAM GROVE
N18
2014
Enfield
STERLING WAY
N18
2014
Enfield
SWAN WAY
EN3
2014
Enfield
SWAYTHLING CLOSE
N18
2014
Enfield
SWAYTHLING CLOSE
N18
2014
Enfield
SWEET BRIAR WALK
N18
2014
Enfield
THE BROADWAY
N9
2014
Enfield
THE FAIRWAY
N13
2014
Enfield
THE RIDE
EN3
2014
Enfield
TILE KILN LANE
N13
2014
Enfield
TILE KILN LANE
N13
2014
Enfield
TURKEY STREET
EN3
2014
Enfield
VIAN AVENUE
EN3
2014
Enfield
VICTORIA ROAD
N18
2014
Enfield
VICTORIA ROAD
N18
2014
Enfield
VICTORIA ROAD
N9
2014
Enfield
VICTORIA ROAD
N9
2014
Enfield
WESTERHAM AVENUE
N9
2014
Enfield
WHITMORE CLOSE
N11
2014
Enfield
WILBURY WAY
N18
2014
Enfield
WILBURY WAY
N18
2014
Enfield
WINCHESTER ROAD
N9
2012
Greenwich
*No recorded street name
SE9
2012
Greenwich
ALLIANCE ROAD
SE18
2012
Greenwich
AMPLEFORTH ROAD
SE2
2012
Greenwich
BANNING STREET
SE10
2012
Greenwich
BARDSLEY LANE
SE10
2012
Greenwich
BARNFIELD ROAD
SE18
2012
Greenwich
BELMARSH ROAD
SE28
2012
Greenwich
BELMARSH ROAD
SE28
2012
Greenwich
BELMARSH ROAD
SE28
2012
Greenwich
BELMARSH ROAD
SE28
2012
Greenwich
BELMARSH ROAD
SE28
2012
Greenwich
BELMARSH ROAD
SE28
2012
Greenwich
BLACKHEATH COMMON
SE10
2012
Greenwich
BLOOMFIELD ROAD
SE18
2012
Greenwich
BOSTALL HEATH, KNEE HILL
SE2
2012
Greenwich
BOXGROVE ROAD
SE2
2012
Greenwich
BRADDYLL STREET
SE10
2012
Greenwich
BRINKBURN CLOSE
SE2
2012
Greenwich
BROOKDENE ROAD
SE18
2012
Greenwich
BROOKHILL ROAD
SE18
2012
Greenwich
BROOKS CLOSE
SE9
2012
Greenwich
BUGSBY'S WAY
SE10
2012
Greenwich
CHARLES GRINLING WALK
SE18
2012
Greenwich
CIRCUS STREET
SE10
2012
Greenwich
CIRCUS STREET
SE10
2012
Greenwich
CLARENCE ROAD
SE8
2012
Greenwich
COLERAINE ROAD
SE3
2012
Greenwich
CONWAY ROAD
SE18
2012
Greenwich
COOKHILL ROAD
SE2
2012
Greenwich
COUPLAND PLACE
SE18
2012
Greenwich
DIANTHUS CLOSE
SE2
2012
Greenwich
EASTERN WAY
SE28
2012
Greenwich
EGLINTON HILL
SE18
2012
Greenwich
EGLINTON ROAD
SE18
2012
Greenwich
ELLISCOMBE ROAD
SE7
2012
Greenwich
ELTHAM ROAD
SE9
2012
Greenwich
FELIXSTOWE ROAD
SE2
2012
Greenwich
FLETCHING ROAD
SE7
2012
Greenwich
GREENHAVEN DRIVE
* No recorded postcode
2012
Greenwich
HADDO STREET
SE10
2012
Greenwich
HERBERT ROAD
SE18
2012
Greenwich
HERBERT ROAD
SE18
2012
Greenwich
HERBERT ROAD
SE18
2012
Greenwich
JOAN CRESCENT
SE9
2012
Greenwich
JOHN WILSON STREET
SE18
2012
Greenwich
KIDBROOKE PARK ROAD
* No recorded postcode
2012
Greenwich
KINGSLEY WOOD DRIVE
SE9
2012
Greenwich
KINGSLEY WOOD DRIVE
SE9
2012
Greenwich
LANSDOWNE LANE
SE7
2012
Greenwich
LEWISHAM ROAD
SE13
2012
Greenwich
LEWISHAM ROAD
SE13
2012
Greenwich
LEWISHAM ROAD
SE13
2012
Greenwich
LINNET CLOSE
SE28
2012
Greenwich
LITTLEMEDE
SE9
2012
Greenwich
MCCALL CRESCENT
SE7
2012
Greenwich
MIDDLE PARK AVENUE
SE9
2012
Greenwich
MOTTINGHAM ROAD
* No recorded postcode
2012
Greenwich
NATHAN WAY
SE28
2012
Greenwich
NITHDALE ROAD
SE18
2012
Greenwich
NORMAN ROAD
SE10
2012
Greenwich
NUTHATCH GARDENS
SE28
2012
Greenwich
OGILBY STREET
SE18
2012
Greenwich
PARRY PLACE
SE18
2012
Greenwich
PENINSULA SQUARE
SE10
2012
Greenwich
PENINSULA SQUARE
SE10
2012
Greenwich
PENINSULA SQUARE
SE10
2012
Greenwich
PENINSULA SQUARE
SE10
2012
Greenwich
PETT STREET
SE18
2012
Greenwich
PETTMAN CRESCENT
SE28
2012
Greenwich
PLUMSTEAD ROAD
SE18
2012
Greenwich
PLUMSTEAD ROAD
SE18
2012
Greenwich
PLUMSTEAD ROAD
SE18
2012
Greenwich
POUND PLACE
SE9
2012
Greenwich
RECTORY PLACE
SE18
2012
Greenwich
RECTORY PLACE
SE18
2012
Greenwich
REEVES ROAD
SE18
2012
Greenwich
REEVES ROAD
SE18
2012
Greenwich
REIDHAVEN ROAD
SE18
2012
Greenwich
REPOSITORY ROAD
SE18
2012
Greenwich
RESTONS CRESCENT
SE9
2012
Greenwich
RIDEOUT STREET
SE18
2012
Greenwich
RUSSETT WAY
SE13
2012
Greenwich
RUSSETT WAY
SE13
2012
Greenwich
SANDBACH PLACE
SE18
2012
Greenwich
SANDY HILL ROAD
SE18
2012
Greenwich
SIBTHORPE ROAD
SE12
2012
Greenwich
SIDCUP ROAD
SE12
2012
Greenwich
SIDCUP ROAD
SE9
2012
Greenwich
SOWERBY CLOSE
SE9
2012
Greenwich
SOWERBY CLOSE
SE9
2012
Greenwich
SPRAY STREET
SE18
2012
Greenwich
ST. MARGARETS GROVE
SE18
2012
Greenwich
ST. MARGARETS GROVE
SE18
2012
Greenwich
ST. MARGARETS GROVE
SE18
2012
Greenwich
ST. MARY STREET
SE18
2012
Greenwich
STRATHEDEN PARADE
SE3
2012
Greenwich
SUNBURY STREET
SE18
2012
Greenwich
TELLSON AVENUE
SE18
2012
Greenwich
THOMAS STREET
SE18
2012
Greenwich
TRAFALGAR ROAD
SE10
2012
Greenwich
TUDWAY ROAD
SE3
2012
Greenwich
UPPER WICKHAM LANE/KINGS HIGHWAY
SE18
2012
Greenwich
VICTORIA WAY
SE7
2012
Greenwich
VICTORIA WAY
SE7
2012
Greenwich
WALMER TERRACE
SE18
2012
Greenwich
WARRIOR CLOSE
SE28
2012
Greenwich
WARSPITE ROAD
SE18
2012
Greenwich
WELL HALL ROAD
SE9
2012
Greenwich
WELLAND STREET
SE10
2012
Greenwich
WELLINGTON GARDENS
SE7
2012
Greenwich
WESTERN WAY
SE28
2012
Greenwich
WHITWORTH ROAD
SE18
2012
Greenwich
WILLIAM BAREFOOT DRIVE
SE9
2012
Greenwich
WILLOW LANE
SE18
2012
Greenwich
WOODLAND TERRACE
SE7
2012
Greenwich
WOOLWICH HIGH STREET
SE18
2012
Greenwich
WOOLWICH ROAD
SE10
2013
Greenwich
ABBOTTS CLOSE
SE28
2013
Greenwich
ALABAMA STREET
SE18
2013
Greenwich
ALABAMA STREET
SE18
2013
Greenwich
ALDERWOOD ROAD
SE9
2013
Greenwich
ALDERWOOD ROAD
SE9
2013
Greenwich
ARNOTT CLOSE
SE28
2013
Greenwich
BARNFIELD ROAD
SE18
2013
Greenwich
BEAVERBANK ROAD
SE9
2013
Greenwich
BELLOT STREET
SE10
2013
Greenwich
BELMARSH ROAD
SE28
2013
Greenwich
BELMARSH ROAD
SE28
2013
Greenwich
BENBOW STREET
SE8
2013
Greenwich
BERESFORD SQUARE
SE18
2013
Greenwich
BERESFORD SQUARE
SE18
2013
Greenwich
BERESFORD SQUARE
SE18
2013
Greenwich
BIRCHDENE DRIVE
SE28
2013
Greenwich
BLACKHEATH ROAD
SE10
2013
Greenwich
BURNEY STREET
SE10
2013
Greenwich
CHURCH MANORWAY
SE2
2013
Greenwich
COLDBATH STREET
SE13
2013
Greenwich
COLOMB STREET
SE10
2013
Greenwich
CREEK ROAD
SE10
2013
Greenwich
EDGE HILL
SE18
2013
Greenwich
ELMDENE ROAD
SE18
2013
Greenwich
ELTHAM GREEN ROAD
SE9
2013
Greenwich
EYNSHAM DRIVE
SE2
2013
Greenwich
EYNSHAM DRIVE
SE2
2013
Greenwich
FELIXSTOWE ROAD
SE2
2013
Greenwich
FINCHALE ROAD
SE2
2013
Greenwich
FLINTMILL CRESCENT
SE3
2013
Greenwich
GENRAL GORDON SQUARE
SE18
2013
Greenwich
GODSTOW ROAD
SE2
2013
Greenwich
GREEN'S END
SE18
2013
Greenwich
GREENWICH CHURCH STREET
SE10
2013
Greenwich
GREENWICH HIGH ROAD
SE10
2013
Greenwich
GREENWICH HIGH ROAD
SE10
2013
Greenwich
GREENWICH HIGH ROAD
SE10
2013
Greenwich
GRIFFIN MANOR WAY
SE28
2013
Greenwich
HARGOOD ROAD
SE3
2013
Greenwich
HENGIST ROAD
SE12
2013
Greenwich
HOLBURNE GARDENS
SE3
2013
Greenwich
KING GEORGE STREET
SE10
2013
Greenwich
KINGS HIGHWAY
SE18
2013
Greenwich
LAKEDALE ROAD
SE18
2013
Greenwich
MARYON ROAD
SE7
2013
Greenwich
MARYON ROAD
SE7
2013
Greenwich
MOTTISFONT ROAD
SE2
2013
Greenwich
OWEN CLOSE
SE28
2013
Greenwich
OWEN CLOSE
SE28
2013
Greenwich
PANFIELD ROAD
SE2
2013
Greenwich
PASTON CRESCENT
SE12
2013
Greenwich
PLUMSTEAD COMMON ROAD
SE18
2013
Greenwich
PLUMSTEAD COMMON ROAD
SE18
2013
Greenwich
PLUMSTEAD GARDENS
* No recorded postcode
2013
Greenwich
PLUMSTEAD HIGH STREET
SE18
2013
Greenwich
PLUMSTEAD HIGH STREET
SE18
2013
Greenwich
PLUMSTEAD ROAD
SE18
2013
Greenwich
POWIS STREET
SE18
2013
Greenwich
PRINCE IMPERIAL ROAD
SE18
2013
Greenwich
PROSPECT VALE
SE18
2013
Greenwich
RED LION LANE
SE18
2013
Greenwich
RED LION LANE
SE18
2013
Greenwich
ROYDENE ROAD
SE18
2013
Greenwich
SANDLING RISE
SE9
2013
Greenwich
SANDY HILL ROAD
SE18
2013
Greenwich
SANDY HILL ROAD
SE18
2013
Greenwich
SHREWSBURY LANE
SE18
2013
Greenwich
SIDCUP ROAD
SE9
2013
Greenwich
TEWSON ROAD
SE18
2013
Greenwich
TEWSON ROAD
SE18
2013
Greenwich
TEWSON ROAD
SE18
2013
Greenwich
THAMES REACH
SE28
2013
Greenwich
THE GLADE
SE7
2013
Greenwich
TIMBERCROFT LANE
SE18
2013
Greenwich
TWIN TUMPS WAY
SE28
2013
Greenwich
TWIN TUMPS WAY
SE28
2013
Greenwich
WALMER TERRACE
SE18
2013
Greenwich
WALMER TERRACE
SE18
2013
Greenwich
WALMER TERRACE
SE18
2013
Greenwich
WEIGALL ROAD
SE12
2013
Greenwich
WELLINGTON STREET
SE18
2013
Greenwich
WELLINGTON STREET
SE18
2013
Greenwich
WESTERN WAY
SE28
2013
Greenwich
WESTERN WAY
SE28
2013
Greenwich
WESTERN WAY
SE28
2013
Greenwich
WESTMOUNT ROAD
SE9
2013
Greenwich
WOODVILLE STREET
SE18
2013
Greenwich
WOOLWICH NEW ROAD
SE18
2014
Greenwich
ABBEY WOOD ROAD
SE2
2014
Greenwich
ABBEY WOOD ROAD
SE2
2014
Greenwich
ANCHOR & HOPE LANE
SE7
2014
Greenwich
BARNEY CLOSE
SE7
2014
Greenwich
BEACONSFIELD ROAD
SE3
2014
Greenwich
BEBBINGTON ROAD
SE18
2014
Greenwich
BELLOT STREET
SE10
2014
Greenwich
BELMARSH ROAD
SE28
2014
Greenwich
BELMARSH ROAD
SE28
2014
Greenwich
BEXLEY ROAD
SE9
2014
Greenwich
BLACKWALL LANE
SE10
2014
Greenwich
BOSTALL HILL
SE2
2014
Greenwich
CHARLES GRINLING WALK
SE18
2014
Greenwich
CHARLTON CHURCH LANE
SE7
2014
Greenwich
CHESTNUT RISE
SE18
2014
Greenwich
CHURCH MANORWAY
SE2
2014
Greenwich
COMMONWEALTH WAY
SE2
2014
Greenwich
COURT ROAD
SE9
2014
Greenwich
DISRAELI CLOSE
SE28
2014
Greenwich
DISRAELI CLOSE
SE28
2014
Greenwich
EDINGTON ROAD
SE2
2014
Greenwich
ELTHAM HIGH STREET
SE9
2014
Greenwich
ELTHAM HIGH STREET
SE9
2014
Greenwich
ELTHAM HIGH STREET
SE9
2014
Greenwich
FAIRLAWN
SE7
2014
Greenwich
FENNEL STREET
SE18
2014
Greenwich
FLOYD ROAD
SE7
2014
Greenwich
GAVESTONE ROAD
SE12
2014
Greenwich
GENERAL GORDON SQUARE
SE18
2014
Greenwich
GODFREY ROAD
SE18
2014
Greenwich
GODSTOW ROAD
SE2
2014
Greenwich
GRANITE STREET
SE18
2014
Greenwich
HARROW MANORWAY
SE2
2014
Greenwich
HUTCHINS ROAD
SE28
2014
Greenwich
JESSUP CLOSE
SE18
2014
Greenwich
KIRKHAM STREET
SE18
2014
Greenwich
LLANOVER ROAD
SE18
2014
Greenwich
LORD WARWICK STREET
SE18
2014
Greenwich
LORD WARWICK STREET
SE18
2014
Greenwich
LORD WARWICK STREET
SE18
2014
Greenwich
LORD WARWICK STREET
SE18
2014
Greenwich
LOVE LANE
SE18
2014
Greenwich
LOVE LANE
SE18
2014
Greenwich
LUFFIELD ROAD
SE2
2014
Greenwich
NEWMARSH ROAD
SE28
2014
Greenwich
NICKELBY CLOSE
SE28
2014
Greenwich
NICKELBY CLOSE
SE28
2014
Greenwich
PACKMORES ROAD
SE9
2014
Greenwich
PANFIELD ROAD
SE2
2014
Greenwich
PANFIELD ROAD
SE2
2014
Greenwich
PARRY PLACE
SE18
2014
Greenwich
PETT STREET
SE18
2014
Greenwich
PETT STREET
SE18
2014
Greenwich
PLUMSTEAD HIGH STREET
SE18
2014
Greenwich
PLUMSTEAD HIGH STREET
SE18
2014
Greenwich
PLUMSTEAD HIGH STREET
SE18
2014
Greenwich
RAGLAN ROAD
SE18
2014
Greenwich
RAMSON ROAD
SE7
2014
Greenwich
RATHMORE ROAD
SE7
2014
Greenwich
RIVERSIDE
SE7
2014
Greenwich
ROYDENE ROAD
SE18
2014
Greenwich
SAMUEL STREET
SE18
2014
Greenwich
SLADEDALE ROAD
SE18
2014
Greenwich
SLADEDALE ROAD
SE18
2014
Greenwich
SLADEDALE ROAD
SE18
2014
Greenwich
SLADEDALE ROAD
SE18
2014
Greenwich
SOWERBY CLOSE
SE9
2014
Greenwich
ST. MARGARETS TERRACE
SE18
2014
Greenwich
STADIUM ROAD
SE18
2014
Greenwich
STADIUM ROAD
SE18
2014
Greenwich
STOWAGE
SE8
2014
Greenwich
SUNBURY STREET
SE18
2014
Greenwich
THAMES STREET
SE10
2014
Greenwich
TILBROOK ROAD
SE3
2014
Greenwich
VANBRUGH PARK ROAD WEST
SE3
2014
Greenwich
VICARAGE PARK
SE18
2014
Greenwich
VINCENT ROAD
SE18
2014
Greenwich
VINCENT ROAD
SE18
2014
Greenwich
WALDSTOCK ROAD
SE28
2014
Greenwich
WALMER TERRACE
SE18
2014
Greenwich
WESTERN WAY
SE28
2014
Greenwich
WHINCHAT ROAD
SE28
2014
Greenwich
WICKHAM LANE
SE2
2014
Greenwich
WOOLWICH CHURCH STREET
SE18
2014
Greenwich
WOOLWICH ROAD
SE7
2014
Greenwich
WOOLWICH ROAD
SE7
2014
Greenwich
WOOLWICH ROAD
SE7
2014
Greenwich
WROTTESLEY ROAD
SE18
2012
Hackney
AMHURST ROAD
E8
2012
Hackney
AMHURST ROAD
E8
2012
Hackney
AMHURST ROAD
E8
2012
Hackney
AMHURST ROAD
N16
2012
Hackney
AMHURST ROAD
N16
2012
Hackney
AMHURST ROAD
E8
2012
Hackney
ARCOLA STREET
E8
2012
Hackney
ATHERDEN ROAD
E5
2012
Hackney
ATHERDEN ROAD
E5
2012
Hackney
BANBURY ROAD
E9
2012
Hackney
BARNABAS ROAD
E9
2012
Hackney
BARNABAS ROAD
E9
2012
Hackney
BEATTY ROAD
N16
2012
Hackney
BETHUNE ROAD
N16
2012
Hackney
BROADWAY MARKET
E8
2012
Hackney
BROADWAY MARKET
E8
2012
Hackney
BROADWAY MARKET
E8
2012
Hackney
BRODIA ROAD
N16
2012
Hackney
BROUGHAM ROAD
E8
2012
Hackney
BROUGHAM ROAD
E8
2012
Hackney
BUXHALL CRESCENT
E9
2012
Hackney
BUXHALL CRESCENT
E9
2012
Hackney
CASENOVE ROAD
N16
2012
Hackney
CASSLAND ROAD
E9
2012
Hackney
CLARENCE ROAD
E5
2012
Hackney
CLISSOLD CRESCENT
N16
2012
Hackney
CREMER STREET
E2
2012
Hackney
CROPLEY STREET
N1
2012
Hackney
DALSTON LANE
E8
2012
Hackney
DALSTON LANE
E8
2012
Hackney
DARNLEY ROAD
E9
2012
Hackney
DOWNS PARK ROAD
E5
2012
Hackney
DRYSDALE PLACE
N1
2012
Hackney
EASTWAY
E9
2012
Hackney
ENGLEFIELD ROAD
N1
2012
Hackney
EVERING ROAD
N16
2012
Hackney
EVERING ROAD
N16
2012
Hackney
FALKIRK STREET
N1
2012
Hackney
FARLEIGH ROAD
N16
2012
Hackney
FOREST ROAD
E8
2012
Hackney
GASCOYNE ROAD
E9
2012
Hackney
GILLETT SQUARE
N16
2012
Hackney
GLYN ROAD
E5
2012
Hackney
GOLDSMITHS ROW
E2
2012
Hackney
GRAHAM ROAD
E8
2012
Hackney
GREEN LANES
N21
2012
Hackney
GUINNESS TRUST, STAMFORD HILL
N16
2012
Hackney
HACKNEY ROAD
E2
2012
Hackney
HANDLEY ROAD
E9
2012
Hackney
HAWKSLEY ROAD
N16
2012
Hackney
HAZLEWOOD CLOSE
E5
2012
Hackney
HOMERTON HIGH STREET
E9
2012
Hackney
HOMERTON ROW
E9
2012
Hackney
HOMERTON ROW
E9
2012
Hackney
HOXTON STREET
N1
2012
Hackney
HOXTON STREET
N1
2012
Hackney
HOXTON STREET
N1
2012
Hackney
IMPERIAL AVENUE, VICTORIAN ROAD
N16
2012
Hackney
IVY STREET
N1
2012
Hackney
JACKMAN STREET
E8
2012
Hackney
KENNINGHALL ROAD
E5
2012
Hackney
KING EDWARD'S ROAD
E9
2012
Hackney
KINGSLAND HIGH STREET
E8
2012
Hackney
KINGSLAND HIGH STREET
E8
2012
Hackney
KINGSLAND HIGH STREET
E8
2012
Hackney
KINGSLAND HIGH STREET
E8
2012
Hackney
KINGSLAND ROAD
E2
2012
Hackney
KINGSLAND ROAD
E8
2012
Hackney
KINGSLAND ROAD
E8
2012
Hackney
LAMPARD GROVE
N16
2012
Hackney
LODDIGES ROAD
E9
2012
Hackney
LONDON FIELDS
E8
2012
Hackney
LONDON FIELDS
* No recorded postcode
2012
Hackney
LOWER CLAPTON ROAD
E5
2012
Hackney
LOWER CLAPTON ROAD
E5
2012
Hackney
LOWER CLAPTON ROAD
E5
2012
Hackney
MABLEY STREET
E9
2012
Hackney
MACKINTOSH LANE
E9
2012
Hackney
MARE STREET
E8
2012
Hackney
MARE STREET
E8
2012
Hackney
MARSH HILL
E9
2012
Hackney
MEDIAN ROAD
E5
2012
Hackney
MILLFIELDS ROAD
E5
2012
Hackney
MORNING LANE
E9
2012
Hackney
MORNING LANE
E9
2012
Hackney
MORNING LANE
E9
2012
Hackney
MORNING LANE
E9
2012
Hackney
MYRTLE WALK
N1
2012
Hackney
NEWICK ROAD
E5
2012
Hackney
NIGHTINGALE ROAD
E5
2012
Hackney
NR DOVE ROW
E2
2012
Hackney
OLD STREET
EC1V
2012
Hackney
OLD STREET
EC1V
2012
Hackney
ORSMAN ROAD
N1
2012
Hackney
ORSMAN ROAD
N1
2012
Hackney
OVERBURY STREET J/W GLYN ROAD
E5
2012
Hackney
PHILLIPP STREET
N1
2012
Hackney
PONSFORD STREET
E9
2012
Hackney
PONSFORD STREET
E9
2012
Hackney
PONSFORD STREET
E9
2012
Hackney
PROUT ROAD
E5
2012
Hackney
PROVOST STREET
N1
2012
Hackney
QUEENSBRIDGE ROAD
E2
2012
Hackney
QUEENSBRIDGE ROAD
E8
2012
Hackney
QUEENSBRIDGE ROAD
E8
2012
Hackney
REIGHTON ROAD
E5
2012
Hackney
REIGHTON ROAD
E5
2012
Hackney
RETREAT PLACE
E9
2012
Hackney
RETREAT PLACE
E9
2012
Hackney
RICHMOND ROAD
E8
2012
Hackney
RYDER MEWS
E9
2012
Hackney
SEVEN SISTERS ROAD
N4
2012
Hackney
SHAKSPEARE WALK
N16
2012
Hackney
SPRINGPARK DRIVE
N4
2012
Hackney
STOKE NEWINGTON HIGH STREET
N16
2012
Hackney
STOKE NEWINGTON HIGH STREET
N16
2012
Hackney
STOKE NEWINGTON ROAD
N16
2012
Hackney
STUDLEY CLOSE
E5
2012
Hackney
STUDLEY CLOSE
E5
2012
Hackney
TEMPLECOMBE ROAD
E9
2012
Hackney
TEMPLETON CLOSE
N16
2012
Hackney
THORESBY STREET
N1
2012
Hackney
TOTTENHAM ROAD
N1
2012
Hackney
UPPER CLAPTON ROAD
E5
2012
Hackney
VICTORIA PARK ROAD
E9
2012
Hackney
WARWICK GROVE
E5
2012
Hackney
WELL STREET
E9
2012
Hackney
WELL STREET
E9
2013
Hackney
ALBION ROAD
N16
2013
Hackney
ALBION TERRACE
E8
2013
Hackney
AMHURST PARK
N16
2013
Hackney
AMHURST ROAD
E8
2013
Hackney
BEECHWOOD ROAD
E8
2013
Hackney
BEECHWOOD ROAD
E8
2013
Hackney
BELFAST ROAD
N16
2013
Hackney
BELGRADE ROAD
N16
2013
Hackney
BENTHAM ROAD
E9
2013
Hackney
BENTHAM ROAD
E9
2013
Hackney
BLAKENEY CLOSE
E8
2013
Hackney
BROKE WALK
E8
2013
Hackney
BROOKE ROAD
E5
2013
Hackney
BROOKSBY'S WALK
E9
2013
Hackney
BUXTED ROAD
E8
2013
Hackney
CASSLAND ROAD
E9
2013
Hackney
CCC
* No recorded postcode
2013
Hackney
CHARTERHOUSE ROAD
E8
2013
Hackney
CHARTERHOUSE ROAD
E8
2013
Hackney
CHATHAM PLACE
E9
2013
Hackney
CHATHAM PLACE JUNC PARAGON ROAD
E9
2013
Hackney
CHATSWORTH ROAD
E5
2013
Hackney
CHATSWORTH ROAD
E5
2013
Hackney
CLAPTON SQUARE
E5
2013
Hackney
CLIFDEN ROAD
E5
2013
Hackney
COMBERTON ROAD
E5
2013
Hackney
CORONATION AVENUE
N16
2013
Hackney
COWPER ROAD
N16
2013
Hackney
COWPER ROAD
N16
2013
Hackney
DALSTON LANE
E8
2013
Hackney
DALSTON LANE
E8
2013
Hackney
DALSTON LANE
E8
2013
Hackney
DALSTON LANE
E8
2013
Hackney
DUDLINGTON ROAD
E5
2013
Hackney
DUNLOE STREET
E2
2013
Hackney
ELDERFIELD ROAD
E5
2013
Hackney
FELSTEAD STREET
E9
2013
Hackney
FENTON CLOSE
E8
2013
Hackney
FRAMPTON PARK ROAD
E9
2013
Hackney
FURROW LANE
E9
2013
Hackney
GARNHAM CLOSE
N16
2013
Hackney
GREEN LANES
N4
2013
Hackney
HACKNEY GROVE
E8
2013
Hackney
HARROWGATE ROAD
E9
2013
Hackney
HOMERTON HIGH STREET
E9
2013
Hackney
HOMERTON HIGH STREET
E9
2013
Hackney
HOMERTON HIGH STREET
E9
2013
Hackney
HOMERTON ROAD
E9
2013
Hackney
HOMERTON ROW
E9
2013
Hackney
HOMERTON ROW
E9
2013
Hackney
HOMERTON TERRACE
E9
2013
Hackney
HOWARD ROAD
N16
2013
Hackney
JENNER ROAD
N16
2013
Hackney
KENNINGHALL ROAD
E5
2013
Hackney
KENWORTHY ROAD
E9
2013
Hackney
KINGSLAND HIGH STREET
E8
2013
Hackney
KINGSLAND HIGH STREET
E8
2013
Hackney
KINGSLAND ROAD
E2
2013
Hackney
KINGSLAND ROAD
E2
2013
Hackney
KINGSLAND ROAD
E8
2013
Hackney
LANCELL STREET
N16
2013
Hackney
LORDSHIP ROAD
N16
2013
Hackney
LORDSHIP ROAD
N16
2013
Hackney
LORDSHIP ROAD
N16
2013
Hackney
LOWER CLAPTON ROAD
E5
2013
Hackney
LOWER CLAPTON ROAD
E5
2013
Hackney
LOWER CLAPTON ROAD
E5
2013
Hackney
MABLEY STREET
E9
2013
Hackney
MAPLEDENE ESTATE, MAPLEDENE ROAD
E8
2013
Hackney
MARE STREET
E8
2013
Hackney
MARLBOROUGH AVENUE
E8
2013
Hackney
MARSH HILL
E9
2013
Hackney
MARTELLO TERRACE
E8
2013
Hackney
MOTHERS SQUARE
E5
2013
Hackney
MURRAY GROVE
N1
2013
Hackney
MURRAY GROVE
N1
2013
Hackney
MURRAY GROVE
N1
2013
Hackney
NEVILL ROAD
N16
2013
Hackney
NEVILL ROAD
N16
2013
Hackney
NEW RIVER WAY
N4
2013
Hackney
OLD STREET
EC1V
2013
Hackney
OLD STREET
EC1V
2013
Hackney
OLDFIELD ROAD
N16
2013
Hackney
ORMSBY STREET
E2
2013
Hackney
PENN STREET
N1
2013
Hackney
POPLAR CLOSE
E9
2013
Hackney
POWERSCROFT ROAD
E5
2013
Hackney
PROVOST ESTATE
N1
2013
Hackney
QUEEN ELIZABETHS WALK
N16
2013
Hackney
QUEEN ELIZABETHS WALK
N16
2013
Hackney
QUEENS DRIVE
N4
2013
Hackney
QUEENSBRIDGE ROAD
E2
2013
Hackney
QUEENSBRIDGE ROAD
E8
2013
Hackney
RECTORY ROAD
N16
2013
Hackney
RECTORY ROAD
N16
2013
Hackney
REIGHTON ROAD
E5
2013
Hackney
RENDLESHAM ROAD
E5
2013
Hackney
RETREAT PLACE
E9
2013
Hackney
SHACKLEWELL LANE
E8
2013
Hackney
SHACKLEWELL LANE
E8
2013
Hackney
SHACKLEWELL LANE
N16
2013
Hackney
SHELLNESS ROAD
E5
2013
Hackney
SHOREDITCH HIGH STREET
E1
2013
Hackney
SIGDON ROAD
E8
2013
Hackney
SKELTON CLOSE
E8
2013
Hackney
SOMERFORD GROVE ESTATE
N16
2013
Hackney
SPRING HILL
E5
2013
Hackney
SPRINGFIELD
E5
2013
Hackney
STAMFORD HILL
N16
2013
Hackney
STOKE NEWINGTON HIGH STREET
N16
2013
Hackney
STOKE NEWINGTON HIGH STREET
N16
2013
Hackney
STOKE NEWINGTON ROAD
N16
2013
Hackney
UPPER CLAPTON ROAD
E5
2013
Hackney
UPPER CLAPTON ROAD
E5
2013
Hackney
UPPER CLAPTON ROAD
E5
2013
Hackney
VINCE STREET J/W CITY ROAD
EC1V
2013
Hackney
WARBURTON STREET
E8
2013
Hackney
WELL STREET
E9
2013
Hackney
WENLOCK STREET
N1
2013
Hackney
WHISTON ROAD
E2
2013
Hackney
WINDRUSH CLOSE
E8
2013
Hackney
WOODBERRY GROVE
N4
2014
Hackney
*No recorded street name
* No recorded postcode
2014
Hackney
AINSWORTH ROAD
E9
2014
Hackney
AMHURST ROAD
E8
2014
Hackney
AMHURST ROAD
N16
2014
Hackney
AMHURST ROAD
N16
2014
Hackney
ARCOLA STREET
E8
2014
Hackney
ASHENDEN ROAD
E5
2014
Hackney
BETHUNE ROAD
N16
2014
Hackney
BLACKSTOCK ROAD
N4
2014
Hackney
BODNEY ROAD
E8
2014
Hackney
BRADSTOCK ROAD
E9
2014
Hackney
BRADSTOCK ROAD
E9
2014
Hackney
BROOKE ROAD
E5
2014
Hackney
BROOKE ROAD
E5
2014
Hackney
BROOKE ROAD
N16
2014
Hackney
BROOKSBY'S WALK
E9
2014
Hackney
BROUGHAM ROAD
E8
2014
Hackney
BROWNSWOOD ROAD
N4
2014
Hackney
CADOGAN TERRACE
E9
2014
Hackney
CASSLAND ROAD
E9
2014
Hackney
CHARLES SQUARE ESTATE
N1
2014
Hackney
CHATHAM PLACE
E9
2014
Hackney
CHATSWORTH ROAD
E5
2014
Hackney
CHATSWORTH ROAD
E5
2014
Hackney
CHURCH CRESCENT
E9
2014
Hackney
CITY ROAD
EC1
2014
Hackney
CITY ROAD
EC1V
2014
Hackney
CLARISSA STREET
E8
2014
Hackney
CLISSOLD ROAD
N16
2014
Hackney
COLVILLE ESTATE
N1
2014
Hackney
COOPERSALE ROAD
E9
2014
Hackney
COOPERSALE ROAD
E9
2014
Hackney
COOPERSALE ROAD
E9
2014
Hackney
CROPLEY STREET
N1
2014
Hackney
DAINTRY WAY
E9
2014
Hackney
DALSTON LANE
E8
2014
Hackney
DALSTON LANE
E8
2014
Hackney
DE BEAUVOIR ESTATE
N1
2014
Hackney
DE BEAUVOIR ROAD
N1
2014
Hackney
DOWNHAM ROAD
N1
2014
Hackney
DOWNS PARK ROAD
E5
2014
Hackney
DOWNS ROAD
E5
2014
Hackney
DOWNS ROAD
E5
2014
Hackney
DOWNS ROAD
E5
2014
Hackney
DUNCAN ROAD
E8
2014
Hackney
EAGLE WHARF ROAD
N1
2014
Hackney
EASTWAY
E9
2014
Hackney
FARLEIGH ROAD
N16
2014
Hackney
FARLEIGH ROAD
N16
2014
Hackney
FELSTEAD STREET
E9
2014
Hackney
FOREST ROAD
E8
2014
Hackney
FOREST ROAD
* No recorded postcode
2014
Hackney
FRAMPTON PARK ROAD
E9
2014
Hackney
FRAMPTON PARK ROAD
E9
2014
Hackney
GASCOYNE ROAD
E9
2014
Hackney
GAYHURST ROAD
E8
2014
Hackney
GILLETT SQUARE
N16
2014
Hackney
GILLETT STREET
N16
2014
Hackney
GLENARM ROAD
E5
2014
Hackney
GLENARM ROAD
E5
2014
Hackney
GREAT EASTERN STREET
EC2A
2014
Hackney
GREAT EASTERN STREET
EC2A
2014
Hackney
GREAT EASTERN STREET
EC2A
2014
Hackney
GREEN LANES
N16
2014
Hackney
GREEN LANES
N4
2014
Hackney
GUNTON ROAD
E5
2014
Hackney
HACKNEY ROAD JW CREMER STRET
E2
2014
Hackney
HOBBS PLACE ESTATE
N1
2014
Hackney
HOLLAR ROAD
N16
2014
Hackney
HOMERTON HIGH STREET
E9
2014
Hackney
HOMERTON ROAD
E9
2014
Hackney
HOMERTON ROAD
E9
2014
Hackney
HOMERTON ROAD
E9
2014
Hackney
HOMERTON ROW
E9
2014
Hackney
HOXTON STREET
N1
2014
Hackney
KAYANI AVENUE
N4
2014
Hackney
KENNINGHALL ROAD
E5
2014
Hackney
KENNINGHALL ROAD
E5
2014
Hackney
KENT STREET
E2
2014
Hackney
KENWORTHY ROAD
E9
2014
Hackney
KENWORTHY ROAD
E9
2014
Hackney
KINGSHOLD ROAD
E9
2014
Hackney
KINGSLAND HIGH STREET
E8
2014
Hackney
KINGSLAND PASSAGE
E8
2014
Hackney
KINGSLAND ROAD
E2
2014
Hackney
KINGSLAND ROAD
E2
2014
Hackney
KINGSLAND ROAD
E8
2014
Hackney
KINGSLAND ROAD
E8
2014
Hackney
KINGSLAND ROAD
E8
2014
Hackney
KNIGHTLAND ROAD
E5
2014
Hackney
LANSDOWNE DRIVE
E8
2014
Hackney
LAURISTON ROAD
E9
2014
Hackney
LINDISFARNE WAY
E9
2014
Hackney
LINDISFARNE WAY
E9
2014
Hackney
LODDIGES ROAD
E9
2014
Hackney
LORDSHIP PARK
N16
2014
Hackney
LOWER CLAPTON ROAD
E5
2014
Hackney
LOWER CLAPTON ROAD
E5
2014
Hackney
LOWER CLAPTON ROAD
E5
2014
Hackney
LOWER CLAPTON ROAD
E5
2014
Hackney
MARE STREET
E8
2014
Hackney
MARE STREET
E8
2014
Hackney
MARTEL PLACE
E8
2014
Hackney
MARTELLO STREET
E8
2014
Hackney
MATTHIAS ROAD
N16
2014
Hackney
MEDIAN ROAD
E5
2014
Hackney
MIDDLETON ROAD
E8
2014
Hackney
MIDDLETON ROAD
E8
2014
Hackney
MORNING LANE
E9
2014
Hackney
MOUNT PLEASANT LANE
E5
2014
Hackney
MURRAY GROVE
N1
2014
Hackney
MURRAY GROVE
N1
2014
Hackney
NEVILL ROAD
N16
2014
Hackney
NEVILL ROAD
N16
2014
Hackney
NEW NORTH ROAD
N1
2014
Hackney
NIGHTINGALE ROAD
E5
2014
Hackney
NORTHWOLD ROAD
N16
2014
Hackney
NORTHWOLD ROAD
N16
2014
Hackney
OSBORNE ROAD
E9
2014
Hackney
OSBORNE ROAD
E9
2014
Hackney
PITFIELD STREET
N1
2014
Hackney
PITFIELD STREET
N1
2014
Hackney
PORTLAND RISE
N4
2014
Hackney
POWERSCROFT ROAD
E5
2014
Hackney
PROVOST STREET
N1
2014
Hackney
QUEEN ANNE ROAD
E9
2014
Hackney
QUEENS DRIVE
N4
2014
Hackney
QUEENSBRIDGE ROAD
E2
2014
Hackney
QUEENSBRIDGE ROAD
E8
2014
Hackney
QUEENSBRIDGE ROAD
E8
2014
Hackney
RAMSGATE STREET
E8
2014
Hackney
RECTORY ROAD
N16
2014
Hackney
RECTORY ROAD
N16
2014
Hackney
REDWALD ROAD
E5
2014
Hackney
REDWALD ROAD
E5
2014
Hackney
RETREAT PLACE
E9
2014
Hackney
RETREAT PLACE
E9
2014
Hackney
RICHMOND ROAD
E8
2014
Hackney
RIDLEY ROAD
E8
2014
Hackney
RUSHMORE ROAD
E5
2014
Hackney
RUSHMORE ROAD
E5
2014
Hackney
RYDER MEWS
E9
2014
Hackney
RYDER MEWS
E9
2014
Hackney
SACH ROAD
E5
2014
Hackney
SAW MILL WAY
N16
2014
Hackney
SAW MILL WAY
N16
2014
Hackney
SEDGWICK STREET
E9
2014
Hackney
SEVEN SISTERS ROAD
N4
2014
Hackney
SHACKLEWELL LANE
E8
2014
Hackney
SHOREDITCH PARK
N1
2014
Hackney
SHRUBLAND ROAD
E8
2014
Hackney
SHRUBLAND ROAD
E8
2014
Hackney
SOMERFIELD ROAD
N4
2014
Hackney
SOMERFORD GROVE ESTATE
N16
2014
Hackney
SOUTHGATE ROAD
N1
2014
Hackney
STAMFORD HILL
N16
2014
Hackney
STELLMAN CLOSE
E5
2014
Hackney
STOKE NEWINGTON HIGH STREET
N16
2014
Hackney
STOKE NEWINGTON HIGH STREET
N16
2014
Hackney
STOKE NEWINGTON ROAD
N16
2014
Hackney
STOKE NEWINGTON ROAD
N16
2014
Hackney
THEYDON ROAD
E5
2014
Hackney
THURTLE ROAD J/W KENT ROAD
E2
2014
Hackney
TOWPATH WALK
E9
2014
Hackney
TYSSEN ROAD
N16
2014
Hackney
URSWICK ROAD
E9
2014
Hackney
VINCE STREET
EC1V
2014
Hackney
VINE CLOSE
E5
2014
Hackney
WARWICK GROVE
E5
2014
Hackney
WENLOCK ROAD
N1
2014
Hackney
WHITMORE ESTATE
N1
2014
Hackney
WICK ROAD
E9
2014
Hackney
WICK ROAD
E9
2014
Hackney
WICK ROAD
E9
2014
Hackney
WILBERFORCE ROAD
N4
2014
Hackney
WILMER GARDENS
N1
2014
Hackney
WIMBOURNE STREET
N1
2014
Hackney
WIMBOURNE STREET
N1
2014
Hackney
WIMBOURNE STREET
N1
2014
Hackney
WIMBOURNE STREET
N1
2014
Hackney
WIMBOURNE STREET
N1
2014
Hackney
WOODBERRY DOWN ESTATE
N4
2014
Hackney
WOODBERRY GROVE
N4
2014
Hackney
WOODBERRY GROVE
N4
2012
Hammersmith & Fulham
ALDINE STREET
W12
2012
Hammersmith & Fulham
ARMADALE ROAD
SW6
2012
Hammersmith & Fulham
ASKEW ROAD
W12
2012
Hammersmith & Fulham
AVONMORE ROAD
W14
2012
Hammersmith & Fulham
BAMBOROUGH GARDENS
W12
2012
Hammersmith & Fulham
BARCLAY ROAD
SW6
2012
Hammersmith & Fulham
BROADWAY SHOPPING CENTRE, HAMMERSMITH
W6
2012
Hammersmith & Fulham
BROADWAY SHOPPING CENTRE, HAMMERSMITH
W6
2012
Hammersmith & Fulham
CONINGHAM ROAD
W12
2012
Hammersmith & Fulham
DAWES ROAD
W6
2012
Hammersmith & Fulham
DOWN PLACE
W6
2012
Hammersmith & Fulham
DU CANE ROAD
W12
2012
Hammersmith & Fulham
FITZNEAL STREET
W12
2012
Hammersmith & Fulham
FITZNEAL STREET
W12
2012
Hammersmith & Fulham
FLORA GARDENS
W6
2012
Hammersmith & Fulham
FULHAM BROADWAY
SW6
2012
Hammersmith & Fulham
FULHAM BROADWAY
* No recorded postcode
2012
Hammersmith & Fulham
FULHAM HIGH STREET
SW6
2012
Hammersmith & Fulham
FULHAM PALACE ROAD
W6
2012
Hammersmith & Fulham
FULHAM PALACE ROAD
W6
2012
Hammersmith & Fulham
FULHAM ROAD
SW6
2012
Hammersmith & Fulham
FULHAM ROAD
SW6
2012
Hammersmith & Fulham
GOLDHAWK ROAD
W12
2012
Hammersmith & Fulham
GOLDHAWK ROAD
* No recorded postcode
2012
Hammersmith & Fulham
GREYHOUND ROAD
W6
2012
Hammersmith & Fulham
HAMMERSMITH BROADWAY
W6
2012
Hammersmith & Fulham
HAMMERSMITH GROVE
W6
2012
Hammersmith & Fulham
HARROW ROAD
NW10
2012
Hammersmith & Fulham
HARROW ROAD
NW10
2012
Hammersmith & Fulham
HARROW ROAD
NW10
2012
Hammersmith & Fulham
HAZLEBURY ROAD
SW6
2012
Hammersmith & Fulham
HILARY ROAD
W12
2012
Hammersmith & Fulham
KING STREET
W6
2012
Hammersmith & Fulham
KINGWOOD ROAD
SW6
2012
Hammersmith & Fulham
LAMBROOK TERRACE
SW6
2012
Hammersmith & Fulham
MARGRAVINE GARDENS
W6
2012
Hammersmith & Fulham
MELINA ROAD
W12
2012
Hammersmith & Fulham
NETHERWOOD ROAD
W14
2012
Hammersmith & Fulham
NORTH END CRESCENT
W14
2012
Hammersmith & Fulham
NORTH END ROAD
SW6
2012
Hammersmith & Fulham
NORTH END ROAD
W14
2012
Hammersmith & Fulham
OLD OAK COMMON LANE
W3
2012
Hammersmith & Fulham
PETERBOROUGH ROAD
SW6
2012
Hammersmith & Fulham
QUEEN CAROLINE STREET
W6
2012
Hammersmith & Fulham
QUEENSDALE CRESCENT
W11
2012
Hammersmith & Fulham
RICHFORD STREET
W6
2012
Hammersmith & Fulham
RYLETT ROAD
W12
2012
Hammersmith & Fulham
SHEPHERDS BUSH GREEN
W12
2012
Hammersmith & Fulham
SHEPHERDS BUSH GREEN
W12
2012
Hammersmith & Fulham
SHEPHERDS BUSH GREEN
W12
2012
Hammersmith & Fulham
SHEPHERDS BUSH MARKET
W12
2012
Hammersmith & Fulham
SHEPHERDS BUSH ROAD
W6
2012
Hammersmith & Fulham
SHEPHERDS BUSH ROAD
W6
2012
Hammersmith & Fulham
ST. DIONIS ROAD
SW6
2012
Hammersmith & Fulham
ST. DUNSTANS ROAD
W6
2012
Hammersmith & Fulham
ST. STEPHENS AVENUE J/W SCOTTS ROAD
W12
2012
Hammersmith & Fulham
STUDLAND STREET
W6
2012
Hammersmith & Fulham
SUNDEW AVENUE
W12
2012
Hammersmith & Fulham
TALGARTH ROAD
W14
2012
Hammersmith & Fulham
TOWNMEAD ROAD
SW6
2012
Hammersmith & Fulham
UXBRIDGE ROAD
W12
2012
Hammersmith & Fulham
UXBRIDGE ROAD
W12
2012
Hammersmith & Fulham
UXBRIDGE ROAD
W12
2012
Hammersmith & Fulham
WHITE CITY ESTATE
W12
2012
Hammersmith & Fulham
WOOD LANE
W12
2013
Hammersmith & Fulham
ARIEL WAY
W12
2013
Hammersmith & Fulham
ASKEW ROAD
W12
2013
Hammersmith & Fulham
ASPEN GARDENS
W6
2013
Hammersmith & Fulham
AUSTRALIA ROAD NORTH
* No recorded postcode
2013
Hammersmith & Fulham
AUSTRALIA ROAD SOUTH
W12
2013
Hammersmith & Fulham
AVONMORE ROAD
W14
2013
Hammersmith & Fulham
BECKLOW GARDENS
W12
2013
Hammersmith & Fulham
BECKLOW GARDENS
W12
2013
Hammersmith & Fulham
BECKLOW ROAD
W12
2013
Hammersmith & Fulham
BENTWORTH ROAD
W12
2013
Hammersmith & Fulham
BRAYBROOK STREET
W12
2013
Hammersmith & Fulham
BRAYBROOK STREET
W12
2013
Hammersmith & Fulham
CASSIDY ROAD
SW6
2013
Hammersmith & Fulham
CHALDON ROAD
SW6
2013
Hammersmith & Fulham
CLEM ATTLEE COURT
SW6
2013
Hammersmith & Fulham
CONINGHAM ROAD
W12
2013
Hammersmith & Fulham
DAWES ROAD
SW6
2013
Hammersmith & Fulham
DEVONPORT ROAD
W12
2013
Hammersmith & Fulham
DU CANE ROAD
W12
2013
Hammersmith & Fulham
DU CANE ROAD
W12
2013
Hammersmith & Fulham
EXHIBITION CLOSE
W12
2013
Hammersmith & Fulham
EYNHAM ROAD
W12
2013
Hammersmith & Fulham
EYNHAM ROAD
W12
2013
Hammersmith & Fulham
GODOLPHIN ROAD
W12
2013
Hammersmith & Fulham
GOLDHAWK ROAD
W12
2013
Hammersmith & Fulham
GOLDHAWK ROAD
W12
2013
Hammersmith & Fulham
GOODWIN ROAD
W12
2013
Hammersmith & Fulham
GREAT WEST ROAD
W6
2013
Hammersmith & Fulham
HAMMERSMITH BROADWAY
W6
2013
Hammersmith & Fulham
HUMBOLT ROAD
W6
2013
Hammersmith & Fulham
KING STREET
W6
2013
Hammersmith & Fulham
KING STREET
W6
2013
Hammersmith & Fulham
KINNOUL ROAD
W6
2013
Hammersmith & Fulham
LILLIE ROAD
SW6
2013
Hammersmith & Fulham
LILLIE ROAD
SW6
2013
Hammersmith & Fulham
LILLIE ROAD
SW6
2013
Hammersmith & Fulham
LYRIC SQUARE
W6
2013
Hammersmith & Fulham
MABLETHORPE ROAD
SW6
2013
Hammersmith & Fulham
MATHESON ROAD
W14
2013
Hammersmith & Fulham
NEW ZEALAND WAY
W12
2013
Hammersmith & Fulham
NEW ZEALAND WAY
W12
2013
Hammersmith & Fulham
NORTH END ROAD
SW6
2013
Hammersmith & Fulham
NORTH END ROAD
SW6
2013
Hammersmith & Fulham
NORTH END ROAD
SW6
2013
Hammersmith & Fulham
NORTH END ROAD
SW6
2013
Hammersmith & Fulham
OLD OAK ROAD
W3
2013
Hammersmith & Fulham
PETERBOROUGH ROAD
SW6
2013
Hammersmith & Fulham
RAINVILLE ROAD
W6
2013
Hammersmith & Fulham
ROCKLEY ROAD
W14
2013
Hammersmith & Fulham
SHEPHERDS BUSH GREEN
W12
2013
Hammersmith & Fulham
SHEPHERDS BUSH GREEN
W12
2013
Hammersmith & Fulham
SHEPHERDS BUSH GREEN
W12
2013
Hammersmith & Fulham
SHORTLANDS
W6
2013
Hammersmith & Fulham
SOUTH AFRICA ROAD
W12
2013
Hammersmith & Fulham
ST THOMAS'S WAY
SW6
2013
Hammersmith & Fulham
ST. STEPHENS AVENUE
W12
2013
Hammersmith & Fulham
STARFIELD ROAD
W12
2013
Hammersmith & Fulham
STEPHENDALE ROAD
SW6
2013
Hammersmith & Fulham
SUNDEW AVENUE
W12
2013
Hammersmith & Fulham
SUNDEW AVENUE
W12
2013
Hammersmith & Fulham
TALGARTH ROAD
W14
2013
Hammersmith & Fulham
TALGARTH ROAD
W14
2013
Hammersmith & Fulham
TAMARISK SQUARE
W12
2013
Hammersmith & Fulham
THORPEBANK ROAD
W12
2013
Hammersmith & Fulham
TUNIS ROAD
W12
2013
Hammersmith & Fulham
TYNEMOUTH STREET
SW6
2013
Hammersmith & Fulham
TYNEMOUTH STREET
SW6
2013
Hammersmith & Fulham
UXBRIDGE ROAD
W12
2013
Hammersmith & Fulham
UXBRIDGE ROAD
W12
2013
Hammersmith & Fulham
UXBRIDGE ROAD
W12
2013
Hammersmith & Fulham
UXBRIDGE ROAD
W12
2013
Hammersmith & Fulham
UXBRIDGE ROAD
W12
2013
Hammersmith & Fulham
WHITE CITY ESTATE
W12
2013
Hammersmith & Fulham
WHITE CITY ESTATE
W12
2013
Hammersmith & Fulham
WHITE CITY ESTATE
W12
2014
Hammersmith & Fulham
AISGILL AVENUE
W14
2014
Hammersmith & Fulham
ANLEY ROAD
W14
2014
Hammersmith & Fulham
ARIEL WAY
W12
2014
Hammersmith & Fulham
BARONS COURT ROAD
W14
2014
Hammersmith & Fulham
BLYTHE ROAD
W14
2014
Hammersmith & Fulham
BRYONY ROAD JUNCTION WITH ERICA ROAD
W12
2014
Hammersmith & Fulham
CATHNOR ROAD
W12
2014
Hammersmith & Fulham
CHEESEMANS TERRACE
W14
2014
Hammersmith & Fulham
CLEM ATTLEE COURT
SW6
2014
Hammersmith & Fulham
CLEM ATTLEE COURT
SW6
2014
Hammersmith & Fulham
DAVISVILLE ROAD
W12
2014
Hammersmith & Fulham
DAVISVILLE ROAD
W12
2014
Hammersmith & Fulham
DU CANE ROAD
W12
2014
Hammersmith & Fulham
DU CANE ROAD
W12
2014
Hammersmith & Fulham
DU CANE ROAD
W12
2014
Hammersmith & Fulham
ELLINGHAM ROAD
W12
2014
Hammersmith & Fulham
ERCONWALD STREET
W12
2014
Hammersmith & Fulham
ERCONWALD STREET
W12
2014
Hammersmith & Fulham
FIELD ROAD
W6
2014
Hammersmith & Fulham
FULHAM PALACE ROAD
* No recorded postcode
2014
Hammersmith & Fulham
FULHAM PALACE ROAD
W6
2014
Hammersmith & Fulham
FULHAM PALACE ROAD
W6
2014
Hammersmith & Fulham
GIBBS GREEN
W14
2014
Hammersmith & Fulham
GLENTHORNE ROAD
W6
2014
Hammersmith & Fulham
HAMMERSMITH BROADWAY
W6
2014
Hammersmith & Fulham
HUGH GAITSKELL CLOSE
SW6
2014
Hammersmith & Fulham
IMPERIAL ROAD
SW6
2014
Hammersmith & Fulham
INGERSOLL ROAD
W12
2014
Hammersmith & Fulham
KING STREET
W6
2014
Hammersmith & Fulham
KING STREET
W6
2014
Hammersmith & Fulham
KING STREET
W6
2014
Hammersmith & Fulham
KING STREET
W6
2014
Hammersmith & Fulham
KING STREET
W6
2014
Hammersmith & Fulham
LILLIE ROAD
SW6
2014
Hammersmith & Fulham
LILLIE ROAD
SW6
2014
Hammersmith & Fulham
LIME GROVE
W12
2014
Hammersmith & Fulham
LISGAR TERRACE
W14
2014
Hammersmith & Fulham
NORTH END PARADE
W14
2014
Hammersmith & Fulham
NORTH END ROAD
W14
2014
Hammersmith & Fulham
NORTH END ROAD
W14
2014
Hammersmith & Fulham
PEARSCROFT ROAD
SW6
2014
Hammersmith & Fulham
PEARSCROFT ROAD
SW6
2014
Hammersmith & Fulham
PRIMULA STREET
W12
2014
Hammersmith & Fulham
RIVERSIDE GARDENS
W6
2014
Hammersmith & Fulham
SHEPHERDS BUSH GREEN
W12
2014
Hammersmith & Fulham
SHEPHERDS BUSH GREEN
W12
2014
Hammersmith & Fulham
SHERBROOKE ROAD
SW6
2014
Hammersmith & Fulham
SHOPPING CENTRE, SHEPHERDS BUSH GREEN
W12
2014
Hammersmith & Fulham
SHOPPING CENTRE, SHEPHERDS BUSH GREEN
W12
2014
Hammersmith & Fulham
SILVER ROAD
W12
2014
Hammersmith & Fulham
ST. ANNS ROAD
W11
2014
Hammersmith & Fulham
ST. STEPHENS AVENUE
W12
2014
Hammersmith & Fulham
ST. STEPHENS AVENUE
W12
2014
Hammersmith & Fulham
UXBRIDGE ROAD
W12
2014
Hammersmith & Fulham
UXBRIDGE ROAD
W12
2014
Hammersmith & Fulham
WESTWAY
W12
2014
Hammersmith & Fulham
WHITE CITY ESTATE
W12
2014
Hammersmith & Fulham
WHITE CITY ESTATE
W12
2014
Hammersmith & Fulham
WOOD LANE
W12
2014
Hammersmith & Fulham
WOODSTOCK GROVE
W12
2012
Haringey
*No recorded street name
* No recorded postcode
2012
Haringey
*No recorded street name
* No recorded postcode
2012
Haringey
*No recorded street name
* No recorded postcode
2012
Haringey
ALEXANDRA PALACE WAY
N22
2012
Haringey
ALLAN BARCLAY CLOSE
N15
2012
Haringey
AMETHYST CLOSE
N11
2012
Haringey
ARCADIAN GARDENS
N22
2012
Haringey
ARCHWAY ROAD
N6
2012
Haringey
ASPLINS ROAD
N17
2012
Haringey
BOUNDS GREEN ROAD
N22
2012
Haringey
BRAEMAR AVENUE
N22
2012
Haringey
BRAEMAR ROAD
N15
2012
Haringey
BROADWATER ROAD
N17
2012
Haringey
BRUCE CASTLE ROAD
N17
2012
Haringey
BRUCE GROVE
N17
2012
Haringey
BRUCE GROVE
N17
2012
Haringey
BRUCE GROVE
N17
2012
Haringey
BRUNSWICK ROAD
N15
2012
Haringey
CAMPBELL ROAD
N17
2012
Haringey
CAXTON ROAD
N22
2012
Haringey
CAXTON ROAD
N22
2012
Haringey
CHAPLIN ROAD
N17
2012
Haringey
CHURCH LANE
N17
2012
Haringey
CONISTON ROAD
N17
2012
Haringey
COPPETTS ROAD
N10
2012
Haringey
CORNWALL ROAD
N15
2012
Haringey
CRAVEN PARK ROAD
N15
2012
Haringey
CRESCENT ROAD
N8
2012
Haringey
CROUCH END HILL
N8
2012
Haringey
CROWLAND ROAD
N15
2012
Haringey
CROWLAND ROAD
N15
2012
Haringey
EARLHAM GROVE
N22
2012
Haringey
ELDER AVENUE
N8
2012
Haringey
ELEANOR CLOSE
N15
2012
Haringey
EWART GROVE
N22
2012
Haringey
FAIRBANKS ROAD
N17
2012
Haringey
FAIRBANKS ROAD
N17
2012
Haringey
FARRER ROAD
N8
2012
Haringey
FINSBURY PARK
N4
2012
Haringey
FINSBURY PARK AVENUE
N4
2012
Haringey
GLADSTONE AVENUE
N22
2012
Haringey
GLOUCESTER ROAD
N17
2012
Haringey
GLOUCESTER ROAD
N17
2012
Haringey
GREEN LANES
N4
2012
Haringey
GREEN LANES
N4
2012
Haringey
GREEN LANES
N4
2012
Haringey
GREEN LANES
N4
2012
Haringey
GREEN LANES
N4
2012
Haringey
GREEN LANES
N8
2012
Haringey
HARINGEY PASSAGE
N8
2012
Haringey
HARTHAM ROAD
N17
2012
Haringey
HERMITAGE ROAD
N4
2012
Haringey
HEWITT ROAD
N8
2012
Haringey
HIGH ROAD
N15
2012
Haringey
HIGH ROAD
N15
2012
Haringey
HIGH ROAD
N15
2012
Haringey
HIGH ROAD
N15
2012
Haringey
HIGH ROAD
N17
2012
Haringey
HIGH ROAD
N17
2012
Haringey
HIGH ROAD
N17
2012
Haringey
HIGH ROAD
N17
2012
Haringey
HIGH ROAD
N17
2012
Haringey
HIGH ROAD
N17
2012
Haringey
HIGH ROAD
N17
2012
Haringey
HIGH ROAD
N17
2012
Haringey
HIGH ROAD
N22
2012
Haringey
HIGH ROAD
N22
2012
Haringey
HIGH ROAD
N22
2012
Haringey
HIGH ROAD
N22
2012
Haringey
HIGH ROAD
N22
2012
Haringey
HIGH ROAD
N22
2012
Haringey
HIGH ROAD
N22
2012
Haringey
HIGH ROAD
N22
2012
Haringey
HIGH ROAD
N22
2012
Haringey
HIGH ROAD
N22
2012
Haringey
HIGH ROAD JUNCTION WITH ALEXANDRA ROAD
N22
2012
Haringey
HIGH ROAD JUNCTION WITH ALEXANDRA ROAD
N22
2012
Haringey
KEMBLE ROAD
N17
2012
Haringey
KITCHENER ROAD
N17
2012
Haringey
KITCHENER ROAD
N17
2012
Haringey
LANGHAM CLOSE
N15
2012
Haringey
LINLEY ROAD
N17
2012
Haringey
LISMORE ROAD
N17
2012
Haringey
LORDSHIP LANE
N17
2012
Haringey
LORDSHIP LANE
N17
2012
Haringey
LORDSHIP LANE
N17
2012
Haringey
LORDSHIP LANE
N17
2012
Haringey
LORDSHIP LANE
N17
2012
Haringey
LORDSHIP LANE
N22
2012
Haringey
LORDSHIP LANE
N22
2012
Haringey
LOXWOOD ROAD
N17
2012
Haringey
MALVERN ROAD
N17
2012
Haringey
MAPLE PLACE
N17
2012
Haringey
MIDDLE LANE
N8
2012
Haringey
MORANT PLACE
N22
2012
Haringey
MOSELLE AVENUE
N22
2012
Haringey
MOUNT PLEASANT ROAD
N17
2012
Haringey
MOUNT PLEASANT ROAD
N17
2012
Haringey
MOUNT PLEASANT ROAD
N17
2012
Haringey
MUSWELL HILL
N10
2012
Haringey
MUSWELL HILL ROAD
N10
2012
Haringey
NAPIER ROAD
N17
2012
Haringey
NEW ROAD
N22
2012
Haringey
NEWTON ROAD
N15
2012
Haringey
NORTHUMBERLAND GROVE
N17
2012
Haringey
NORTHUMBERLAND PARK
N17
2012
Haringey
NORTHUMBERLAND PARK
N17
2012
Haringey
OVERBURY ROAD
N15
2012
Haringey
PARK LANE
N17
2012
Haringey
PARK LANE
N17
2012
Haringey
PARK LANE
N17
2012
Haringey
PARK ROAD
N8
2012
Haringey
PARK ROAD
N8
2012
Haringey
PARK ROAD
N8
2012
Haringey
PELHAM ROAD
N22
2012
Haringey
PEMBERTON ROAD
N4
2012
Haringey
PEMBURY ROAD
N17
2012
Haringey
PERTH ROAD
N4
2012
Haringey
PHILIP LANE
N15
2012
Haringey
PHILIP LANE
N15
2012
Haringey
PHILIP LANE
N15
2012
Haringey
PLEVNA CRESCENT
N15
2012
Haringey
PULFORD ROAD
N15
2012
Haringey
REFORM ROW
N17
2012
Haringey
REFORM ROW
N17
2012
Haringey
ROSLYN ROAD
N15
2012
Haringey
ROUNDWAY
N17
2012
Haringey
RUSSELL AVENUE
N22
2012
Haringey
SALISBURY ROAD
N22
2012
Haringey
SAXON ROAD
N22
2012
Haringey
SELBORNE ROAD
N22
2012
Haringey
SEVEN SISTERS ROAD
N15
2012
Haringey
SEVEN SISTERS ROAD
N15
2012
Haringey
SEVEN SISTERS ROAD
N15
2012
Haringey
SEVEN SISTERS ROAD
N15
2012
Haringey
SEVEN SISTERS ROAD
N15
2012
Haringey
SEVEN SISTERS ROAD
N4
2012
Haringey
SEVEN SISTERS ROAD
N4
2012
Haringey
SEYMOUR ROAD
N8
2012
Haringey
ST. ANN'S ROAD
N15
2012
Haringey
STATION ROAD
N22
2012
Haringey
STATION ROAD
N22
2012
Haringey
STIRLING ROAD
N17
2012
Haringey
STURROCK CLOSE
N15
2012
Haringey
SUTHERLAND ROAD
N17
2012
Haringey
SYDNEY ROAD
N8
2012
Haringey
TAMAR WAY
N17
2012
Haringey
TOTTENHAM LANE
N8
2012
Haringey
TOTTENHAM LANE
N8
2012
Haringey
TRURO ROAD
N22
2012
Haringey
TURNER AVENUE
N15
2012
Haringey
TURNPIKE LANE
N8
2012
Haringey
TURNPIKE LANE
N8
2012
Haringey
TURNPIKE LANE
N8
2012
Haringey
TURNPIKE LANE
N8
2012
Haringey
VALE ROAD
N4
2012
Haringey
VICTORIA CRESCENT
N15
2012
Haringey
WARKWORTH ROAD
N17
2012
Haringey
WEIR HALL ROAD
N17
2012
Haringey
WEIR HALL ROAD
N17
2012
Haringey
WEST GREEN ROAD
N15
2012
Haringey
WEST GREEN ROAD
N15
2012
Haringey
WEST GREEN ROAD
N15
2012
Haringey
WEST GREEN ROAD
N15
2012
Haringey
WHITE HART LANE
N17
2012
Haringey
WHITE HART LANE
N22
2012
Haringey
WHITE HART LANE
N22
2012
Haringey
WHITE HART LANE
N22
2012
Haringey
WHITE HART LANE
N22
2012
Haringey
WHITE HART LANE
N22
2012
Haringey
WHITE HART LANE
N22
2012
Haringey
WIGHTMAN ROAD
N8
2012
Haringey
WINCHESTER PLACE
N6
2013
Haringey
*No recorded street name
* No recorded postcode
2013
Haringey
ALEXANDRA PARK ROAD
N22
2013
Haringey
ARCHWAY ROAD
N6
2013
Haringey
ARNOLD ROAD
N15
2013
Haringey
BEDFORD ROAD
N15
2013
Haringey
BLACK BOY LANE
N15
2013
Haringey
BLACK BOY LANE
N15
2013
Haringey
BLYTHWOOD ROAD
N4
2013
Haringey
BRAEMAR ROAD
N15
2013
Haringey
BROAD LANE
N15
2013
Haringey
BROAD LANE
N15
2013
Haringey
BROAD LANE
N15
2013
Haringey
BROADWATER ROAD
N17
2013
Haringey
BROADWATER ROAD
N17
2013
Haringey
BROOK STREET
N17
2013
Haringey
BROOK STREET
N17
2013
Haringey
BRUCE GROVE
N17
2013
Haringey
BURGOYNE ROAD
N4
2013
Haringey
BURY ROAD
N22
2013
Haringey
CARADON WAY
N15
2013
Haringey
CHESNUT ROAD
N17
2013
Haringey
CHURCH LANE
N8
2013
Haringey
CLYDE ROAD
N15
2013
Haringey
COLLEGE PARK ROAD
N17
2013
Haringey
COLNEY HATCH LANE
N10
2013
Haringey
COMMERCE ROAD
N22
2013
Haringey
CRANBROOK PARK
N22
2013
Haringey
CROMWELL AVENUE
N6
2013
Haringey
DOWSETT ROAD
N17
2013
Haringey
DURBAN ROAD
N17
2013
Haringey
DURBAN ROAD
N17
2013
Haringey
ELDER AVENUE
N8
2013
Haringey
ELEANOR CLOSE
N15
2013
Haringey
ENDYMION ROAD
N4
2013
Haringey
ENDYMION ROAD
N4
2013
Haringey
ENDYMION ROAD
N4
2013
Haringey
FACTORY LANE
N17
2013
Haringey
FAIRVIEW ROAD
N15
2013
Haringey
FAIRVIEW ROAD
N15
2013
Haringey
FELIXSTOWE ROAD
N17
2013
Haringey
FROBISHER ROAD
N8
2013
Haringey
FRYATT ROAD
N17
2013
Haringey
GLADSTONE AVENUE
N22
2013
Haringey
GLOUCESTER ROAD
N17
2013
Haringey
GLOUCESTER ROAD
N17
2013
Haringey
GRAINGER ROAD
N22
2013
Haringey
GREAT AMWELL LANE
N8
2013
Haringey
GREEN LANES
N4
2013
Haringey
GREEN LANES
N4
2013
Haringey
GREEN LANES
N4
2013
Haringey
GREEN LANES
N4
2013
Haringey
GREEN LANES
* No recorded postcode
2013
Haringey
GROVELANDS ROAD
N15
2013
Haringey
HARRINGAY ROAD
N15
2013
Haringey
HEWITT ROAD
N8
2013
Haringey
HIGH ROAD
N15
2013
Haringey
HIGH ROAD
N17
2013
Haringey
HIGH ROAD
N17
2013
Haringey
HIGH ROAD
N17
2013
Haringey
HIGH ROAD
N17
2013
Haringey
HIGH ROAD
N17
2013
Haringey
HIGH ROAD
N2
2013
Haringey
HIGH ROAD
N2
2013
Haringey
HIGH ROAD
N22
2013
Haringey
HIGH ROAD
N22
2013
Haringey
HIGH ROAD
N22
2013
Haringey
HIGH ROAD
N22
2013
Haringey
HIGH ROAD
N22
2013
Haringey
HIGH ROAD
N22
2013
Haringey
HIGHAM ROAD
N17
2013
Haringey
HILLSIDE ROAD
N15
2013
Haringey
HORNSEY (NORTH LONDON),TOTTENHAM LANE
N8
2013
Haringey
KINGS ROAD
N22
2013
Haringey
LORDSHIP LANE
N17
2013
Haringey
LORDSHIP LANE
N22
2013
Haringey
LORDSHIP LANE
N22
2013
Haringey
LORDSHIP LANE
N22
2013
Haringey
LORDSHIP LANE
N22
2013
Haringey
LORNE ROAD
N4
2013
Haringey
LOVE LANE
N17
2013
Haringey
MARSHALL ROAD
N17
2013
Haringey
MARSHALL ROAD
N17
2013
Haringey
MIDDLE LANE
N8
2013
Haringey
MORANT PLACE
N22
2013
Haringey
MOSELLE PLACE
N17
2013
Haringey
MOSELLE STREET
N17
2013
Haringey
MUSWELL HILL BROADWAY
N10
2013
Haringey
MYDDELTON ROAD
N8
2013
Haringey
MYDDELTON ROAD
N8
2013
Haringey
NIGHTINGALE ROAD
N22
2013
Haringey
NORFOLK AVENUE
N13
2013
Haringey
NORTHUMBERLAND PARK
N17
2013
Haringey
NORTHUMBERLAND PARK
N17
2013
Haringey
NORTHUMBERLAND PARK
N17
2013
Haringey
PARK AVENUE
N22
2013
Haringey
PARK VIEW ROAD
N17
2013
Haringey
PEMBERTON ROAD
N4
2013
Haringey
PEMBURY ROAD
N17
2013
Haringey
PERTH ROAD
N4
2013
Haringey
PERTH ROAD
N4
2013
Haringey
PHILIP LANE
N15
2013
Haringey
PHILIP LANE
N15
2013
Haringey
PRIORY ROAD
N8
2013
Haringey
RANELAGH ROAD
N17
2013
Haringey
RANGEMOOR ROAD
N15
2013
Haringey
RING WAY
N11
2013
Haringey
RING WAY
N11
2013
Haringey
ROEBUCK CLOSE
N17
2013
Haringey
ROTHBURY WALK
N17
2013
Haringey
RUSPER ROAD
* No recorded postcode
2013
Haringey
RUSSELL ROAD
N15
2013
Haringey
RUSSELL ROAD
N15
2013
Haringey
SALISBURY ROAD
N4
2013
Haringey
SCOTLAND GREEN
N17
2013
Haringey
SCOTLAND GREEN
N17
2013
Haringey
SELBY ROAD
N17
2013
Haringey
SELBY ROAD
N17
2013
Haringey
SEVEN SISTERS ROAD
N15
2013
Haringey
SEVEN SISTERS ROAD
N15
2013
Haringey
SEVEN SISTERS ROAD
N15
2013
Haringey
SEVEN SISTERS ROAD
N4
2013
Haringey
SEYMOUR ROAD
N8
2013
Haringey
SHERRINGHAM AVENUE
N17
2013
Haringey
SIRDAR ROAD
N22
2013
Haringey
SPERLING ROAD
N17
2013
Haringey
SPRINGFIELD ROAD
N15
2013
Haringey
ST. ANN'S ROAD
N15
2013
Haringey
ST. ANN'S ROAD
N15
2013
Haringey
ST. JOHN'S ROAD
N15
2013
Haringey
STAMFORD CLOSE
N15
2013
Haringey
STANMORE ROAD
N15
2013
Haringey
STAPLETON HALL ROAD
N4
2013
Haringey
STATION ROAD
N22
2013
Haringey
TETHERDOWN
N10
2013
Haringey
THE ROUNDWAY
N17
2013
Haringey
TOTTENHAM GREEN EAST
N15
2013
Haringey
TOTTENHAM GREEN EAST
N15
2013
Haringey
TOTTENHAM LANE
N8
2013
Haringey
TOWN HALL APPROACH ROAD
N15
2013
Haringey
TOWN HALL APPROACH ROAD
N15
2013
Haringey
TRULOCK ROAD
N17
2013
Haringey
TURNPIKE LANE
N8
2013
Haringey
VARTRY ROAD
N15
2013
Haringey
WALNUT MEWS
* No recorded postcode
2013
Haringey
WARKWORTH ROAD
N17
2013
Haringey
WEST GREEN ROAD
N15
2013
Haringey
WEST GREEN ROAD
N15
2013
Haringey
WEST GREEN ROAD
N15
2013
Haringey
WEST GREEN ROAD
N15
2013
Haringey
WEST GREEN ROAD
N15
2013
Haringey
WEST GREEN ROAD
N15
2013
Haringey
WEST GREEN ROAD
N15
2013
Haringey
WEST GREEN ROAD
N15
2013
Haringey
WEST GREEN ROAD
N15
2013
Haringey
WEST GREEN ROAD
N15
2013
Haringey
WEST GREEN ROAD
N15
2013
Haringey
WEST ROAD
N17
2013
Haringey
WESTBURY AVENUE
N22
2013
Haringey
WESTBURY AVENUE
N22
2013
Haringey
WESTBURY AVENUE
N22
2013
Haringey
WHITE HART LANE
N17
2013
Haringey
WHITE HART LANE
N17
2013
Haringey
WHITE HART LANE
N17
2013
Haringey
WHITE HART LANE
N17
2013
Haringey
WILLAN ROAD
N17
2013
Haringey
WILLOUGHBY LANE
N17
2013
Haringey
WILLOUGHBY LANE
N17
2013
Haringey
WILLOUGHBY LANE
N17
2013
Haringey
WILLOUGHBY LANE
N17
2013
Haringey
WILLOUGHBY ROAD
N8
2013
Haringey
WOODSTOCK ROAD
N4
2014
Haringey
ACACIA ROAD
N22
2014
Haringey
ALEXANDRA ROAD
N8
2014
Haringey
ALTAIR CLOSE
N17
2014
Haringey
ANTILL ROAD
N15
2014
Haringey
ARCADIAN GARDENS
N22
2014
Haringey
ARCHWAY ROAD
N6
2014
Haringey
BOYTON ROAD
N8
2014
Haringey
BROAD LANE
N15
2014
Haringey
BROAD LANE
N15
2014
Haringey
BROWNLOW ROAD
N11
2014
Haringey
BRUCE GROVE
N17
2014
Haringey
BRUCE GROVE
N17
2014
Haringey
CCC
* No recorded postcode
2014
Haringey
CHESNUT ROAD
N17
2014
Haringey
CRAVEN PARK ROAD
N15
2014
Haringey
CULROSS CLOSE
N15
2014
Haringey
CULVERT ROAD
N15
2014
Haringey
CULVERT ROAD
N15
2014
Haringey
CULVERT ROAD
N15
2014
Haringey
DAWLISH ROAD
N17
2014
Haringey
DEVON CLOSE
N17
2014
Haringey
EARLHAM GROVE
N22
2014
Haringey
ELDON ROAD
N22
2014
Haringey
ETHERLEY ROAD
N15
2014
Haringey
ETHERLEY ROAD
N15
2014
Haringey
FACTORY LANE
N17
2014
Haringey
FINSBURY PARK
N4
2014
Haringey
FOUNTAYNE ROAD
N15
2014
Haringey
FOYLE ROAD
N17
2014
Haringey
FROGWELL CLOSE
N15
2014
Haringey
GLENDISH ROAD
N17
2014
Haringey
GRANVILLE ROAD
N4
2014
Haringey
GREAT NORTH ROAD
N6
2014
Haringey
GREEN LANES
N15
2014
Haringey
GREEN LANES
N15
2014
Haringey
GREEN LANES
N4
2014
Haringey
GREEN LANES
N4
2014
Haringey
GREEN LANES
N8
2014
Haringey
GREYHOUND ROAD
N17
2014
Haringey
HAMPDEN ROAD
N8
2014
Haringey
HASTINGS ROAD J/W HIGHAM ROAD
N17
2014
Haringey
HERMITAGE ROAD
N4
2014
Haringey
HIGH CROSS ROAD
N17
2014
Haringey
HIGH ROAD
N15
2014
Haringey
HIGH ROAD
N15
2014
Haringey
HIGH ROAD
N15
2014
Haringey
HIGH ROAD
N17
2014
Haringey
HIGH ROAD
N17
2014
Haringey
HIGH ROAD
N17
2014
Haringey
HIGH ROAD
N17
2014
Haringey
HIGH ROAD
N17
2014
Haringey
HIGH ROAD
N17
2014
Haringey
HIGH ROAD
N17
2014
Haringey
HIGH ROAD
N17
2014
Haringey
HIGH ROAD
N17
2014
Haringey
HIGH ROAD
N17
2014
Haringey
HIGH ROAD
N22
2014
Haringey
HIGH ROAD
N22
2014
Haringey
HIGH ROAD
N22
2014
Haringey
HIGH ROAD
N22
2014
Haringey
HIGH ROAD
N22
2014
Haringey
HIGH ROAD
N22
2014
Haringey
HIGH ROAD
N22
2014
Haringey
HIGH ROAD
N22
2014
Haringey
HIGH ROAD
N22
2014
Haringey
JAMES PLACE
N17
2014
Haringey
LORDSHIP LANE
N17
2014
Haringey
LORDSHIP LANE
N17
2014
Haringey
LORDSHIP LANE
N17
2014
Haringey
LORDSHIP LANE
N17
2014
Haringey
LORDSHIP LANE
N17
2014
Haringey
LYNDHURST ROAD
N22
2014
Haringey
MANOR ROAD
N17
2014
Haringey
MARKFIELD RECREATION GROUND
N15
2014
Haringey
MARKFIELD ROAD
N15
2014
Haringey
MARSH LANE
N17
2014
Haringey
MAYES ROAD
N22
2014
Haringey
MORLEY AVENUE
N22
2014
Haringey
MUSWELL HILL BROADWAY
N10
2014
Haringey
NAPIER ROAD
N17
2014
Haringey
NELSON ROAD
N8
2014
Haringey
NEWLYN ROAD
N17
2014
Haringey
NORTH GROVE
N15
2014
Haringey
NORTHUMBERLAND GROVE
N17
2014
Haringey
NORTHUMBERLAND PARK
N17
2014
Haringey
PARK LANE
N17
2014
Haringey
PEMBURY ROAD
N17
2014
Haringey
PHILIP LANE
N15
2014
Haringey
POYNTON ROAD
N17
2014
Haringey
PROGRESS WAY
N22
2014
Haringey
REED ROAD
N17
2014
Haringey
REEDHAM CLOSE
N17
2014
Haringey
REEDHAM CLOSE
N17
2014
Haringey
RISLEY AVENUE
N17
2014
Haringey
RISLEY AVENUE
N17
2014
Haringey
RISLEY AVENUE
N17
2014
Haringey
RISLEY AVENUE
N17
2014
Haringey
RIVULET ROAD
N17
2014
Haringey
ROSEBERY AVENUE
N17
2014
Haringey
ROSLYN ROAD
N15
2014
Haringey
ROWLEY ROAD
N15
2014
Haringey
RUSKIN ROAD
N17
2014
Haringey
RUSKIN ROAD
N17
2014
Haringey
RUSSELL AVENUE
N22
2014
Haringey
SEVEN SISTERS ROAD
N4
2014
Haringey
SEVEN SISTERS ROAD
N4
2014
Haringey
SEVEN SISTERS ROAD
N4
2014
Haringey
SHELBOURNE ROAD
N17
2014
Haringey
SIRDAR ROAD
N22
2014
Haringey
ST. ANN'S ROAD
N15
2014
Haringey
ST. ANN'S ROAD
N15
2014
Haringey
ST. ANN'S ROAD
N15
2014
Haringey
ST. ANN'S ROAD
N15
2014
Haringey
ST. JAMES LANE
N10
2014
Haringey
ST. JAMES LANE
N10
2014
Haringey
ST. PAULS ROAD
N17
2014
Haringey
STONEBRIDGE ROAD
N15
2014
Haringey
THE ROUNDWAY
N17
2014
Haringey
THE ROUNDWAY
N17
2014
Haringey
TOTTENHAM LANE
N8
2014
Haringey
TURNPIKE LANE
N8
2014
Haringey
TURNPIKE LANE
N8
2014
Haringey
TURNPIKE LANE
N8
2014
Haringey
TURNPIKE LANE
N8
2014
Haringey
UMFREVILLE ROAD
N4
2014
Haringey
WALTHEOF GARDENS
N17
2014
Haringey
WAVERLEY ROAD
N17
2014
Haringey
WAVERLEY ROAD
N17
2014
Haringey
WEST GREEN ROAD
N15
2014
Haringey
WEST GREEN ROAD
N15
2014
Haringey
WEST GREEN ROAD
N15
2014
Haringey
WEST GREEN ROAD
N15
2014
Haringey
WEST ROAD
N17
2014
Haringey
WHITE HART LANE
N17
2014
Haringey
WHITE HART LANE
N22
2014
Haringey
WINCHELSEA ROAD
N17
2014
Haringey
WOODSIDE GARDENS
N17
2014
Haringey
WOODSIDE GARDENS
N17
2012
Harrow
ABERDEEN ROAD
HA3
2012
Harrow
ALEXANDRA AVENUE
HA2
2012
Harrow
ALEXANDRA AVENUE
HA2
2012
Harrow
ALEXANDRA AVENUE
HA2
2012
Harrow
ALEXANDRA AVENUE
HA2
2012
Harrow
ALEXANDRA AVENUE
HA2
2012
Harrow
ALEXANDRA PARADE, NORTHOLT ROAD
HA2
2012
Harrow
APPLE GROVE
HA2
2012
Harrow
BOWEN ROAD
HA1
2012
Harrow
BROOKE AVENUE
HA2
2012
Harrow
BUCKINGHAM GARDENS
HA8
2012
Harrow
BURNT OAK BROADWAY
HA8
2012
Harrow
CANNON LANE
HA5
2012
Harrow
CHARLTON ROAD
HA3
2012
Harrow
CHARLTON ROAD
HA3
2012
Harrow
COURTENAY AVENUE
HA3
2012
Harrow
EARLSMEAD
HA2
2012
Harrow
ELIOT DRIVE
HA2
2012
Harrow
ELIOT DRIVE
HA2
2012
Harrow
ELMGROVE GARDENS
HA1
2012
Harrow
ELMGROVE GARDENS
HA1
2012
Harrow
FAIRVIEW CRESCENT
HA2
2012
Harrow
FIELD END ROAD
HA4
2012
Harrow
GYLES PARK
HA7
2012
Harrow
HARROW VIEW
HA1
2012
Harrow
HAZELDENE DRIVE
HA5
2012
Harrow
HIGH ROAD
HA3
2012
Harrow
HIGH ROAD
HA3
2012
Harrow
HIGH STREET
HA3
2012
Harrow
HIGH STREET
HA3
2012
Harrow
HIGH STREET
HA3
2012
Harrow
HIGH STREET
HA3
2012
Harrow
HIGH STREET
HA3
2012
Harrow
HIGH STREET
HA3
2012
Harrow
HIGH STREET
HA3
2012
Harrow
HIGH STREET
HA3
2012
Harrow
HIGH WORPLE
HA2
2012
Harrow
HINDES ROAD
HA1
2012
Harrow
HINDES ROAD
HA1
2012
Harrow
KENTON LANE
HA3
2012
Harrow
KENTON LANE
HA3
2012
Harrow
KENTON RECREATION GROUND
* No recorded postcode
2012
Harrow
LADY AYLESFORD AVENUE
HA7
2012
Harrow
LONDON ROAD
HA7
2012
Harrow
LORNE ROAD
HA3
2012
Harrow
LOVE LANE
HA5
2012
Harrow
LOWLANDS ROAD
HA1
2012
Harrow
MARLBOROUGH HILL
HA1
2012
Harrow
MERTON ROAD
HA2
2012
Harrow
MILTON ROAD
HA1
2012
Harrow
N/K
* No recorded postcode
2012
Harrow
NORTHOLT ROAD
HA2
2012
Harrow
NUGENTS PARK
HA5
2012
Harrow
OVERBROOK WALK
HA8
2012
Harrow
PALMERSTON ROAD
HA3
2012
Harrow
RAYNERS LANE
HA2
2012
Harrow
RAYNERS LANE
HA2
2012
Harrow
REYNOLDS DRIVE
HA8
2012
Harrow
ROXBOROUGH PARK
HA1
2012
Harrow
SCOTT CRESCENT
HA2
2012
Harrow
SCOTTS CRESCENT
* No recorded postcode
2012
Harrow
SILVERDALE CLOSE
UB5
2012
Harrow
SILVERDALE CLOSE
UB5
2012
Harrow
SPENCER ROAD
HA3
2012
Harrow
ST. PAULS AVENUE
HA3
2012
Harrow
STUART AVENUE
HA2
2012
Harrow
SUFFOLK ROAD
HA2
2012
Harrow
THE BYE WAY
HA3
2012
Harrow
THE CROSS WAY
HA3
2012
Harrow
TUDOR ROAD
HA3
2012
Harrow
WESTFIELD PARK
HA5
2012
Harrow
WINCHESTER ROAD
HA3
2013
Harrow
ABBOTS DRIVE
HA2
2013
Harrow
BEAUFORT AVENUE
HA3
2013
Harrow
BELMONT ROAD
HA3
2013
Harrow
BRIDGE STREET
HA5
2013
Harrow
BURNT OAK BROADWAY
HA8
2013
Harrow
CANNON LANE
HA5
2013
Harrow
CCC
* No recorded postcode
2013
Harrow
CHANDOS CRESCENT
HA8
2013
Harrow
CHRISTCHURCH AVENUE
HA3
2013
Harrow
CHRISTCHURCH AVENUE
HA3
2013
Harrow
COTMAN GARDENS
HA8
2013
Harrow
COURTENAY AVENUE
HA3
2013
Harrow
EARLSMEAD
HA2
2013
Harrow
EASTCOTE LANE
HA2
2013
Harrow
FRANCIS ROAD
HA1
2013
Harrow
GREENFORD ROAD
HA1
2013
Harrow
HAMEL CLOSE
HA3
2013
Harrow
HAMPDEN ROAD
HA3
2013
Harrow
HEADSTONE LANE
HA3
2013
Harrow
HIGH ROAD
HA3
2013
Harrow
HIGH STREET
HA3
2013
Harrow
HIGH STREET
HA3
2013
Harrow
HIGH STREET
HA3
2013
Harrow
HIGH STREET
HA3
2013
Harrow
HINDES ROAD
HA1
2013
Harrow
HITCHIN LANE
* No recorded postcode
2013
Harrow
HONEYPOT LANE
HA7
2013
Harrow
KENTON LANE
HA3
2013
Harrow
MOLLISON WAY
HA8
2013
Harrow
NORTHOLT ROAD
HA2
2013
Harrow
NORTHOLT ROAD
HA2
2013
Harrow
NORTHOLT ROAD
HA2
2013
Harrow
NORTHOLT ROAD
HA2
2013
Harrow
PARK WAY
HA8
2013
Harrow
PARK WAY
HA8
2013
Harrow
PARKFIELD ROAD
HA2
2013
Harrow
PARKFIELD ROAD
HA2
2013
Harrow
PINNER ROAD
HA2
2013
Harrow
RICKMANSWORTH ROAD
HA5
2013
Harrow
ROWE WALK
HA2
2013
Harrow
ROXBOROUGH ROAD
HA1
2013
Harrow
SALISBURY ROAD
HA1
2013
Harrow
SOUTH HILL AVENUE
HA2
2013
Harrow
ST. MARGARETS AVENUE
HA2
2013
Harrow
STANLEY ROAD
HA2
2013
Harrow
STATION ROAD
HA1
2013
Harrow
STATION ROAD
HA1
2013
Harrow
STATION ROAD
* No recorded postcode
2013
Harrow
STUART AVENUE
HA2
2013
Harrow
THE HEIGHTS
* No recorded postcode
2013
Harrow
THE HEIGHTS
* No recorded postcode
2013
Harrow
WOOD END AVENUE
HA2
2013
Harrow
YEADING AVENUE
HA2
2014
Harrow
ALEXANDRA AVENUE
HA2
2014
Harrow
AVONDALE ROAD
HA3
2014
Harrow
BEECHWOOD AVENUE
HA2
2014
Harrow
BLAWITH ROAD
HA1
2014
Harrow
BORROWDALE AVENUE
HA3
2014
Harrow
BRANCKER ROAD
HA3
2014
Harrow
BROCKHURST CLOSE
HA7
2014
Harrow
BROCKHURST CLOSE
HA7
2014
Harrow
BROCKHURST CLOSE
* No recorded postcode
2014
Harrow
BUCKINGHAM ROAD
HA8
2014
Harrow
BYRON ROAD
HA1
2014
Harrow
CARLTON AVENUE
HA3
2014
Harrow
CARMELITE ROAD
HA3
2014
Harrow
CHANDOS CRESCENT
HA8
2014
Harrow