High Road in Haringey looks like any other British high street. Sandwiched between the customary charity shops, coffee outlets and fried chicken takeaways are retailers such as Tesco, Primark and JD Sports. At first glance, the road, which runs from the Turnpike Lane junction up past Wood Green tube station and towards Green Lanes, is nondescript to a fault.
But behind the big name brands and facades lies a grim reality: more people were stabbed here than anywhere else in London in the last three years.
An investigation by IBTimes UK has shown there were 58 stabbings along High Road between 2012 and 2014 - more than double the number in the Old Kent Road, in Southwark, which had the second highest number of recorded stabbings with 28. In total 9,666 stabbings were recorded across London in that period.
Attacks along the road happened in the N15, N17 and N22 postcodes. While the data will make grim reading for residents, the true picture could be worse. Police recorded 16 stabbings at nearby Green Lanes, two of which were in the N15 postcode.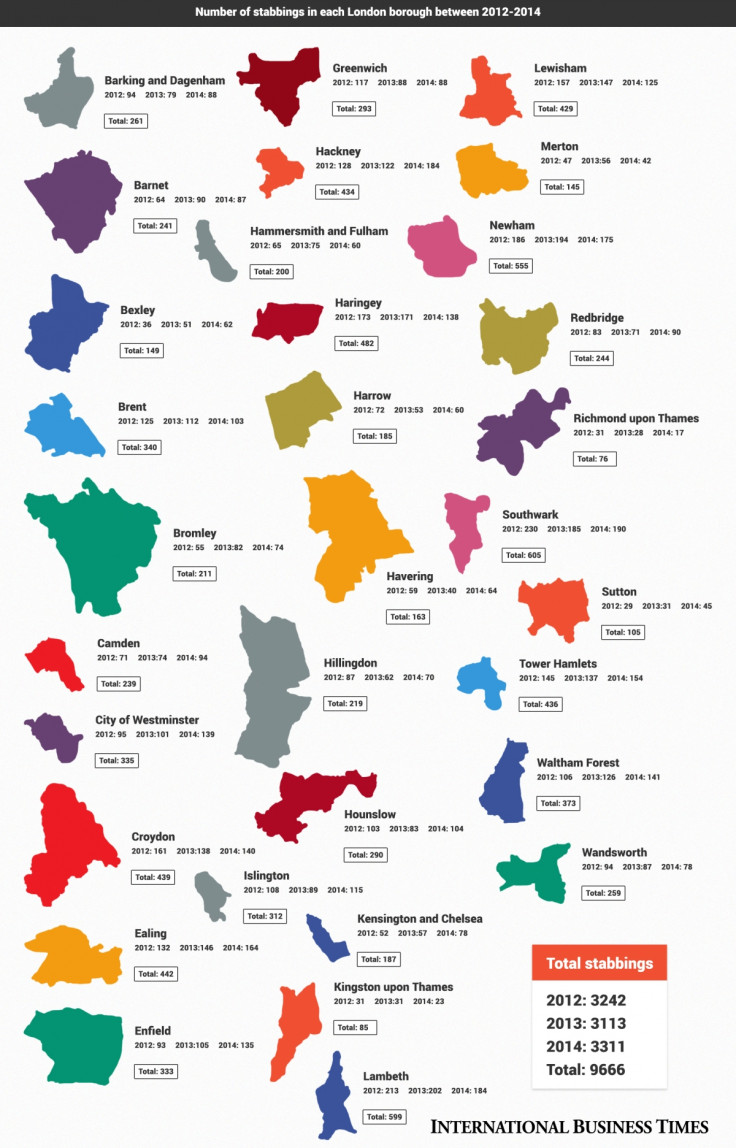 The figures, released after a request under the Freedom of Information Act, showed stabbings in Haringey in the same three years declined from 173 to 138, giving it the fourth worst record of the 32 London boroughs.
Southwark earned the unwanted title of borough with the most stabbings over the period. Its 605 incidents were six more than the number reported in Lambeth (599) and 50 more than Newham (555).
According to the figures, you are least likely to be stabbed in Richmond-upon-Thames, which had 76 incidents - 88% fewer than in Southwark. Kingston-upon-Thames was just as safe with 85 stabbings.
Teenage deaths
When Alfie Stone was stabbed to death in West Ruislip earlier this month he became the 13th teenager to be fatally cut down in London this year. They are:
Bilal Mirza, 18, Marylebone, 1 August
Isaiah Ekpaloba, 18, Wood Green, 9 January
Shaquan Sammy-Plummer, 17, Enfield, 31 January
Alan Cartwright, 15, Islington, 27 February
Nathan Murray, 18, Sydenham, 1 June
Stefan Appleton, 17, Islington, 10 June
Shaquan Mario Fearon, 17, 3 September
Marcel Addai, 17, Hackney, 4 September
17-year-old boy, Acton, 16 October
17-year-old boy - Kenton 8 November
Alfie Stone, West Ruislip, 9 November
More and more youngsters in the capital are buying knives online and the Metropolitan Police has focused its efforts on reducing possession while also reducing stop and search. Its attempts come against a backdrop of a changing culture in which today's street gangs arm themselves with blades for protection from other armed gangs.
A recent half-term operation by the Met in October recovered more than 120 knives, while this week police in Ealing seized a knife from an 11-year-old and two 15-year-old boys were seriously injured in a knife fight at Kingsdale Foundation school in West Dulwich.
"We are committed to doing all we can to reduce knife crime, to tackle London's gangs and take more knives and weapons off our streets. It is for this reason that we tackle knife crime head-on with operations such as Operation Sceptre, run over the October half term," a Met Police statement said.
"During that week-long operation, officers conducted over 780 weapon sweeps, seized over 120 knives and 50 offensive weapons. 69 individuals were arrested for being in possession of a knife, blade or weapon."
Detective chief supt. Kevin Southworth, of Trident & Area Crime Command said last week the force had managed to slow down the increase in knife crime from a 22% year-on-year increase before the summer to 6% now. "In relative terms, London is a very safe city," he added.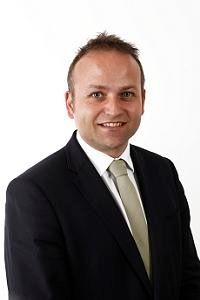 The Government keeps pretending crime is falling - Bermondsey and Old Southwark MP Neil Coyle
Labour MP Neil Coyle, whose Bermondsey and Old Southwark constituency is bisected by Old Kent Road, feared government cuts to policing in next week's Autumn statement could lead to more stabbings.
"I'm very disappointed to see knife crime on the rise. The Government keeps pretending crime is falling when businesses and local people in my constituency are seeing a growth in a range of crimes, including knife crime," he said.
"Southwark has lost 200 police officers and PCSOs since 2010 and next week's spending review is likely to result in further reductions. I am very concerned what this will mean for further knife incidents.
"Sadly, 84% of last year's knife crimes did not result in prosecutions. If people feel they can get away with knife crime it is also likely to rise further. The police need every resource available to be able to tackle the problem better and ensure people feel safe anywhere in the constituency."
Crime along Old Kent Road, he added, was due to its close proximity to travel links "as street robberies are more common around main transport nodes".