London's 'Walkie Talkie' Skyscraper Blamed for Melting Cars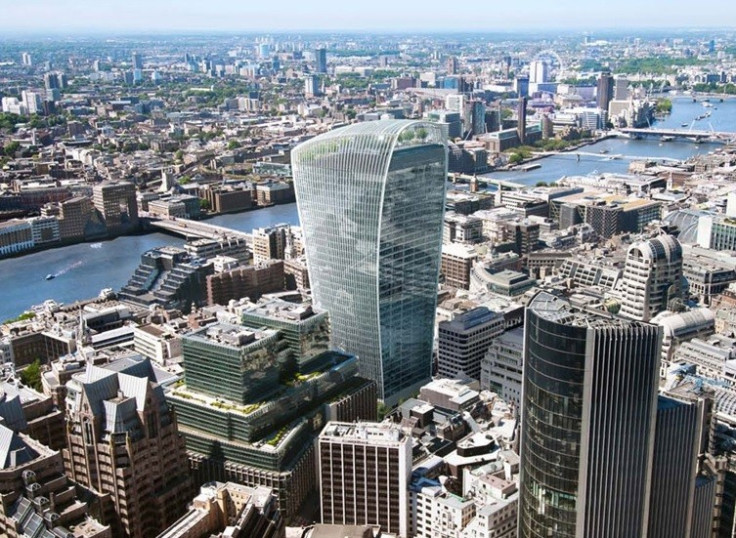 Cars in central London are in danger of being melted like ants beneath a magnifying glass by a brand new skyscraper towering over the area, a driver has claimed.
The driver said that his Jaguar was seriously damaged while parked in the street beneath 20 Fenchurch Street, nicknamed the "Walkie Talkie" because of its shape, in the City.
The block, which cost £200m to build, stands 160m (525ft) high and measures 1.8m sq ft, is believed to have focused reflected light straight down on to vehicles in one of three parking bays in Eastcheap. Powerful beams of light are bouncing off the glass surface of the structure and damaging the bodywork on parked vehicles, it has been claimed.
Eyewitness John Sawyer said bicycle saddles were blazing in the heat. He told IBTimes UK: "We actually saw bike saddles melting and ''smoking'' in the row of bicycles parked outside Maplin's electric shop, directly opposite the building."
"The street was unbearably hot as the sun shone down at around peak lunchtime at 1.15pm."
Company director Martin Lindsay parked his Jaguar there and said the chassis had been partially melted by the time he returned an hour later.
He told City AM: "They are going to have to do something. I'm gutted."
The Walkie Talkie, also known as the Pint Glass for its bulbous shape, is not due to be completed until March but the recent scorching weather may have exposed a potential design flaw.
An investigation has been launched by a development team for co-owners Canary Wharf and Land Securities. A spokesman told IBTimes UK that the construction giants have not accepted liability for damage inflicted on vehicles.
"It's too early to say - we are investigating the issue," he said. "We are aware of this issue and three bays have been suspended while we look in to the matter.
"It's very unlikely that the bays will be out of action permanently. It's temporary at the moment but when they will reopen is yet to be confirmed."
A City of London spokesman told IBTimes UK that action was under way.
"The City of London has not received any complaints but we have received a request by the owners of the building to suspend three parking bays which were affected in Eastcheap."
© Copyright IBTimes 2023. All rights reserved.