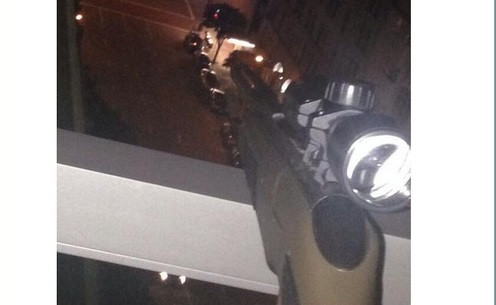 A man has been arrested after claiming he would shoot somebody if one of his tweets was retweeted 100 times.
Dakkari Dijon McAnuff was arrested after he posted an image of a rifle pointing out of a window in Los Angeles with the caption: "100 RTs and I'll shoot someone walking".
McAnuff then tweeted a follow-up tweet appearing to show a wounded man along with the comment "Man Down. Mission Completed".
Police were alerted to the tweets and were able to track McAnuff down to his apartment in downtown LA. He was arrested on suspicion of making criminal threats with bail set at $50,000 (£30,000).
McAnuff's Twitter account was later suspended.
Police revealed McAnuff did not actually follow up his promise and the gun he posed with in the original photograph was a relatively harmless air rifle.
The arrest is on the heels of a report from the UK which shows the number of crimes linked to Twitter has risen by 390% over the past three years.