The untold story of an "almost human" gorilla raised by a family in an English village 100 years ago has been revealed in a new book by a local historian. The ape, which was given the name 'John Daniel', was a popular figure in the village of Uley, Gloucestershire, where for years he would wander from house to house drinking cider with locals and occasionally attending classes at the local school.
The ape would help with the washing up, make his own bed and even use the toilet in the home of the family, who bought him for £300 ($378) from a department-store window after taking pity on him.
He had been flown to London as a captive after his parents were shot by French soldiers in the Gabon in 1917.
John Daniel would drink three large whiskies each night before bed time and enjoyed a cigar from time to time, according to archivist Margaret Groom, who has uncovered photos of the primate posing with primary-school children in their annual photograph.
The charismatic animal would also spend time in London with his owner Alyce Cunningham at her rooms in London's Sloane Street. He is reported to have loved trips to London Zoo, where he would make eyes at female gorillas.
Miss Cunningham sold John Daniel to an American buyer for more than £1000 in 1921 in the belief that he would be homed with a family in Florida. But he was instead sent to the Ringling-Barnum Circus. He died of pneumonia within a month.
His death was reported in The Times. It read: "While the North American climate is the immediate cause of John Daniel's death, his constitution was weakened by long abstinence from food and by general depression occasioned, his keepers say, by homesickness."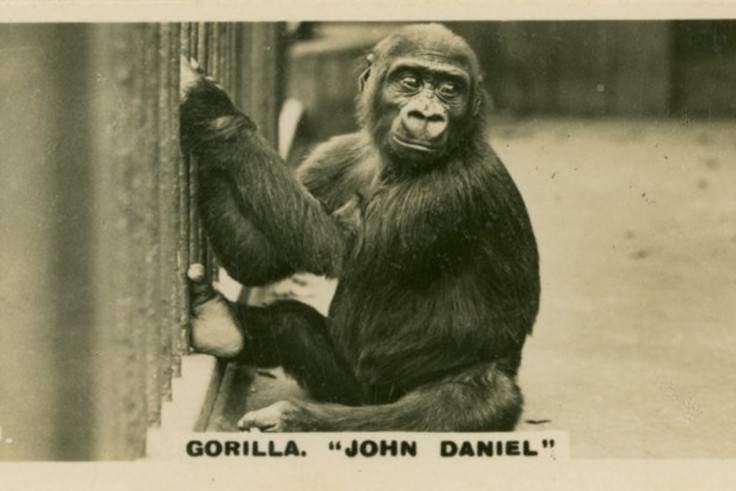 Groom, who has recently researched and written the story of John Daniel as part of a wider history of Uley village, told The Times: "He grew up in the village with the schoolchildren who were exceptionally fond of John Daniel. Until recently, we had people who remembered him walking with the children.
"He used to go into gardens and eat the roses. The children used to push him around in a wheelbarrow. He knew which house was good for cider, and would often go to that house to draw a mug of cider.
"He was also fascinated by the village cobbler, and would watch him repairing shoes. He had his own bedroom, he could use the light switch and toilet, he made his own bed and helped with the washing up."
An exhibition celebrating John Daniel's life will open later this year at Prema Arts Centre in Uley.