Louise Redknapp is looking to buy her own place in London in the midst of a possible reconciliation with estranged husband Jamie.
The 43-year-old working mother was said to be regretting leaving her former footballer husband of 19 years after splitting from him just months after starring on Strictly Come Dancing.
But divorce may be off the cards for the parents of three, who married in 1998, with a source claiming that the Eternal singer "still loves" the Sky Sports pundit.
A source told heat magazine: "Louise says that, with space, she hopes they can start talking about their future. She still loves Jamie and hopes to 'consciously re-couple', but, at the moment, is saying she wants her freedom and identity back.
"For now, she wants to split her time between their home in Surrey - so they can spend key times together as a family - and a place of her own in London.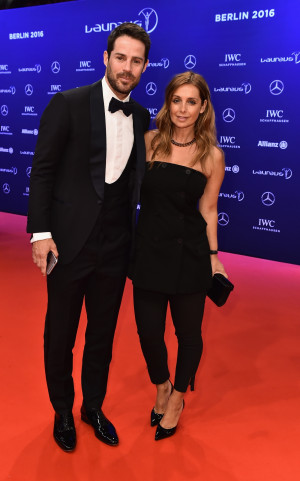 "Jamie has told friends that they come and go and take it in turns with the boys - and that's down to their work schedules, not because of a divorce.
"She doesn't want their home to be a negative place for anyone... and wants to be near her BFF Daisy Lowe... neither (Louise or Jamie) feel it has to end in divorce," they added.
This comes just after Now magazine reported that Louise was having second thoughts about the split. An insider recently told them: "Louise has started to wobble and really misses Jamie and her family.
"It's all been a hard call for her and there have been times when she's felt stronger and times she felt weaker about being apart from Jamie and now she's seriously wavering on her decision."
Louise previously claimed that her marriage made her feel like she was a Stepford Wife trapped in a Surrey mansion, trying her best to me the perfect mother and wife.
She told Stella magazine earlier this year: "It's so hard because I love him. He's an amazing man and we've had 20 good years together.
"I know he's trying to understand that I do need to do this. People might look at me and think I've got everything, but a sweeping staircase and designer handbag doesn't really do it for me."
Since wowing the public on Strictly and making new friends including Daisy Lowe, Louise has gone on to star in the London show Cabaret and announced 2018 tour dates as a solo artist. She is also continuing with fashion blogging which she was more heavily involved with before Strictly.
Louise claimed that the turning point came when pal Daisy Lowe boosted her confidence by bursting into her dressing room and telling her: "Oh, my God look at your gorgeous body. You have to wear a sexy dress."
She added: "She kept on at me to wear something sexy and by week three, I was in a leotard and tights not feeling self-conscious at all.
"I could feel myself changing week by week. Sometimes I felt like crying because deep down inside me this voice was screaming 'This is what I have been missing!'"