A man in Louisiana who allegedly reached for a loaded gun during a traffic stop, claimed that he could not be arrested as he is a "sovereign citizen" and does not recognise the US police.
According to the Slidell Police Department, James Doyle Webb was stopped while driving a green Ford Ranger while on Thursday (1 September) for violating several traffic laws.
The 54-year-old, from Mississippi, refused to hand over his licence, registration and insurance paperwork, demanding the names and badge numbers of the officers detaining him instead.
After the officers handed over their details, Webb used a small notepad to write that he was a "free traveller".
WWLTV reported that he stated he was part of a "sovereign citizens' movement" and so was not required to provide any information as US law enforcement agencies have no legal authority over him.
Slidell PD claims that Webb reached for a bag sitting next to him, and as its officers believed it may have contained a weapon, they ordered Webb to get out of his car. The
The Sun Herald reports that Webb then tried to roll his window up and lock the car, but the police officers removed Webb from the vehicle and arrested him.
It is alleged that the officers found a loaded .40 calibre Heckler & Koch handgun in the vehicle, which was seized.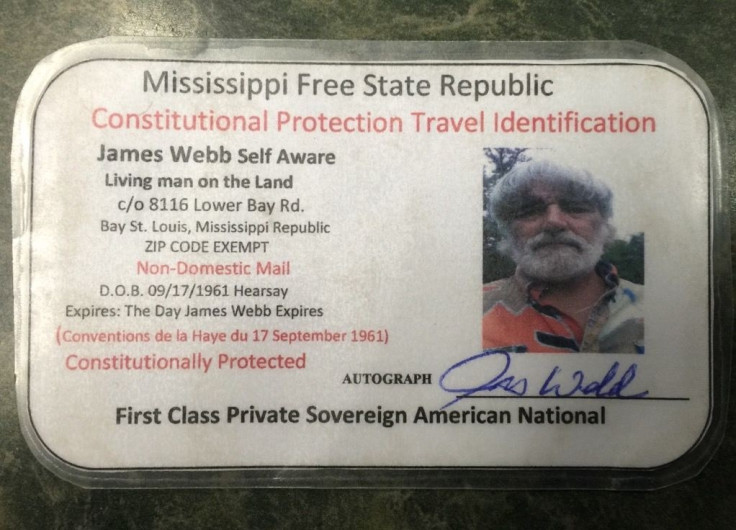 During the arrest, where no injuries were reported, it has been claimed that Webb kept on repeating that he is an explosives expert.
"I do feel that the quick actions on the part of the officers may have prevented this incident from escalating into a more dangerous and tragic encounter," Slidell Police Chief Eugene Howard said. "Our officers will enforce the laws, including the traffic laws, and will do what is required to keep themselves and the citizens of our community safe."
Webb is charged with several violations, including not having a driver's license, a license plate or insurance. He was also charged with resisting an officer.
What is a 'sovereign citizen'?
"Based on idiosyncratic readings of the Declaration of Independence and Bill of Rights [sovereign citizens] believe that natural citizens are citizens of the United States by virtue of having been born in one of the 50 states, not including the District of Columbia, and have ostensibly revoked their US federal citizenship…[They] believe that natural citizens are not subject to any United States federal law, including being subject to the jurisdiction of federal courts, but are subject to natural law and common law.
"Many sovereign citizens believe that only white men have rights because only the Constitution and the Bill of Rights apply, not any subsequent amendments. Thus, they believe the ratification of the Thirteenth Amendment (abolishing slavery) is unconstitutional and of no effect. They may also believe that the Nineteenth Amendment is unconstitutional, meaning women never gained suffrage and any election in which women vote is null and void."
Source: RationalWiki