A Royal Marine suspected of being involved with a dissident Republican arms cache found in Northern Ireland has been arrested at a barracks in Taunton, Somerset under the 2000 Terrorism Act confirm reports on Wednesday (24 August).
The arrest of father-of-one Ciaran Maxwell, 30, followed months of investigations linked to the discovery of two arms dumps in Larne, which was said to have involved MI5 as well as the Police Service of Northern Ireland (PSNI).
Before Maxwell's arrest, properties were searched in both Devon and Larne. Following Maxwell's arrest by the Metropolitan Police Counter Terrorism Command, houses in Exminster and nearby woods were searched by officers from the South West Counter Terrorism Intelligence Unit. The PSNI searched at least two residential properties in the Old Glenarm Road are of Larne.
The two arms hauls were discovered within a three-month period in Carnfunnock and Capanagh parks and included anti-personnel mines, armour-piercing devices, pipe bombs and ammunition. The discoveries came as the UK intelligence services raised the threat of a terror attack by Republican groups on the mainland to substantial.
Maxwell is being held at a police station in the South West. His arrest is thought to be the first case of a serving British soldier being arrested on suspicion of involvement with Republicans.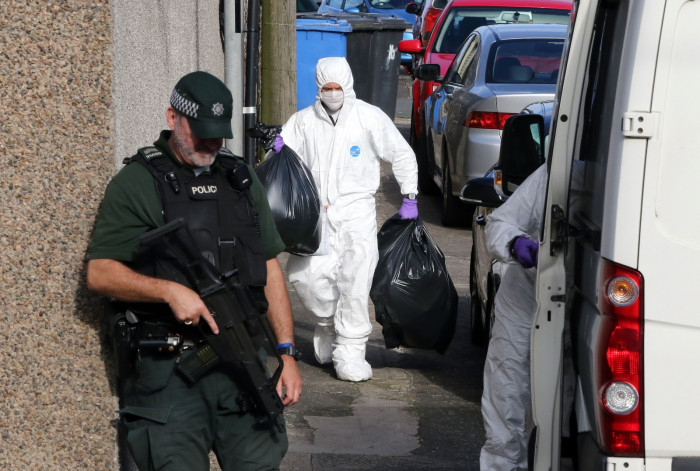 One former marine said Maxwell's arrest had shocked the military community in the area. "We have in the past had a small number of soldiers who have been involved with Loyalist organisations, but as far as I am aware this is the first to be possibly linked to Republican organisation," the unnamed man told the Telegraph.
A Ministry of Defence spokesman said: "We are aware of a police investigation involving the arrest of a member of the Armed Forces under the 2000 Terrorism Act and will assist this investigation fully. It would be inappropriate to comment further on an ongoing investigation."