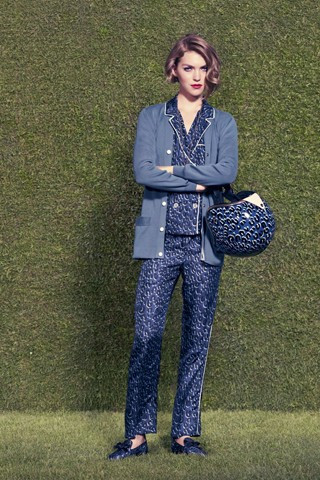 The hot new loungewear trend allows teens to wear pajamas all day and stay in style.
Every morning, teens across the country are brushing their teeth, packing their backpacks and putting on "loungewear," which seems to be a fancy euphemism for pajamas or bedclothes, and the Wall Street Journal reports that it is gaining popularity nationwide.
It's gone way beyond the occasional "pajama day," that commonly-celebrated event when schools encourage students to wear their sleepwear to school for fun. In fact the loungewear trend is one that the most fashion-conscious teens are following every day. From slippers and yoga pants to pajama bottoms, hoodies and camisoles, kids as young as 13 are dressing down to the bare essentials: something comfortable they may end up wearing when they go to sleep at night, according to the Journal. Amy Liter, of Batesville, Ind., told the paper that Meg, her 14-year-old daughter, rocks the loungewear trend often. "Kids can get away with that kind of stuff," Liter told the paper. "I think our standards have come down a lot."
High fashion is also taking note of the loungewear trend--which is now being led by lower-market retailers like Kohl's, Victoria's Secret and Abercombie & Fitch--as Tom Ford and other top labels are introducing loungewear lines.
Also going by the term "activewear," sales of sweatsuits--which fit squarely in the loungewear repertoire--to girls aged 13 to 17 have risen 21 percent over the past year, compared with the 7.8 percent overall rise in clothing sales for that age group, according to the research firm NPD Group, the Journal reported.
Louisiana's Caddo Parish Commissioner Michael Williams is one of a number of elected officials and other adults voicing their displeasure with loungewear, the Journal reported, and he plans to introduce an ordinance to make it illegal to wear pajamas in public.
Allison Fell, a 13-year-old girl from Illinois, told the Journal that she wears sweat-clothes and slipper-esque shoes to her middle school in order to be comfortable. "Sometimes, it's just because it's kind of my lazy day," she told the paper.