If you're one of the many fans of Sherlock actor Benedict Cumberbatch, you'd probably be thrilled to know that you can now buy a colouring book of him and let your imagination run wild.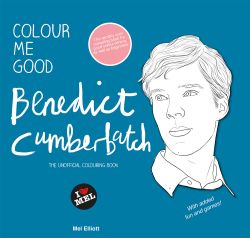 The book, entitled Colour Me Good Benedict Cumberbatch, is the work of British artist Mel Simone Elliott and comes with 16 black outline drawings of the gorgeous actor, together with contemporary facts and jokes.
Sherlock devotees are invited to imagine themselves as the girlfriend or boyfriend of Cumberbatch and draw amusing pictures that depict their life together.
She's even managed to fit in a picture of Cumberbatch where you are invited to "photobomb" him, the way he did at the Oscars earlier this month.
"I'm always trying to think of new subject matter that fits in with my brand and it always has to be something or someone that I'm really into myself," Elliott told IBTimes UK.
"He just seems perfect – quite quirky, talented and interesting. My customer base don't really like people who are too mainstream so I always try to select subjects that are a little bit different. I would never feature Justin Bieber or Katy Perry, for example."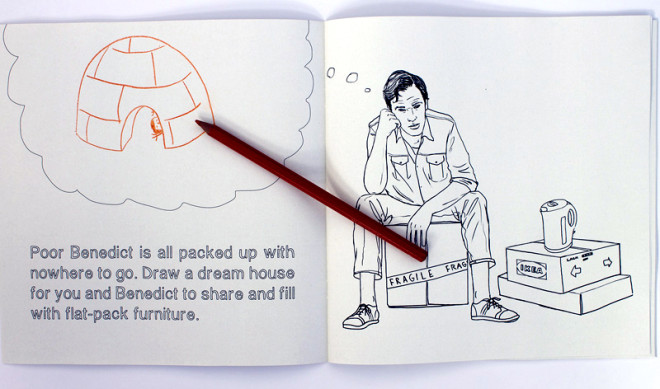 Elliott, 40, was a single mother with two sons who used to work in education as a student support officer. At 29, she quit her job and decided to go to art school.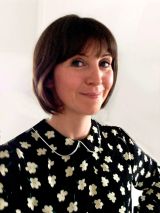 "It's something I've always wanted to do, I've been drawing since I was tiny. When you become a grown-up you end up getting a proper job, but I realised that it was something I couldn't stop doing so I decided to take the risk and go for it," she said.
Elliott graduated from the Royal College of Art in 2005 and started her own self-publishing business I Love Mel in 2009.
So far she has published 26 books, some of which feature other celebrities such as Kate Moss and Ryan Gosling, which are stocked by galleries and trendy shops like Topshop and Urban Outfitters, as well as overseas in four other continents.
She has also produced bespoke colouring books for Whitechapel Gallery, Tim Burgess, MTV New York and is about to start work on a book for Deadmau5.
Released last week, the Colour Me Good Benedict Cumberbatch book is currently available on the ILoveMel website or Shoreditch retailer Maiden for £7.50 and comes printed on 100% recycled paper.