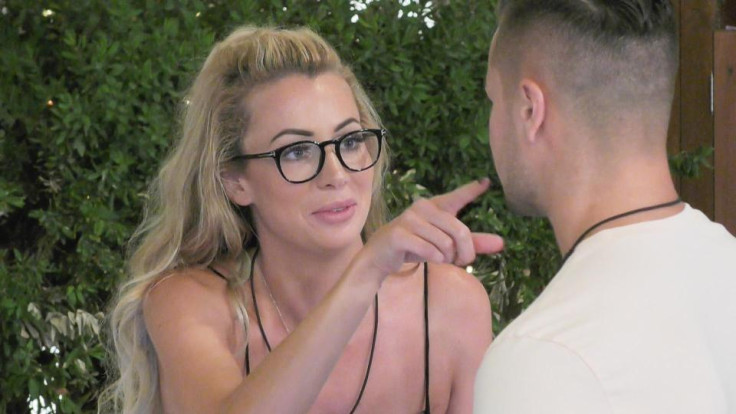 It looks like there's trouble in paradise. Olivia Attwood and Chris Hughes have been one of the most solid couples until a teaser of tonight's episode showed them appearing to break up.
Viewers of the ITV2 show were shocked when 26-year-old model Olivia made Chris cry in the short clip, telling him: "You don't get me and you never will get me.
"We're trying to force something that's not there and in real life it wouldn't work."
Chris, 24, is then seen crying on the day bed and saying: "It ain't f**king easy for me, you know that!"
The break-up is conveniently timed with the entrance of two new boys, Calvin Klein model Jamie Jewitt and Olympic athlete Theo Campbell – who Olivia called "very fit".
One fan tweeted in response: "Olivia just trying to cause shit between her and chris because she's had some attention from another guy #snake".
Another put: "If Olivia dumps Chris for Theo she clearly has the morals of an alley cat, she's so up herself!"
A third said: "As soon as a new guy walks in and shows slight interest in liv she just f**ks chris off, girl lives for the drama. So not ok."
Elsewhere in Wednesday night's (5 July) dramatic episode, usually defiant and level-headed Gabby Allen had a confidence crisis over never being picked for a date by newbies, claiming she felt like the "ugliest girl in the villa".
Though happy in a relationship with Marcel Somerville, Gabby was left feeling insecure after Jamie and Theo did not choose her for a date.
She told Montana Brown: "Why does no one ever want to date me?'
"It makes me feel so ugly every time someone comes in, no one ever wants to even try and get to know me. Not that I want to get to know anyone but it's like, what's wrong with me?"
Viewers sympathised with the 25-year-old Scouser, with one tweeting: "even i bloody fancy gabby, seeing her upset bc she feels ugly breaks my heart she's gorgeous".
A second put: "Gabby is my favourite girl on the island Beautiful inside and out. #gabby #loveisland #natural #honest"
Gabby went on to tell Marcel that she planned to get fake breasts and hair extensions once she left the villa due to the "confidence knock" of being surrounded by "gorgeous girls."
Marcel comforted her by saying: "I love you just the way you are. Honestly, you are amazing, forget everyone else in this villa, it doesn't matter what they look like if they're taller than you, if they've got bigger boobs than you.
"They haven't got better abs than you have they? Or a better bum. Or better eyes because your eyes are beautiful. No one is better than you in here that is a fact."
Love Island continues tonight at 9pm on ITV2.