Liverpool midfielder Lucas Leiva has signed a new long-term contract, the club have confirmed.
The Brazilian midfielder joined The Reds in 2007 and has since made over 200 appearances for the club across six seasons at Anfield.
Lucas has endured constant injury problems, suffering an anterior cruciate knee ligament injury mid-way through the 2011/12 campaign, while a thigh problem in August ruled him out for three months of Liverpool's current campaign.
But the 26 year old, fighting fit once again, says remaining at Liverpool was an easy decision given the club's potential for success.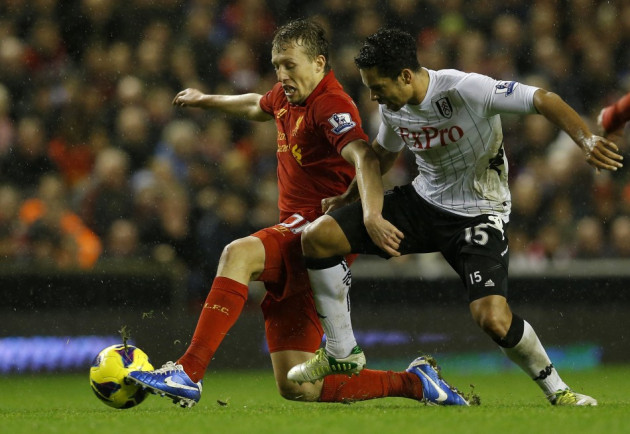 "I am really delighted to have the opportunity to play for this club," he said. "It's where I think I belong and where I wanted to stay, so I am very happy and looking forward to a few more years here.
"If I didn't believe, I don't think I would have signed a new deal.
"I think that's why we've seen a lot of players signing new deals - because we really believe this club will be back where it should be.
"The last two or three years have had some difficult moments for the club, but I think keeping these players and getting help from new players will be important for us - and we'll work really hard to do whatever we can to put Liverpool back fighting for titles and in games the fans are really looking forward to."
Managing director Ian Ayre added: "It's fantastic. He has been such a great servant to the club and I think during the period he went through with his two injuries, he put so much work into it and the club supported him through it.
"He just goes from strength to strength. We said throughout last summer and January, we wanted to keep our best, experienced players, and this is another great example of that.
"The manager has said several times that as well as having a great, young squad, it's important we have experience and it's important we have characters. People like Lucas fit that.
"He'll tell you he's still very young, but in footballing terms he's experienced and a big part of the team."
Lucas joins the likes of Luis Suarez, Raheem Sterling, Daniel Agger and Suso among others in penning new contracts, testimony to the belief the club's squad have in new manager Brendan Rodgers who appears set to lead Liverpool to a return to the top six.