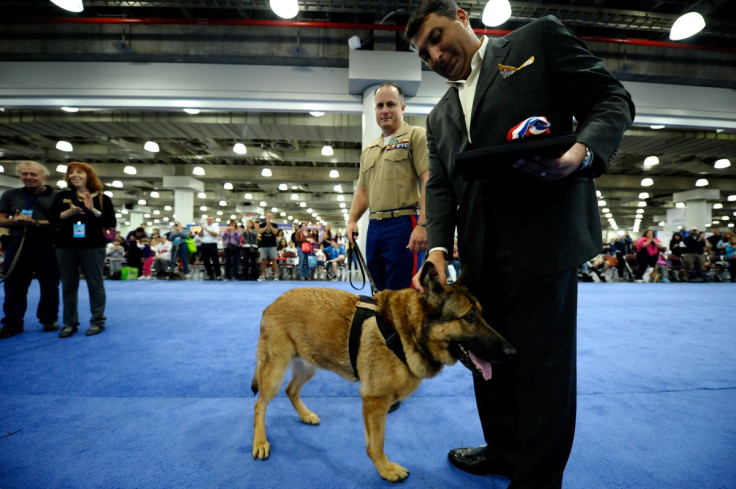 Lucca, a retired US Marine Corps dog, was awarded the PDSA Dickin Medal at a ceremony at Wellington Barracks in London on Tuesday (5 April). The award is considered the animal equivalent of the Victoria Cross and his given out by the vetinary charity, People's Dispensary for Sick Animals (PDSA).
The 12-year-old German Shepard completed over 400 separate missions during six years of service. In 2012, Lucca discovered a 30lb improvised explosive device while on patrol, when she started searching for other devices a second exploded. She lost her left leg and suffered severe chest burns but thanks to life saving first aid from her handler, Cpl Juan Rodriguez, she survived and recovered.
None of the soldiers were hurt in the explosion that took Lucca's leg. Cpl Rodriguez said: "Through all of her treatment and despite the pain she was in, her temperament never changed. Her fighting spirit was plain to see and I was so proud of how quickly she recovered."
Lucca is the 67th animal to be awarded a PDSA Dickin Award and the first US Marine Corps dog. The award, started in 1943 by PDSA founder, Maria Dickin, has been previously awarded to 30 dogs, 32 WWII carrier pigeons, three horses and one cat, named Simon, who was the rat fighting ship's cat on HMS Amethyst.
The medal was awarded to Lucca by PDSA Director General, Jan McLoughlin, who said: "Lucca's conspicuous gallantry and devotion to duty makes her a hugely deserving recipient of the PDSA Dickin Medal. Her ability and determination to seek out arms and explosives preserved human life amid some of the world's fiercest military conflicts."
Lucca attended the ceremony with her current owner, Gunnery Sergeant Christopher Willingham. Willingham said: "Lucca is very intelligent, loyal and had an amazing drive for work as a search dog. She is the only reason I made it home to my family and I am fortunate to have served with her. In addition to her incredible detection capabilities, Lucca was instrumental in increasing morale for the troops we supported."