In a lucky escape for 127 passengers and crew members, a pilot of a Turkish airlines flight recently landed it "blind" after hailstorms smashed the cockpit's windscreen and also damaged the auto pilot function.
The Atlasglobal flight en route to Erkan in northern Cyprus on Thursday (27 July) made an emergency landing at Ataturk Airport in Turkish capital Istanbul after unexpectedly encountering hail and thunderstorms.
Captain Alexander Akopov, who was hailed as a hero for successfully landing the Airbus A320 despite obscured visibility because of the cracked windscreen, said he and other crew were celebrating as if it was a "second birthday".
He said that the hailstones were the size of hen's eggs and had badly damaged the aircraft, almost tearing off its nosecone and taking out the auto pilot function.
"I have been flying for 30 years. This is our professional reliability," he said.
"Our locator did not show this weather disaster, this is why it happened. It was hard, but the main thing is that people are alive."
Akopov was later honoured with the Ukrainian "Order For Courage" award for the safe landing of the hail-damaged passenger plane, Daily Mail reported.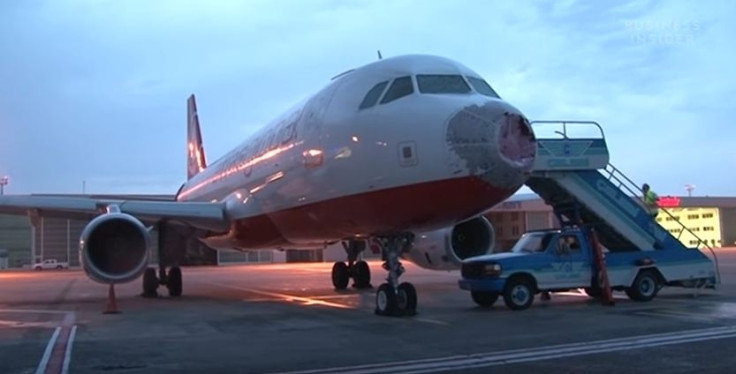 The bad weather encounter happened 10 minutes after the flight took off from the Ataturk airport and had climbed to 1,300 metres. The hailstones cracked the cockpit windows, making it difficult for the pilot to see his runway approach.
The Ataturk airport was immediately closed down due to the severe weather conditions, but the pilot was allowed to return considering the emergency situation, The Sun reported.