Luis Rubiales claims he kissed Jenni Hermoso 'like a daughter' amid sexual abuse accusations
The Spain striker has lodged a formal complaint against the former RFEF president.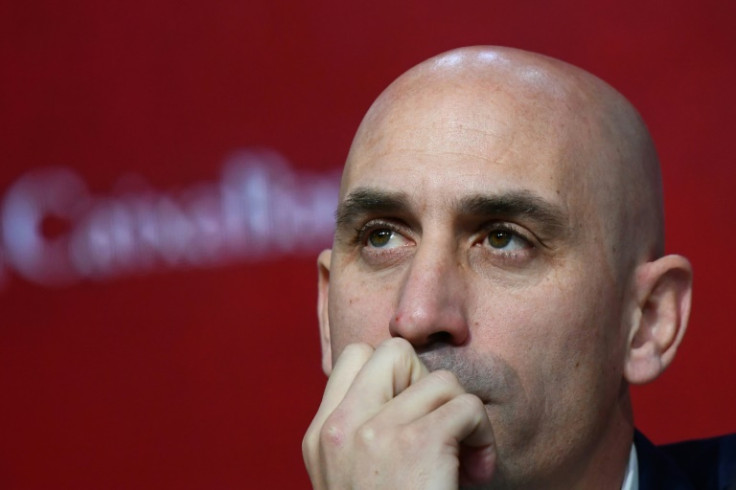 On Tuesday, embattled Royal Spanish Football Federation (RFEF) president Luis Rubiales appeared in a 90-minute interview with TalkTV host Piers Morgan. Apart from confirming his resignation from the top post in the RFEF and the vice-presidency of UEFA, Rubiales also insisted that he is "a good guy" and that he kissed Spanish striker Jenni Hermoso 'like a daughter".
It may be remembered that Rubiales found himself in hot water after millions of people from around the world witnessed him kiss Hermoso square on the lips after she received her gold medal during the awarding ceremony following Spain's victory at the Women's World Cup final.
The 46-year-old was seen grabbing Hermoso's face with both hands before planting a kiss on her lips, which was evidently different to the pecks on the cheeks that he gave the other footballers. Hermoso was heard saying that she did not like it during an Instagram Live video that was streamed from the team dressing room a few minutes after the incident.
Rubiales brushed off the criticism and was even heard in the same livestream saying that the team would fly to Ibiza to celebrate the World Championship as well as his wedding to Hermoso.
In the week following the incident, the RFEF issued a statement on behalf of Hermoso saying that the kiss was "spontaneous" and "consensual". However, with the help of the FutPro union, the player later came out with her own statement saying that she never consented to the kiss and that it was not to her liking.
She also filed a formal complaint for sexual assault with the Spanish prosecutors office, and a criminal investigation has now been opened.
Despite massive outrage from many fronts, Rubiales initially refused to resign, calling himself the victim of "false feminism". He was later suspended by FIFA for an initial 90-day period, and the RFEF representatives from across Spain eventually asked for his resignation.
Now, more than three weeks since the controversy broke, Rubiales finally decided to hand in his resignation. However, he insisted that he is innocent and told Morgan: "My intentions were noble, enthusiastic, 100% non-sexual, 100%, I repeat, 100%."
Rubiales also said that despite the allegations made against him by Hermoso herself and those that witnessed the incident, "there was no harm, no sexual content, no aggression, nothing like that".
Even though Hermoso had already made it clear that she felt violated, Rubiales bizarrely told Morgan: "The significance of the kiss to Jenni would have been exactly the same as a kiss to one of my daughters. Between friends and family, that's very, very common."
Rubiales still stands by his opinion that the kiss was "a happy moment" and part of the celebrations. However, he understands that he should have practised more restraint and "should have acted in a more solemn, cold and diplomatic way".
Morgan then asked Rubiales about the legal complaints against him, to which he replied: "I want to say that, Piers, again, I made a mistake, I apologise, but let's be clear, under no circumstance is this sexual aggression."
When asked about the criminal investigation, Rubiales said that he had "full faith that the truth will come out and everything will be fine", adding that he is "a good guy".
The "crotch grab" incident
Apart from the kiss on Hermoso, Rubiales is also under investigation for his indecent behaviour near Spain's Infanta Sofia. He grabbed his crotch in a celebratory gesture while he was standing beside the 16-year-old princess in the stands as Spain defeated England 1-0 in the final.
"For this I am truly ashamed... There are no excuses. In Spain, with guys as well as women, there's an expression which would probably translate to something like, oh my genitals or something to that respect.
"So, this vulgar expression, basically what it means is: bravo, well done. I apologise because it's not the behaviour I should have had."
He previously apologised to the Spanish royals for his behaviour, saying: "I apologise to the Queen and the Infanta for a very unedifying gesture. I do not justify myself: sorry."
© Copyright IBTimes 2023. All rights reserved.