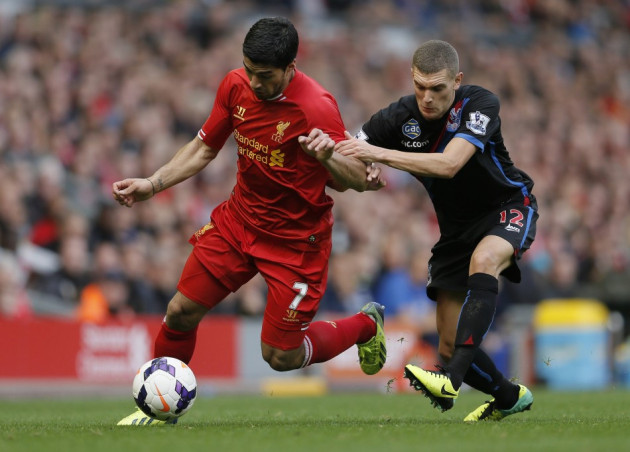 Liverpool manager Brendan Rodgers has praised Luis Suarez competitive appetite - a streak which has often got the Uruguayan into trouble.
Suarez's insatiable will to win has often seen him go to extraordinary lengths to overcome his opponents, with the 26 year old often accused of diving and cheating during his spell in English football.
The Uruguay international has claimed that since his return from a 10-match ban for biting Branislav Ivanovic that he had adopted a calmer persona however Rodgers doesn't want the Liverpool's striker to nullify his fighting qualities.
"With Luis, he demands the best from himself and his teammates at all times, and we saw that against Crystal Palace, even right at the end when the game was won," Rodgers told Liverpool's official website.
"You see his work-rate and his demand for a better ball into the box, and that's what we want.
"There was a moment in the first half where he chased back on the left and won the ball too. There is no doubting his commitment, and there is no doubting he will always have that desire at all times.
"That attitude from Luis to demand the best is exactly what we want. We can't accept just winning and say it's all right.
"I think it's much easier to keep on performing well and, if you do lose, then you can still go into the next game with confidence.
"We did at Manchester United - we may have lost there, but we played really well, and that gave us the belief to go into the next game at Sunderland with the right attitude.
"But if your standards slip and you start losing one or two games, it's a lot harder to get back up to the level again.
"With the likes of Luis, that demand is what we want - the demand that we maintain our standards at all times. It is an important part of what we are trying to do."
Suarez's return to the Liverpool first team has produced three goals in as many appearances, while his combination with Daniel Sturridge is proving devastating.
Both strikers have 19 league goals in 2013, with no player having scored more and the pair are closing in on becoming the most potent in Premier League history.
During a summer in which Suarez made no secret over his desire to leave Anfield, Rodgers and managing director Ian Ayre stood by the controversial forward.