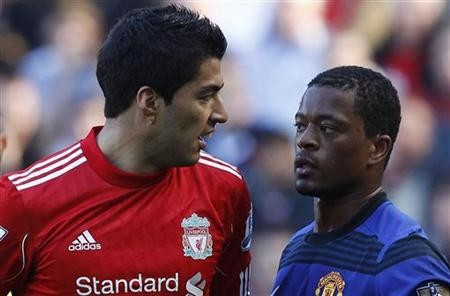 Former Liverpool hero Luis Suarez has once again insisted he didn't racially abuse Patrice Evra during a 2011 clash between Manchester United and the Merseysiders.
The Uruguayan international was then handed an eight-match ban and a £40,000 fine by the Football Association despite both him and Liverpool refusing to accept blame.
Suarez, who left Anfield for Barcelona in the summer, is currently serving another four-month ban from competitive action after biting Giorgio Chiellini during a June 2014 World Cup match against Italy.
The Barcelona striker accepts the blame for his latest biting issue, but when questioned about other incidents during an interview with Barcelona official website, he said: "When I say I'm sorry it's because I regret something."
"Being sorry implies regret. But they have also sometimes judged me on things that aren't true, such as the racism thing (with Evra).
"I was accused without evidence and that's what grieved me the most. The others were actions when it was me who did wrong. I accepted that and begged forgiveness, but the racism thing, when I was accused without evidence, that did upset me."
Having been allowed to play friendlies since his summer move to Barcelona, the Uruguayan is expected to make his debut for the Catalans in the La Liga Clasico against Real Madrid on 25 October.
Suarez is looking forward to it after scoring a brace during Uruguay's 3-0 victory over Oman on Monday.
"It is good to accept that you have made a mistake and that's what I did. I left it a few days because you have to remember that I'm only human and sometimes it's hard to face the truth.
"I found it hard to take in and to realise what I had done. Those were days when I didn't want to know about it. I just wanted to be with my wife and children, who supported me through that time. I didn't want to listen to anybody, or speak to anybody. I didn't want to accept it."
"When I have gone to the last few games that the team has played I've noticed how I'm getting more anxious to play and help them out. What I have to do now is be there to encourage them, to be at their side and wait, because there's nothing else I can do. I hate feeling so impotent because I can't do anything to help them," he said.
"The first two months (of the ban) were the hardest because I didn't feel like a footballer. That was the worst part. It is always good to accept your mistakes but what angered me most was not feeling like a professional, not feeling like another worker, like other footballers do. That's what hurt me the most."