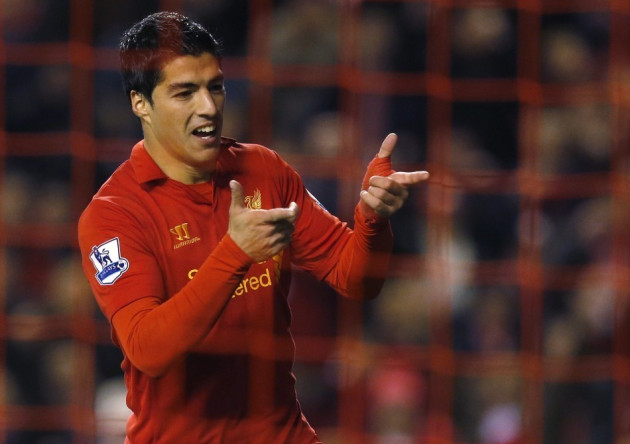 Arsenal legend Dennis Bergkamp has endorsed Luis Suarez in his autobiography, Stillness and Speed, and stated that young players should look up to him for inspiration.
The Uruguayan has been in the news for all the wrong reasons since his arrival in the Premier League in 2011, having been suspended for eight games in the 2011/12 season for racially abusing Patrice Evra and following with a 10-game ban for biting Chelsea defender Branislav Ivanovic.
However, in between all the negativity and unsporting behaviour, the striker has been in great form for Liverpool and has emerged as among the best strikers in the Premier League.
The 26-year-old has already scored 38 league goals and the respect he commands among rival managers was visible when Arsene Wenger, known for his stringent transfer spending, made a £40m plus £1 bid for the player. However, Liverpool's reluctance to sell scuppered the transfer and the Gunners shifted their attention to Mesut Ozil, landing him on a £42.5m deal from Real Madrid.
"Everything is done for the kids now. It is a problem. They are picked up from school by mini-vans, the food is there, the teaching is there. How can they develop themselves if everything is done for them? We've got players in the first team now who have come through and are used to playing a certain style. As soon as it's a little bit different, it's 'Oh no, I don't know what to do!'" Bergkamp said.
"You could see the difference with Luis Suarez. Of course, maybe you wouldn't agree with the things he did, but he was always trying to create something, always thinking 'How do I get the best out of this situation? Do I have to pull the shirt of the defender to get to him? Do I get out of position to control the ball?'" he added.
The Uruguayan made his first start in a Liverpool shirt in over four months in a 1-0 loss to Manchester United at Old Trafford in the third round of the Capital One Cup in midweek.