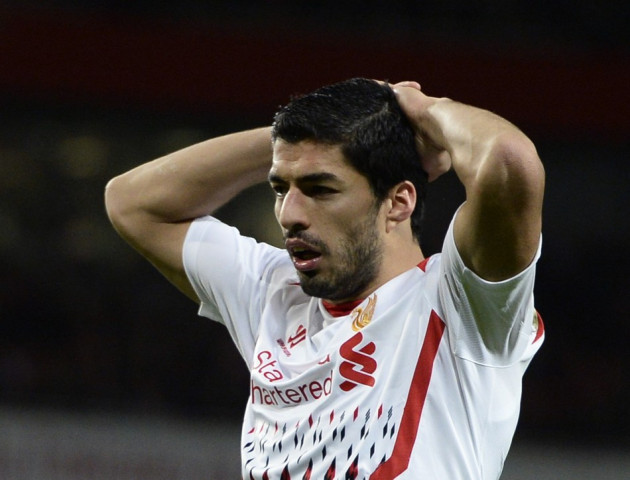 Liverpool striker Luis Suarez says he is unaware of any interest from Real Madrid.
The 26 year old has scored six goals for the Reds this season following his return from a ten-match ban as the Uruguayan continues to rediscover his best form.
Suarez's form comes after a summer in which he attempted to force his way out of Liverpool, and suggestions have been rife that should the club fail to qualify for the Champions League then he would again seek an exit from Anfield, with Real reportedly prepping a £45m bid.
When asked about rumours regarding a move to Real, the Liverpool hitman told Uruguayan radio station Sport 890: "Absolutely nothing at all.
"In the team we are all really excited, looking forward and looking forward to a good season," he added.
"The Premier League is the best league there is. The stadiums, the atmosphere and the fans make football here so entertaining."
Suarez and striker partner Daniel Sturridge have been in unstoppable form for Liverpool since the former's return to first team duties against Manchester United in the League Cup.
The pair are the highest scoring players in the Premier League in 2013 and are being talked about as the best partnership in recent top flight history.
Manager Brendan Rodgers is therefore determined to keep the pair together for as long as possible and while he concedes Suarez is deserving of top tier European football, he believes Liverpool's growth means that is achievable on Merseyside.
Rodgers insisted: "I think he, like ourselves, wants to be at the very highest level he can be.
"And you can see by his performances he deserves to be looking at that level.
"But it also shows he has been excellent in his attitude, you see his work rate - that is the key.
"For me, this is the place for Luis. I still maintain that even if we were in mid-table this would be the place for him to be because this is a massive club - a global institution.
"But as a football club and as a team we are growing - and he can grow with us. Luis has the support of everyone at the club and the love of everyone and because this is a worldwide institution, there is no better place for him to grow."