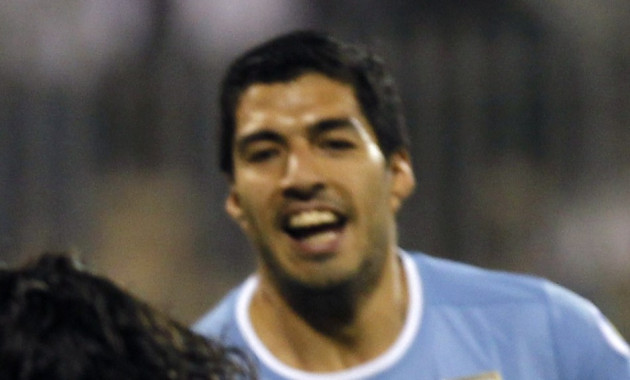 Uruguay produced a five-star display to all but secure qualification for the 2014 World Cup after thrashing Jordan in Amman, raising hopes that Liverpool striker Luis Suarez may be rested for the return leg in Montevideo ahead of the Merseyside derby against Everton.
Suarez was expected to play a crucial role in the Copa America holders' attempts to reach the finals in Brazil next summer and in order to return to club duties in time to play in the Merseyside derby on 23 November, was expected to endure a 17,000-mile round trip.
With manager Brendan Rodgers having admitted to being tempted to rest Suarez following previous long-haul international trips, Liverpool's joint-top scorer this season was likely to be rested for the away game against Everton upon his return to the club.
However, after goals from Maxi Pereira, Christian Stuani, Nicolas Lodiero, Cristian Rodriguez and Edinson Cavani gave Uruguay a handsome lead going into the second leg at home and put one foot in the World Cup, Suarez could be rested.
The 26 year old, who has scored eight goals for Liverpool this term after returning from a 10-match ban, is likely to remain with his international team-mates for the second leg in a week's time, but could be saved from further physical expenditure.
Though the Liverpool forward would still be substantially jet-lagged, his omission from the Uruguay team next week would significantly raise hopes over his participation against Everton in the 200th meeting between the two clubs at Goodison Park.
Uruguay boss Oscar Tarbarez said however: "We always have to think that the opponent against us will give their best, although the potential of Jordan is not the same as the other teams we face in the qualifiers.
This is a reality, but this team throughout the Asian Round had not lost a home game. We wanted to stop them and did it very well, since they do not have the same individual strength as we do.
"It was one of our best game. I think the big difference was the strength of Uruguay and the level of the defense of Jordan.
"I do not think the result has importance in defining the tie. The fans in the stadium and will have to give us serious support so that the Uruguay's qualification for the World Cup is a party."