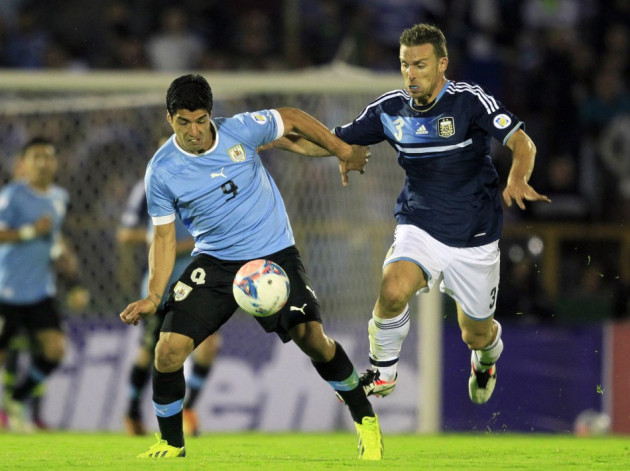 Liverpool striker Luis Suarez could miss the Merseyside derby against Everton on 23 November with the prospect of a 17,000 mile round trip to fulfil Uruguay's two-legged World Cup play-off tie against Jordan.
Despite beating Argentina 3-2 in their final game, Uruguay finished fifth in South American qualifying below Ecuador on goal difference. Oscar Tabarez's side now face a two-legged play-off next month against Jordan, who finished fifth in Asian qualifying, in order to qualify for Brazil next year.
After playing Fulham in the Premier League on 9 November, Suarez must travel 2,426 miles to Amman to meet up with his Uruguayan team-mates ahead of the first leg against Jordan on 13 November.
The second leg takes place in Montevideo a week later on 20 November, a full 7,525-mile journey away. Suarez then faces a 14-hour 6,887 return flight to Liverpool ahead of the Merseyside derby against Everton on 23 November.
By the time Suarez returns to British shores he will have travelled close to 17,000 miles in less than two weeks, leaving him severely leg-weary ahead of his return to club action, not least due to having featured in two decisive World Cup qualifiers for the 2011 Copa America champions.
Suarez has never previously missed matches due to travel commitments with Uruguay, however, the distance he will be required to travel is unprecedented since he moved to Liverpool from Ajax in January 2011.
Liverpool manager Brendan Rodgers wanted to rest Suarez last October following two qualifiers against Argentina and Boliva, which required the 26 year old to make one trip to South America, coupled with one internal journey.
On that occasion, prior to the signing of Daniel Sturridge and with Fabio Borini out injured, Rodgers was forced to play Suarez against Reading upon his return but hinted that resources had been stretched.
"I've rested Luis a couple of times knowing the squad we have and the games we have, looking to prioritise, but like most footballers he wants to play every minute of every game," Rodgers said last October.
"It is something I need to assess [resting Suarez]. The most important thing is winning games - that is what we need to do and in order to do that as often as we can I need the best players on the field.
"It is not ideal, but that is the card we have been dealt. It leaves us short, there's no getting away from that but it is what we've got. We just crack on and look to get positive results."
With the demand on Suarez likely to be great given the lack of forward options available to Rodgers, it would come as no surprise should the Northern Irishman rest the forward for the trip to Everton.
Suarez's Schedule
9 November: Liverpool v Fulham
2,426 miles: Liverpool to Amman
13 November: Jordan v Uruguay
7,552 miles: Amman to Montevideo
20 November: Uruguay v Jordan
6,887 miles: Montevideo to Liverpool
23 November: Everton v Liverpool
Total: 16,865 miles (Source: http://www.distancefromto.net)