Ex-Liverpool striker Michael Owen believes Luis Suarez will only leave Anfield for one of Spain's big spending clubs.
The Uruguayan has scored 21 league goals this season and in the division's top scorer ahead of fellow PFA Players Player of the Year contenders Robin van Persie and Gareth Bale.
Suarez has admitted he would be tempted by an offer from Bundesliga leaders Bayern Munich in the near future, but Owen, who scored 158 goals in 297 games across an eight-year career on Merseyside, doesn't expect Liverpool's top scorer to leave the club.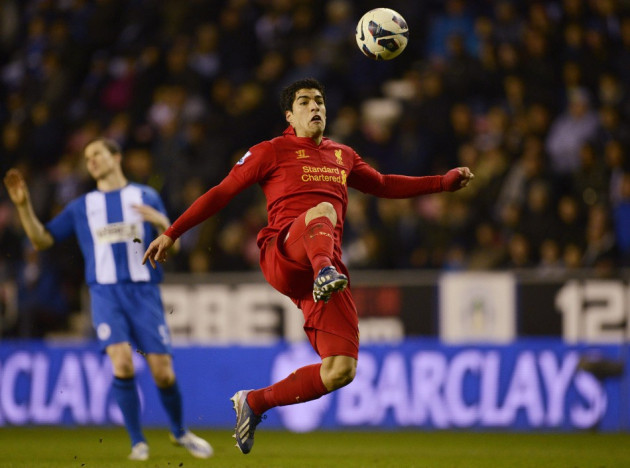 "I doubt it [Suarez will leave]," Owen said. "I think they'll move heaven and earth to keep him and he's obviously world class.
"If you look at the places that he could potentially go and in my eyes he could only go to Spain. I couldn't imagine another Premier League club prising him away so I think it's only one of the Spanish giants that could take him. One of them they've got the money to do it.
"I can imagine Liverpool fans will be desperate to keep him. When you look at some of the players Liverpool have had over the last few years, they've had some fantastic players; the Alonso's, the Mascherano's, obviously Gerrard; they've had three of the best midfielders in the world.
"You don't come across them too often so when you get them you have to move heaven and earth to keep them. I'm sure Liverpool will be doing that."
After a season marred by an eight-match ban for racially abusing Manchester United's Patrice Evra, Suarez has bounced back in the 2012/13 campaign and is on course to scoop a series of individual awards amid his best ever scoring season for the club
The Reds, in Brendan Rodgers' first game in charge are five points off Europa League qualification, and 10 adrift of fourth place Chelsea, who occupy the final Champions League place.
Suarez has suggested that he will stay at Liverpool regardless of whether they qualify for the Champions League a competition they are set to go a fourth consecutive season without reaching.