Liverpool striker Luis Suarez is the front-runner for the Professional Footballers' Association Players' Player of the Year award, according to Reds boss Brendan Rodgers.
Suarez, alongside Manchester United's Robin van Persie, the current holder, and Tottenham Hotspur winger Gareth Bale are the leading contenders for the prestigious award set to be announced in April.
The Uruguayan has scored 23 club goals this season, as many as Van Persie but four more than Bale on 19, and Rodgers believes Suarez is the outstanding candidate to scoop the award and become the first Liverpool player to win the award since Steven Gerrard in 2006.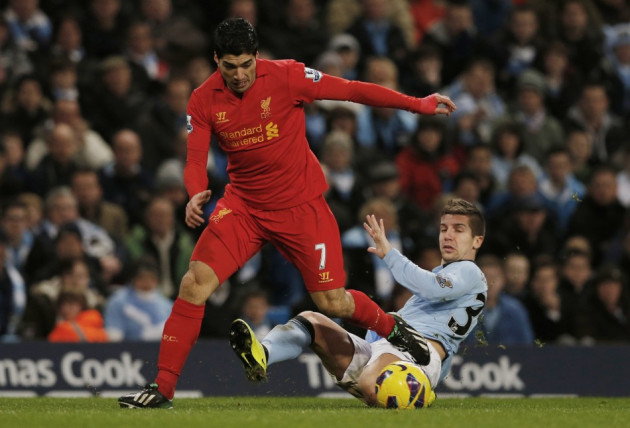 "He has been phenomenal," he said. "That is not just my opinion as his manager.
"If I look across the board, this is a guy who had to play alone up front because he was the only striker we had for nearly six months and never missed a day's training and he played every minute of every game. His performances have spoken for themselves.
"There's many great players in this league but for me he has been absolutely outstanding. I couldn't look much further than Luis."
"You have seen Luis' cleverness and his movement and his intensity.
"When I came in everyone was talking about his finishing, how many chances he missed and whatnot but you look at his conversion rate this year, his chances and the goals he has put away, he has been brilliant.
"He is a terrific focal point for the team."
While Bale and Van Persie are both former winners of the prize, Suarez, after a season during which he was banned for eight matches for racially abusing United defender Patrice Evra, has yet to win the award.
During the second half of the campaign, Suarez will benefit from having new signing Daniel Sturridge alongside him and Rodgers has seen evidence of Liverpool benefitting already from the pair.
"They are two top players," the Liverpool boss said. "They have got different strengths and qualities.
"Daniel is hungry for goals and wants to play on the shoulder [of the defender]. Again his movement is really good. People will associate him with pace and power and running ability and shooting ability but when both of them play in and around each other, they find space really well.
"With Daniel, you have got that possibility to play in behind and penetrate and go over the top and in between [defences] and when he is away he is very hard to catch because he is so fast. They are a real potent threat so that partnership is growing all the time. It is pleasing to see."