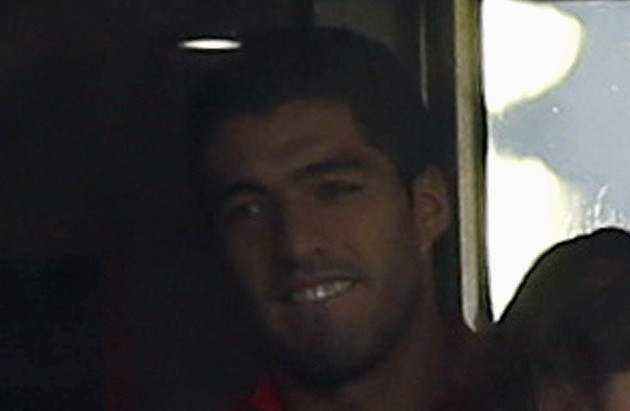 Liverpool legend Alan Hansen expects Luis Suarez to again demand to leave Anfield next summer should the club fail to qualify for the Champions League and is predicting his return to the team to be overshadowed by controversy.
The Uruguayan is set to return to The Reds first team for the League Cup trip to Manchester United for the first time since April after serving a 10 match ban for biting Chelsea defender Branislav Ivanovic.
The ban is the second substantial punishment handed to Suarez during his spell in English football, having received an eight-match ban for racially abusing United's Patrice Evra, while accusations of cheating have often following the 26 year old.
And Hansen, a winner of 18 major honours with Liverpool, says such is Suarez's capacity to attract controversy that his return is unlikely to go without incident.
"He is always going to be the type of player who is on the edge," Hansen wrote in the Daily Telegraph. "I do not see that changing but it must be hoped he stops going too far.
"I tend to think controversy will always follow Suarez, but you would hope he will not go biting anyone again.
"What you have to consider is there will be no player in the Premier League targeted more than him.
"Opponents will try everything to wind him up, knowing he has a boiling point. There will be all sorts of tricks going on, whether it is kicking him or trying to get under his skin to make him do something stupid.
"Only time will tell if he has learned his lesson, but there is no player in the world who does not respond in some form or another when they have been taking stick during the course of the game.
"He clearly needs to handle his emotions and channel his aggression in a more productive way, ensuring he is not having to spend any more time at Anfield watching from the executive box because he is suspended when he should be on the pitch."
Suarez failed to manufacture a move away from Liverpool in the summer after seeing two bids from Arsenal rejected during the summer transfer window, with the Uruguay international targeting Champions League football.
Despite undergoing a radical overhaul under Brendan Rodgers, Liverpool finished 12 points adrift of the top four in the 2012/13 season and despite setting the pace during the early phase of this campaign, defeat to Southampton has tempered expectations.
Hansen says failure to finish in the Champions League qualification places will likely see Suarez demand to leave for a third consecutive summer.
"Suarez knows he can get a higher salary and Champions League football elsewhere, so if Liverpool are not in the top four come May, it seems inevitable he will kick up a fuss again," Hansen added.
"He is a superstar player at a club which cannot currently satisfy all his ambitions. Look around the world and 99 per cent of players would feel exactly as he does.
"Circumstances have changed and the club will know if they are not playing Champions League football next season it is going to be even more difficult to keep Suârez. The hope for Liverpool is Suârez's return is the catalyst for finishing in the top four and keeping him."