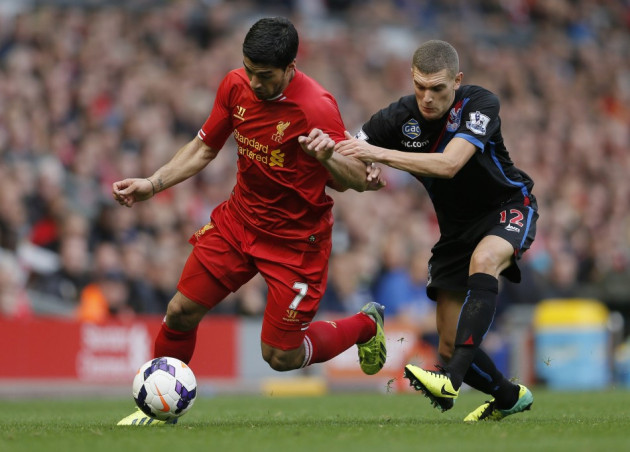 Liverpool striker Luis Suarez has dropped the strongest hint yet regarding plans to remain at Anfield on a long-term basis by claiming he has reached "tranquillity" since captain Steven Gerrard persuaded him to remain in the Premier League.
Suarez made no secret of his desire to leave The Reds in the summer with the Merseysiders forced to reject two bids from Arsenal for his services.
The 27 year old has since made a dramatic U-turn over his wish to leave Liverpool and since returning from a 10-match ban has recaptured the form which saw him finish second to Gareth Bale in the running for the PFA Players' Player of the Year award.
And the Uruguayan has attributed his new-found content at Liverpool to a change in his persona following Gerrard's demand for him to stay.
"I am aware that in recent matches that I played I've been calmer," Suarez who returned in the League Cup tie against Manchester United, said.
"I am very self-critical and I realised that playing well, with more tranquility, is helping me a lot. I realise and I prefer to continue and not be the same as before.
"In England it is not common and the first club people told me I was not going to go with them but I told them that my children were going to come with me, like it or not.
"They understood in the end and it was a nice moment, a unique moment for me. My family make me think hard and calm me. Nowadays I think a lot of them when I'm on the pitch.
"I wanted my son to live as I do. I suffered a lot as a child and I do not want my children, or any other child, to experience the circumstances as I did.
"As a parent I try to give them all the love in the world and all the best."
"Gerrard, for me, is a legend in Liverpool and a great team-mate that helped me a lot," he added.
"His attitude was an extra boost for me to take the decision to stay in Liverpool; both he and the fans of Liverpool influenced much for that.
"I admire him for the great player he is worldwide. For me he will always be a benchmark and at club level he is the best player I have played with in my career, as a person and as a footballer."
Suarez has scored three goals in as many games since he was banned for biting Chelsea defender Branislav Ivanovic in April and is helping spearhead the most feared partnership in the Premier League along with Daniel Sturridge
Both have scored 19 Premier League goals in 2013, more than any other player including Christian Benteke and Robin van Persie and the duo are assisting in Liverpool's assault on a top four spot.
Suggestions were rife following Suarez's reconciliation with Liverpool that the ex-Ajax player would seek to leave the club next summer should they fail to qualify for the Champions League.
But an impressive start to the season, coupled with his latest comments regarding his new start points towards an extended spell under Brendan Rodgers.