Liverpool captain Steven Gerrard has urged Luis Suarez to reconsider his decision to leave Anfield this summer and instead concentrate on helping the Reds qualify for the Champions League.
The 33-year-old believes the Gunners are his club's nearest rivals in the race for a top four place and selling the Uruguay international will make Arsene Wenger's side stronger and harder to beat.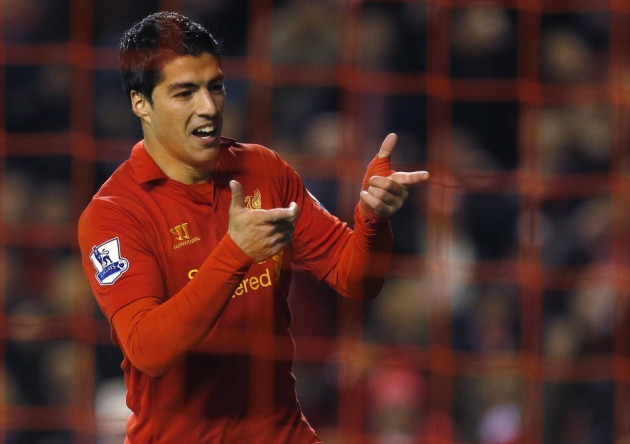 "If he goes to Arsenal, it obviously makes our season difficult. It strengthens them and they are our rivals for a top four position. From the club's point of view it doesn't make sense, no matter how much money is put on the table. Luis wants Champions League but so do I," the England international explained.
Suarez scored 23 goals in the Premier League last season, second only to former Arsenal star Robin van Persie; the Dutchman scored 26 to lead Manchester United to the title.
"If he was to stay for 12 months and we achieved a top four finish, there is no better place to play Champions League football than in front of an Anfield crowd," Gerrard told the Liverpool Echo.
The midfielder also admitted he was talking to Suarez but said he would respect his team mate's wishes should he ultimately choose to leave. He said he considered the South American the best player in the world, after Lionel Messi and Cristiano Ronaldo and revealed he would prefer Suarez moved to either Barcelona or Real Madrid.
Arsenal have had two bids rejected so far and ESPN believes the Gunners have been asked to pay at least £50m if they want the 26-year-old.
"It's difficult to finish in the top four because of the power of Man City, Chelsea and Manchester United. The likes of us, Tottenham and Arsenal are fighting [for] the other place available," Gerrard explained.
"If he was to go abroad to a Madrid or Barcelona I would understand. He's South American and from a family point of view, it's where they want to be. Some of the top players - Javier Mascherano, Xabi Alonso - their dream was to play for Madrid or Barcelona. If I was Luis I would wait because I think he's good enough to play for either," the Anfield legend concluded.