Police in Canada have confirmed that a severed human head found in a Montreal park belongs to Jin Lin, a Chinese student allegedly killed by a porn actor.
Luka Rocco Magnotta, 29, is accused of killing and dismembering Jin and mailing parts of his body to political headquarters and schools across Canada.
Magnotta pleaded not guilty to five charges against him, including murder.
The head was discovered in Angrignon Park after police received a tip-off. The park is just a few miles away from Magnotta's flat, where the murder is alleged to have taken place.
Montreal police spokeswoman Anie Lemieux said: "It had been there for quite some time but we won't go into details, partly out of respect for the family and friends of the victim.
"What is important is what we were looking for has been found and the rest of the investigation can continue."
Montreal police spokesman Robert St-Onge said police believe that they have recovered all of Lin's remains. His family have been informed.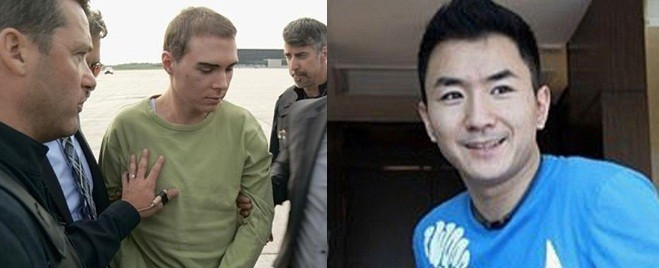 The case hit the headlines after a severed human foot was posted to the Canadian Conservative party headquarters on 29 May.
On the same day, a human hand was found at a postal warehouse in the Canadian capital of Ottawa. The package was addressed to the Liberal party of Canada.
A torso was found in a suitcase in bins outside Magnotta's apartment building in Montreal.
A week later, a foot and a hand were mailed to two schools in Vancouver. Tests confirmed that the body parts all belonged to Jun, who had been studying computer science student at Montreal's Concordia University.
Police said notes were included in most of the packages but declined to reveal what they said.
Magnotta was arrested at an internet café in Berlin's Neukoelln district on 4 June where he was reading articles about himself.
He did not contest his extradition from Germany.
A video of what police believe to be the killing appeared online. It reportedly shows a man killing a naked, bound man with an ice pick before dismembering him and performing sexual acts on the body.
A second, unedited version of the video seen by police reportedly shows the man eating parts of the body.
Magnotta has opted for a jury trial and is expected to face a preliminary hearing next March.
Along with murder, Magnotta is charged with defiling Lin's corpse.
He is also charged with harassing Canadian prime minister Stephen Harper and members of Parliament, and publishing and mailing obscene material.