Former Manchester United midfielder Lou Macari says Real Madrid midfielder Luka Modric could be the long-term replacement for Ryan Giggs.
The Welshman is the club's longest-ever serving player, having made over 900 appearances for United across a 23-year career.
Even at 39 years old, Giggs' career has continued apace, making 16 appearances this season, the latest in the defeat to Manchester City on Monday.
Giggs was at fault for the City equaliser scored by James Milner before half-time before being overrun after the break as Yaya Toure and Gareth Barry inspired the champions to a 2-1 victory.
Macari, himself a veteran of over 300 appearances for United, believes Giggs' days with the 19-time league champions are numbered, and says Modric, who joined Madrid from Tottenham Hotspur last summer, could be a potential replacement.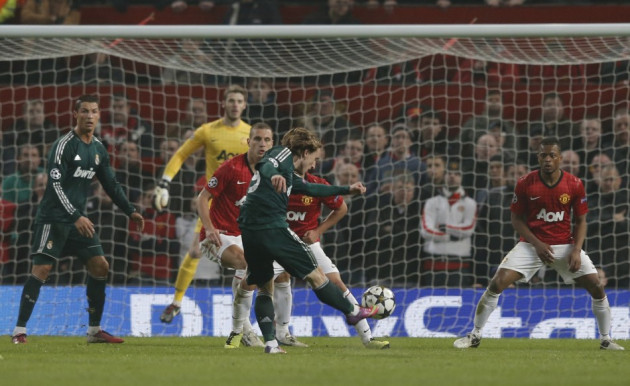 "Ryan was in there and for the last couple of months he's been fantastic but he was a little bit overrun last night because for the first time in a couple of month he's playing against top players in that midfield department," Macari told talkSPORT.
"They're all good players in the Man City midfield and he was a bit overrun and at 39 years old age you probably expect that long before last night.
"He's been consistent, he's been great but a 39 year old can't go on and on and on. He's getting near the end but I'm sure the manager will look at that department this summer and bring someone in. But who is that player going to be?
When asked if Modric would be considered, Macari added: "That's a possibility. If Jose Mourinho leaves Real Madrid he certainly won't want to be staying there."
United were last summer linked in dispatches with a move for Modric, but the club instead signed Shinji Kagawa and Nick Powell to bolster their midfield, while Robin van Persie arrived in a big money move from Arsenal.
Modric was voted the worst summer signing in La Liga in December but has played a more significant part since the New Year, scoring a vital equaliser in the Champions League win over United in March.