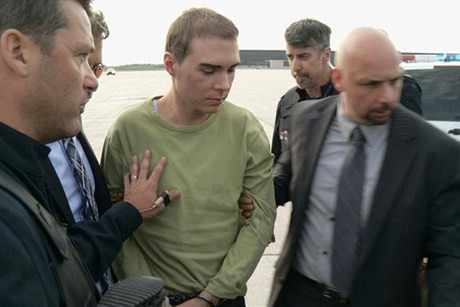 Police are trying to establish if what appears to be a human head found in a park in Montreal belongs to a Chinese student allegedly killed by a Canadian porn star.
Luka Rocco Magnotta, 29, is accused of killing and dismembering Jun Lin, 33, and mailing his body parts to political party headquarters and schools in Canada.
Magnotta pleaded not guilty to the five charges against him, including murder.
Jun's head is the only part of his body that has yet to be accounted for.
A Montreal police spokesman said officers were called to Angrignon Park in response to a tip-off and discovered what they believed to be a human head. The park is just a few miles south of Magnotta's flat, where the murder is alleged to have taken place.
Police are awaiting test results to confirm if the discovery is a head and if it does belong to the murdered Chinese student.
The case hit the headlines after a severed human foot was mailed to the Canadian Conservative party headquarters on 29 May.
Torso in suitcase
On the same day, a human hand was found at a postal service warehouse in the Canadian capital Ottawa. The package was addressed to the Liberal party of Canada.
A torso was found in a suitcase in bins outside Magnotta's apartment building in Montreal.
A week later, a foot and hand were mailed to two schools in Vancouver. Tests confirmed that the body parts all belonged to Jun, who had been studying computer science student at Montreal's Concordia University.
Police said notes were included in most of the packages but declined to repeat them.
Magnotta was arrested at an internet café in Berlin's Neukoelln district on 4 June where he was reading articles about himself.
He did not contest his extradition from Germany and arrived in Montreal on a Canadian military plane.
A video of what police believe to be the killing appeared online. It reportedly shows a man killing a naked, bound man with an ice pick before dismembering him and performing sexual acts on the body.
A second, unedited version of the video seen by police reportedly shows the man eating parts of the body.