Lukas Podolski has revealed that his first season at Arsenal was hindered by an ankle injury which restricted him from reaching his potential as a player. However, the player claims that the problem has been taken care of through intensive training and treatment. The Germany international scored 16 goals in all competitions and insists he will come back stronger next season.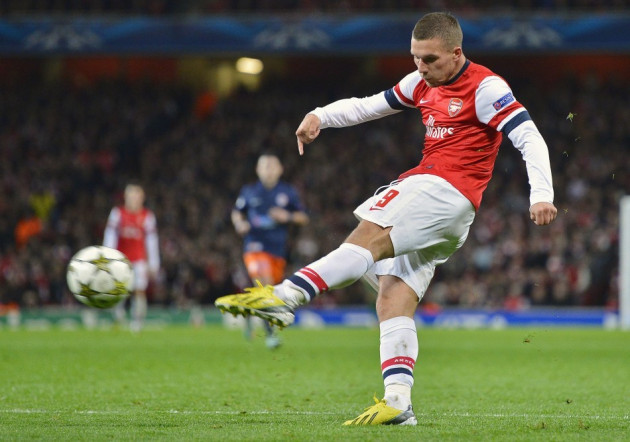 "You always think you can do better but it was my first year in the Premier League and I think I did well but you always feel you can do better. I had a problem with my ankle, I lost a lot of matches and now I am fully fit and will be prepared for the next season," Podolski said.
"My ankle is fine now. I worked on it throughout the break with the physio, I had rest and a lot of exercises and it feels fine now. It was a problem with the muscles and the ankle but now it's all OK and I am pain free," he added.
The German went on to add that their main aim next season is to battle for trophies, which has eluded the Gunners for eight years running. The 28-year-old also revealed that he has his eyes on the FIFA World Cup scheduled next year but insisted that Arsenal are his biggest priority at this moment. The Gunners are looking to spend heavily in the transfer market and have made a striker their top priority this summer. Luis Suarez and Gonzalo Higuain are the two names being strongly linked with a moved to the Emirates.
"We fight for trophies next season. When you look at the finish to the season, if we bring in some players as well then we will have the belief we can take into next season.It will not be easy. Everyone thinks it's easy to get a trophy. You have five or six teams who fight for first place. It's not like in Spain where it's just two teams and in Germany you just have Dortmund and Bayern, "he explained.
"The World Cup is a big challenge, we have great players, a great coach but the World Cup starts in one year and my focus is Arsenal.Arsenal is a very big team and we want to win trophies. We must focus on our game, we like to pass it, we use quick movements and it's easy to work with the manager," he concluded.