After months of suspense, Disney has finally revealed the title of Star Wars 8 as The Last Jedi. The title hints that the upcoming sequel will focus on either Luke Skywalker or Rey.
Though the latest development in Episode VIII has sparked numerous speculations about its possible plots, a section of fans speculated that Luke is the last Jedi and it has also been hinted in the previous film the Force Awakens opening credit.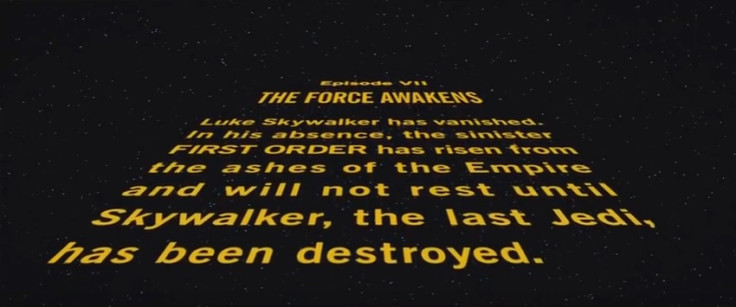 The film started with a prologue narrating the Jedi master's back story. "Far far away in the galaxy, Luke Skywalker has vanished. In his absence, the sinister First Order has risen from the ashes of the Empire and will not rest, until, Skywalker, the last Jedi has been destroyed."
In its official announcement, Lucas Film teases that the highly anticipated film will unfold the next chapter of the Skywalkers. "It's official. STAR WARS: THE LAST JEDI is the next chapter of the Skywalker saga."
Master Yoda had predicted In Return of the Jedi that Darth Vader's son will the last Jedi. "When gone am I, the last of the Jedi will you be," he said on his death bed.
In TFA, it was shown that Mark Hamill's character tried to train Ben Solo as a Jedi, the only son of Han Solo and Princess Leia. But he was lured by Supreme Leader Snoke and later fell on the Dark Side. The seventh sequel also had a dialogue by Snoke where he says: "The droid will soon be delivered to the Resistance... leading them to the last Jedi."
At the end of TFA, Rey was successful in locating the former Jedi master. It remains to be seen whether Luke will be able to train Rey as the next Jedi or not. But, he may not have much time to train as the First Order will try to destroy him after discovering his location in Ahch-To island.
Written and directed by Rian Johnson, the film will premiere on 15 December 2017. The film will star the late Carrie Fisher alongside new faces Adam Driver, Daisy Ridley and John Boyega.